"He's Going Pro!" (aka Chad's Going Full Time on the Farm),
by Chad Steiner
My earliest memory as a child was when I was about 4 years old. I was hanging out with the goats in a house in the Orting Valley we were living in. The picture was clear… a big barn surrounded by animals and crops and a clear picture of providing food for people and sharing the abundance of a farm. Here I am 41 years later living on a working farm with a young family and an awesome wife. And, we get to share it with people. So when I'm asked – "when did you dream of doing this?" – it goes back to one of my first memories. I'm so grateful for all of you who allow us to be "hosts" (Agritourism = hosting people on a farm). Jeana and I met in FFA and are excited to share this journey together with our kids. I'd like to share a bit about where I've been and what going "Pro" looks like.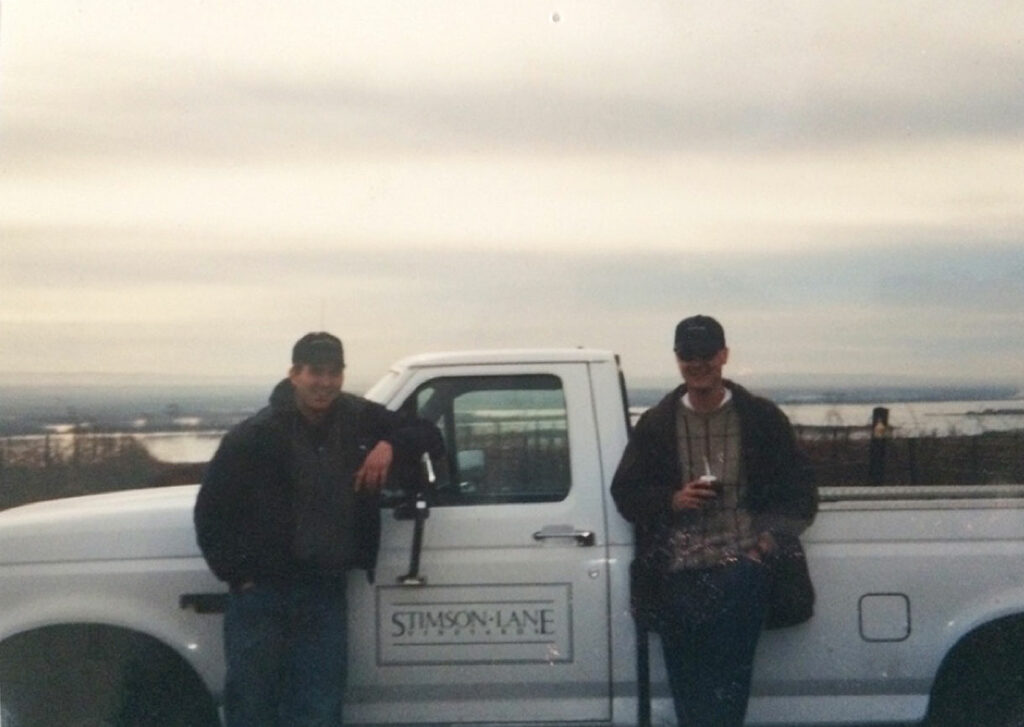 Caption: Early days learning wine. 2001, Chad and Kyle Johnson on Canoe Ridge. These days planted the seed to love wine and plant a vineyard.
The last 20+ years of my career in "corporate" agriculture have been amazing. The Spring and Winter Wheat breeding programs, Ste. Michelle, Syngenta, ProTree Nursery, Dicot, Wilbur-Ellis – Pullman, WA, Grandview, WA, Moses Lake, WA, Greensboro, NC, Memphis, TN, Sacramento, CA and now Manson, WA. Its often said in the Agriculture Industry that its some of the best people to work with. We spend 40+ hours a week with our co-workers, why not be around great people. And I'd like to parlay this into a point around the opportunity we have in Agriculture across the U.S. and the globe. Its easy in conversations to "villainize" company's. In my experience, no company I've worked in is anyone out to sue farmers or control what they plant or apply to their crops. All the people I've worked with are hungry to create and help others. As a society we're faced with a few things – a disconnection from farming, large questions about the health of our planet and climate and the quality of our food. We're super passionate about each of these and I know going "Pro" is going to give me an opportunity to put more energy here.
The farming disconnect. By the numbers… less that 0.5% of the U.S. population is involved in farming. In 1900 that number was over 30%. This is great news in one regard – it frees the rest of the population to pursue other vocations. For the farmer it means less people understand what they do and challenges they face. This will shape policies and public understanding. I believe its also a large driver in the popularity of Agritourism. What's the take home? Get to know your farmer if possible. The farming landscape is seeing rapid consolidation. The large farms are getting larger and then there's the super small. Yes, our farm is super small. Folks who visit often say – wow 20 acres, that's a lot. But in the world of farming in the U.S. its really small. I'm encouraged by the great interest in people wanting to learn about their food. Jeana and I's goal is to help you understand more about farming beyond just Chelan Valley Farms. We will continue to answer questions and help bring the latest practices to our visitors (thanks again Tilth Alliance for helping us get sheep and chickens out into the farm).
The health of our planet. Man, how do I talk about this one?? We're not all on the same page about what's going on. So, lets put aside how we feel about "climate change" and talk about some things we very much know. I'd like to talk about Carbon and Soil. The World Economic Forum recently published the top 3 opportunities for us to capture carbon – 1. Our Oceans, 2. Our forests, 3. Agriculture. #3 is Agriculture/farming. This is really exciting. What does it mean. I'll give one example – cover crops. If there's a way to keep the soil in annual crops from being bare in the winter – we can capture more carbon AND keep soil from eroding. Which is a great segway into the soil topic. Our existence is reliant upon the fact that we have soil. We've lost an alarming amount of soil on U.S. crop land. Farmers have evolved over the years and navigated changing production practices. No farmer has ever intentionally lost soil. All farmers are trying to navigate Mother Nature amidst growing food for all of us. Weeds, insects, disease, weather events, animals can all present catastrophic challenges. Ok, but what about soil. This is a topic too deep to cover here so I'll sum it up. We need to reduce tillage as much as possible, we need to grow cover crops and we need to measure the biology of our soil (incorporating animals can be a huge benefit). Great news – there are lots of folks figuring out how to do these things – with animals, cover crops and organic products. The innovation in this space is amazing and it will impact the quality if our food.
Is the quality of our food reliant upon all farmers going organic? No, I don't believe so. What's going on with the quality of our food? Can it be more nutrient dense, yes. Can it be produced in ways that are better for the land its grown on – in our case, I believe it can. We went 100% organic in our apples and grapes this year. We don't use any tillage in either of these crops either. And we're figuring out how to bring sheep and chickens into our operation. Its going to be a learning curve. There are some great leaders in this space – Tablas Creek and Burrough's Family Farm (their produce is available in the tasting room). Science is also starting to support that foods grown in what are considered Regenerative approaches are producing more nutrient dense food. Really exciting stuff. Again, we hope our farm can be a classroom for some of the ways we feel can help our soils, our planet and the health of our food. I felt like sharing all of this because its something I'm really passionate about. I want to help lead and learn about Regenerative methods.
One more thing before concluding… one major reason we moved to the Lake Chelan Valley was the opportunity to grow wine grapes and make wine. We're excited for people to get to know – our wine label Lagriōth. Which as I go Pro is something I'm very excited about focusing on. We're convinced this is a great place to grow Pinot Noir, Chardonnay and Sauvignon Blanc (as well as other varieties – these are just the ones we chose to focus on). Its been incredible watching our 2022 Pinot Noir go into bottle. Jeana is the one who got me to fall in love with Pinot Noir and now growing and making it is a dream come true. So – my plan is to get even more serious about the focus on our estate wine grapes and other great AVA's in Washington State. We've got some other AVA's we'll be introducing next year. Our estate Pinot Noir was just picked this week and as the vineyard matures its still teaching me how to be a better farmer. Throw on top of that us going organic and we've got some things to keep learning. Its been so much fun helping people come to the farm and create memories while sharing our wine. And I'm excited to put more time and energy into this part of our business.
In conclusion – what does going Pro look like on a more practical level?? Jeana and I are a bit scared about me going full time on the farm. Can what we've created support our family and still be able to grow and evolve? Well, its been really hard working full time and trying to support Chelan Valley Farms and Lagriōth Winery. We're 2 weeks in and so far its been amazing. Jeana and I are able to communicate more, I've been able to spend more time with our boys and of course I've been able to help with all the harvest activities. We haven't formalized what our structure looks like. Maybe its more appropriate to share some things Jeana and I've talked about. Jeana is a superstar at hosting and making sure guests are cared for. She's also amazing at winemaking (still learning as I am on the grape growing). My focus will be on growing our wine business and the advertising and promotion of our overall business. Plus being the farmer. Side note: we've got to figure out how to be more efficient at farming this winter. So, as you consider coming to stay at the guest house or visit the farm for the day – you might see more of me. We're so excited about the wines we're making from the farm and great AVA's around the state. These latest two are probably ones we've been most excited about – the Estate Pinot Noir and the Red Mountain Cabernet. Our Mission is – "Our Passion is Connecting Families to Farming". Thank you for letting us host you. I look forward to serving you and contributing to the things I talked about in this article. I've been dreaming about this since I was 4.
Have an amazing weekend!
Chad