Reflections on the Chelan Valley Farms Pumpkin Patch Over the Years (2023 = 5th Annual. by Chad Steiner
We're so excited to kick off another pumpkin patch this year! We love to host families at the farm and its so exciting to see everyone enjoying fall as a family at the farm. Our first pumpkin patch was in 2019. We literally said, "hey, there isn't a current pumpkin patch in the Valley, lets start one." And, away we went. What I'd like to share today is a journey over the years with some pictures. Fall is a special time of year to gather and find activities for the family. Fall is full of "harvest" vibes. Thanks for joining us on the farm this year – and we're excited to kick off another year.
Special Note: check our website calendar. We've got some special events lined up in September and October. Here are a couple you don't want to miss.
September 23rd = pumpkin patch opening day. Free tractor rides, lots of pumpkins, caramel apples.

Sign up here to enter into an apple pie into our 2nd Annual Apple Pie Bake Off.

Sign up here to buy taster tickets (all proceeds go to fuel prizes for the pie bakers).

September 30th. Our 1st Pumpkin Patch After Hours!

Megan Johnson will be opening for The Tophouse Band (they are incredible).

Music starts at 4:30 pm and goes until 9.

Nomad Food Truck will be onsite.

Wineclub members we're buying you dinner (limit 2 per member).
Now, lets reflect on the pumpkin patch over the years.
Year 1, 2019. We literally had a super small stand, some straw bales, pumpkins planted where the now tasting room is, donuts and cider. I insisted on cooking hot dogs, which I think we ate more of than we actually sold. But, we had lots of fun folks come and we realized the great joy in providing something for the whole family to do. Maybe you remember being one of the first to ride the tractor… or wander the patch or taste the amazing Sheffield Cider or picking flowers up behind the orchard (we had an early frost that year). That year we grew 100's of butternut squash too. This was also the first year we started cooperating with local schools to visit the farm and learn about all kinds of cool stuff. Jeana worked with Erin at MOE to organize growing pumpkins in a classroom and transplant them – they then got to come the following fall and get a pumpkin. Its so fun hosting 100's of kids every year. One fun story from the first year – our "borrow" a goat petting zoo. Some of our friends let us borrow their two goats. I made a make shift pen for them during the day and kept them in the dog kennel at night. But one of them was an escape artist. It would get out of the petting zoo pen. Well on one of its escape runs – it actually got into someone's car as they were loading their children up. Which then ended our petting zoo for the year… can you imagine, "hey, dad, look there's a goat getting into the car.".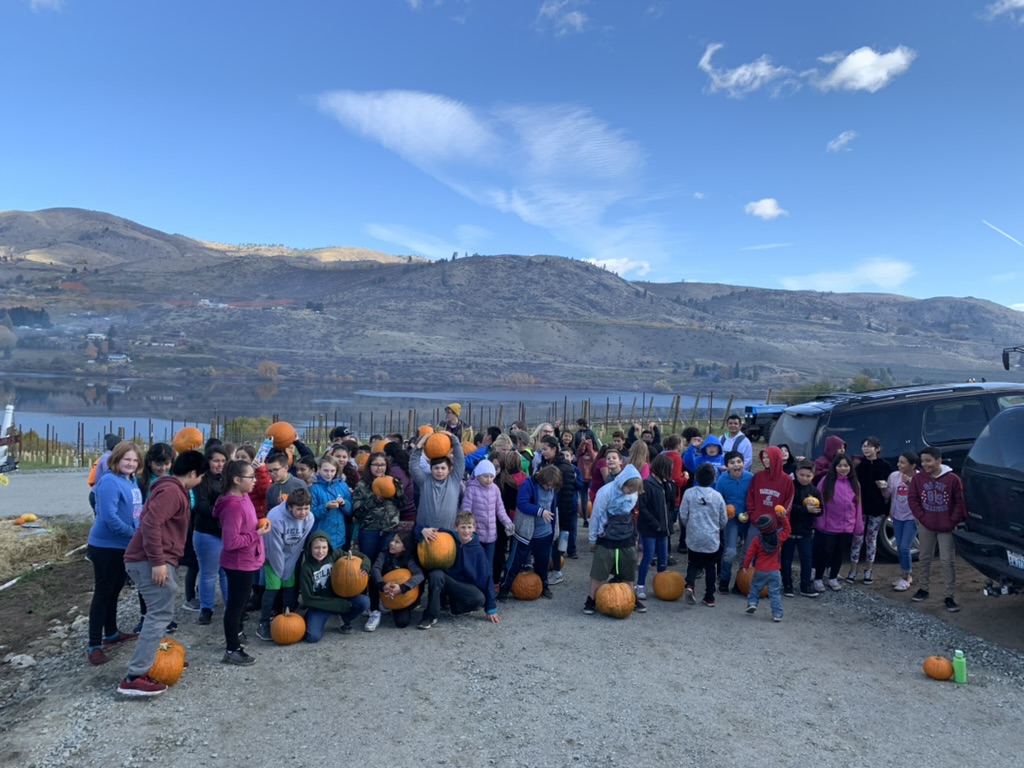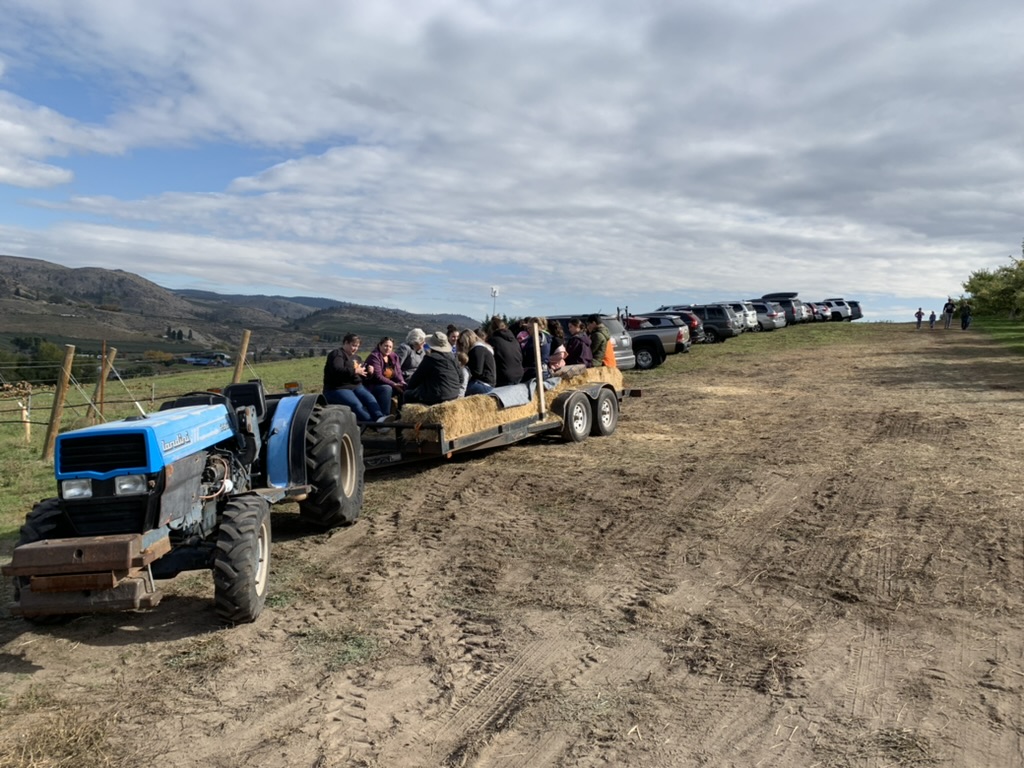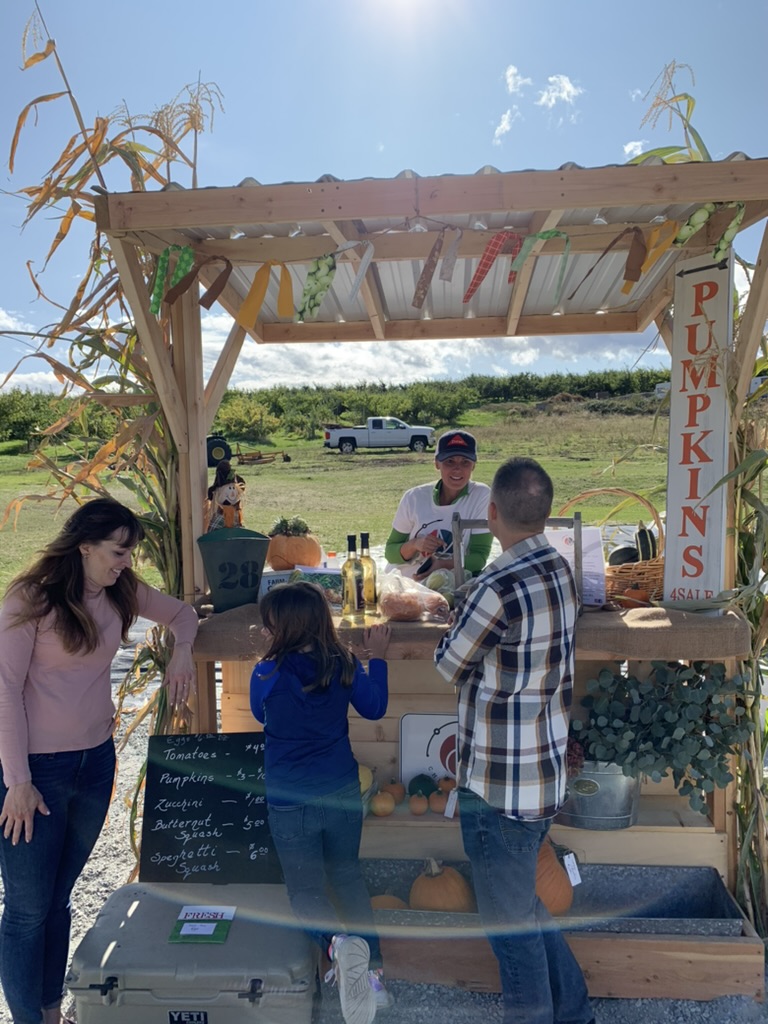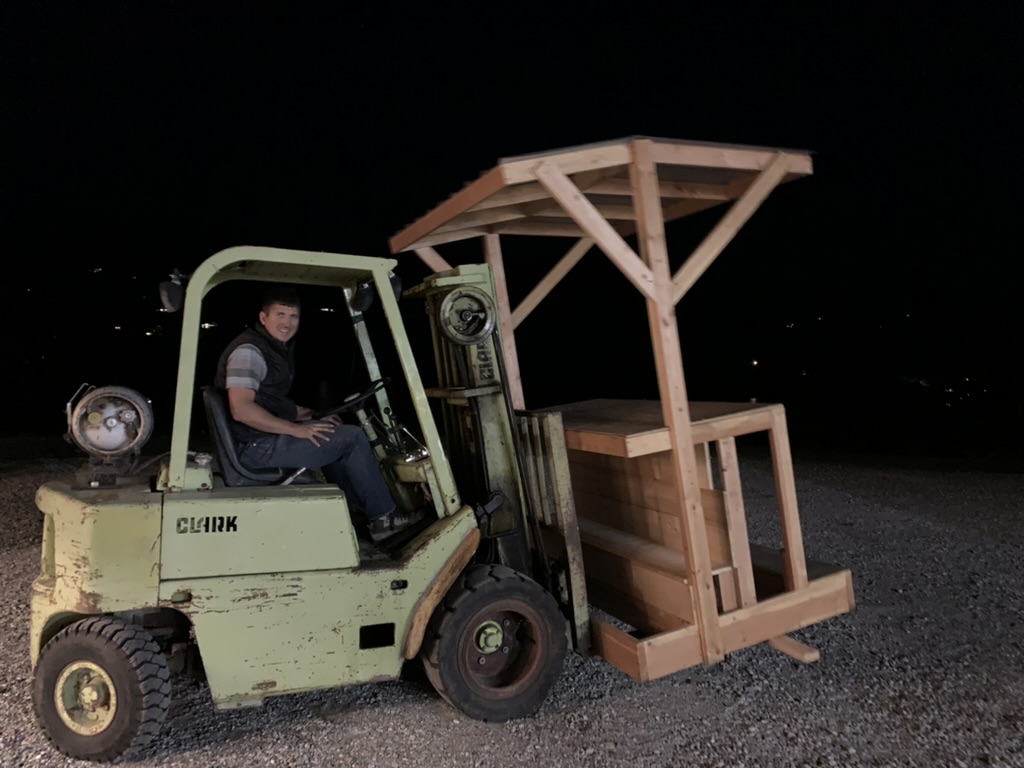 Year 2, 2020. As we all remember – this is the year of COVID. There was a point in time that summer the Governor banned all "Agritourism". Thankfully Washington State Farm Bureau, Mike Steele and many others rallied to change his mind and we were able to open the patch. There were traffic lanes in the actual patch and we had to social distance on tractor rides. But, we had an amazing time. I think that was the year we added more straw bales and started offering u-pick apples. We also continued to host kids from local schools. This might have been the year we made the learning stations more formal. We made learning about the farm, soil and apples super interactive and fun. Such a blast having all the kiddos out to the farm.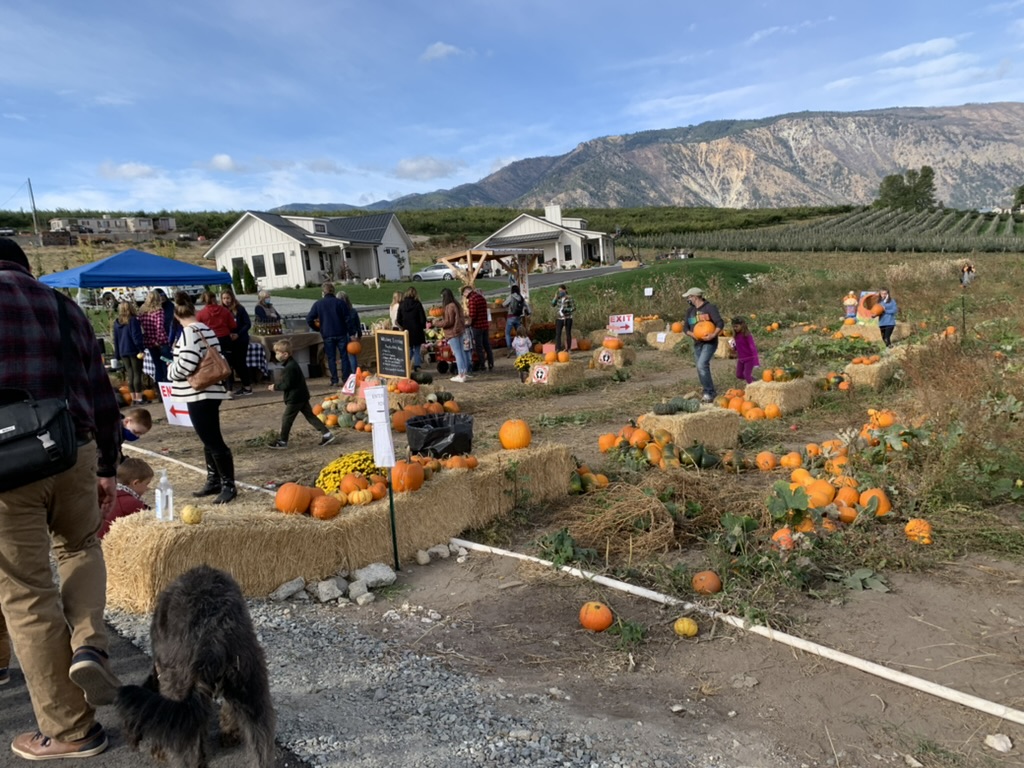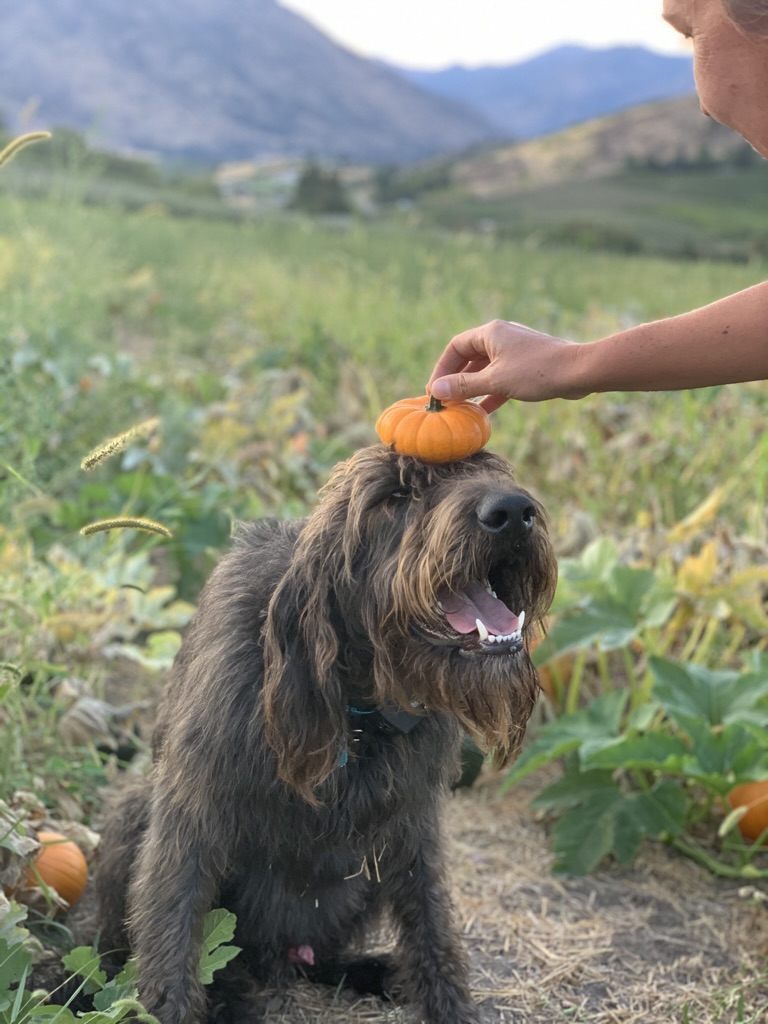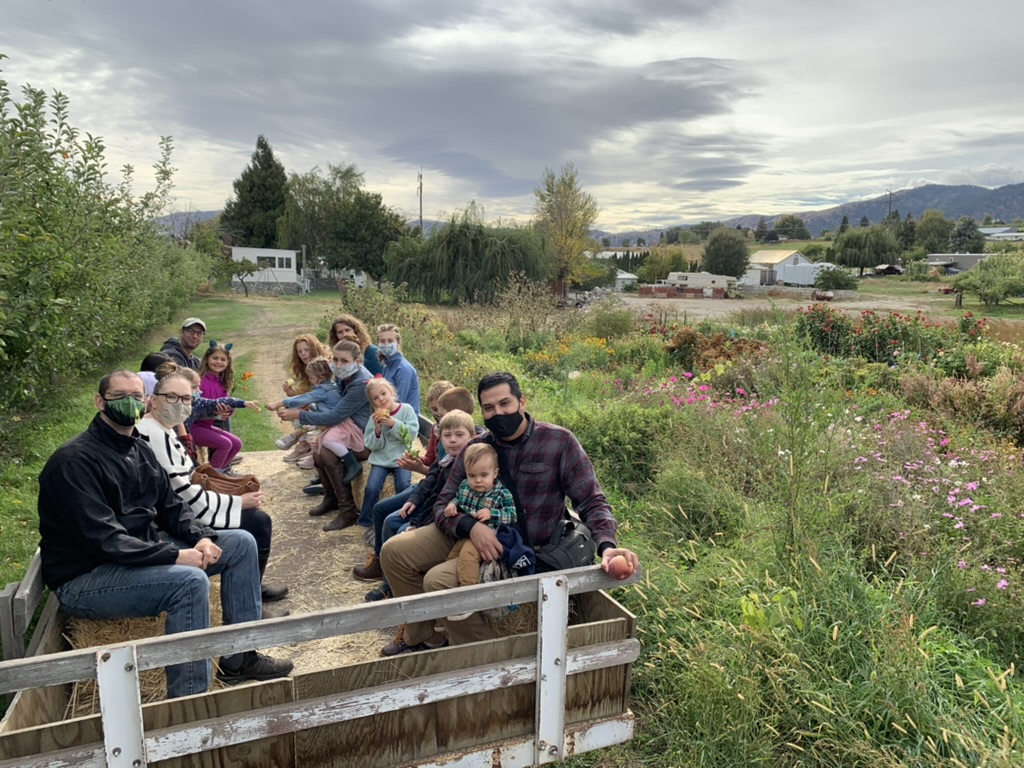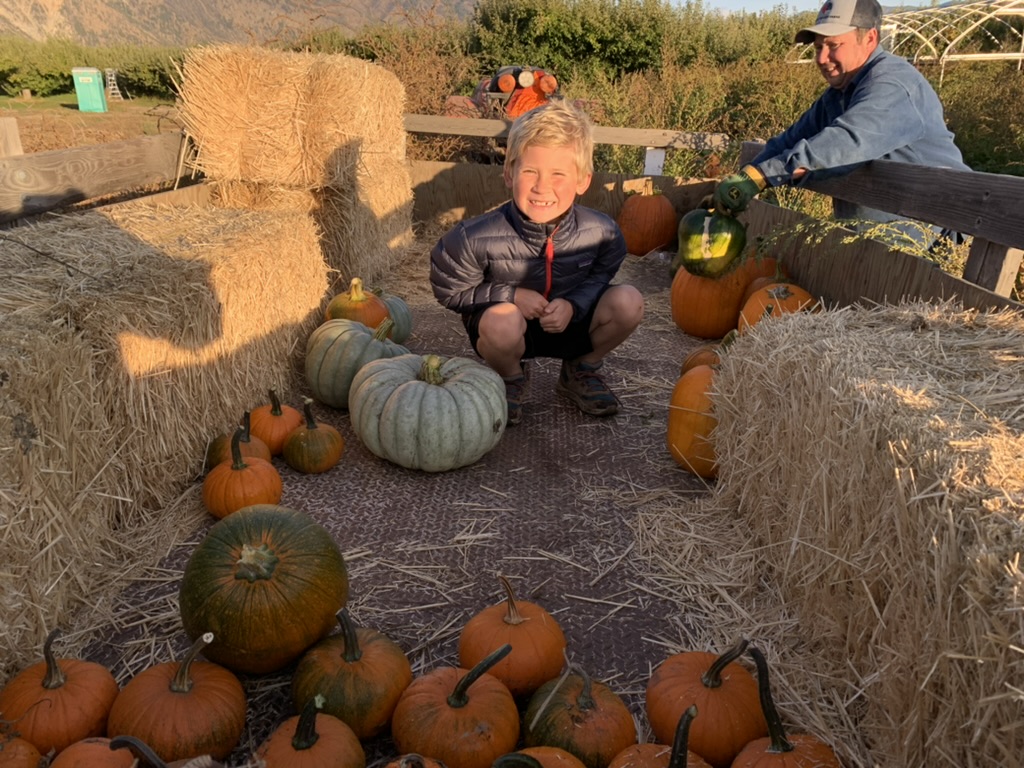 Year 3, 2021. Our first year having a tasting room open. The pumpkin patch was when we went live with the tasting room. Such an exciting time to open it up. We were so lucky to find the builder we did – Stiles Build Co.. The pumpkins were all grown behind the house up on the hill and on the "farm" side of the farm. This is when we had real bathrooms and a shady place for people to gather plus a great lawn for all to enjoy. The tractor took a new route this year and made it more enjoyable for folks to interact with the orchard. This was also our first year growing flowers by the tasting room. We're so glad we moved them there and love watching folks come to pick. Before the tasting room was approved we were offering u-pick apples under a pop up tent and offering wine for sale without tasting. As people considered purchasing our wines – we said "trust" us, it's good without tasting.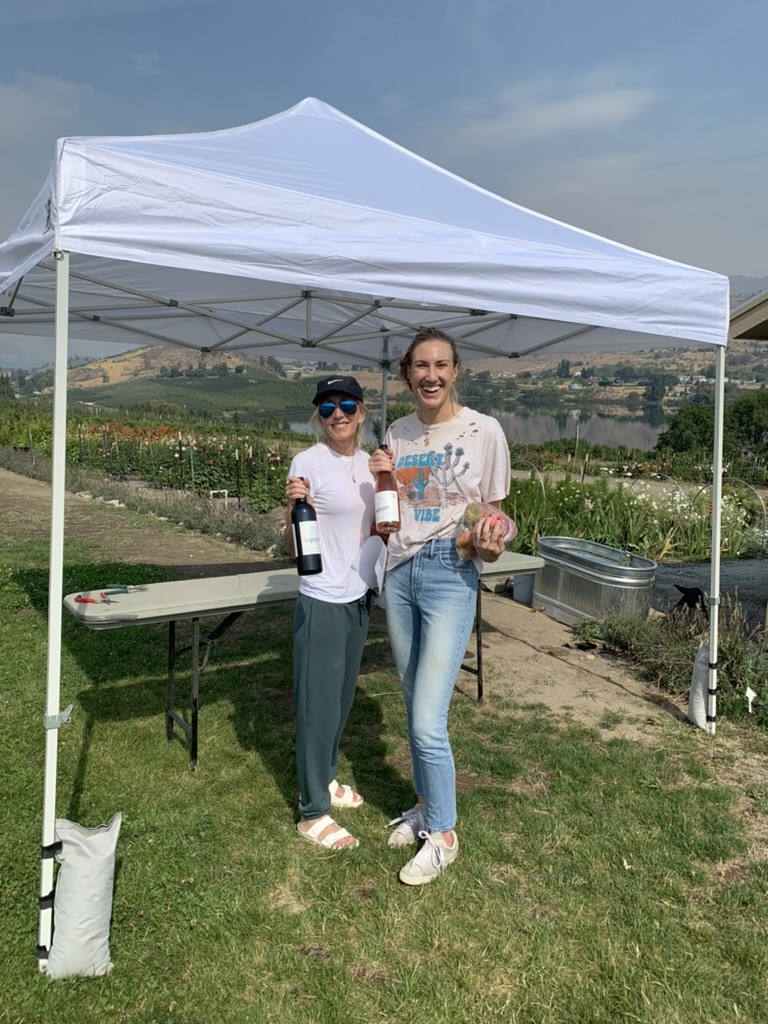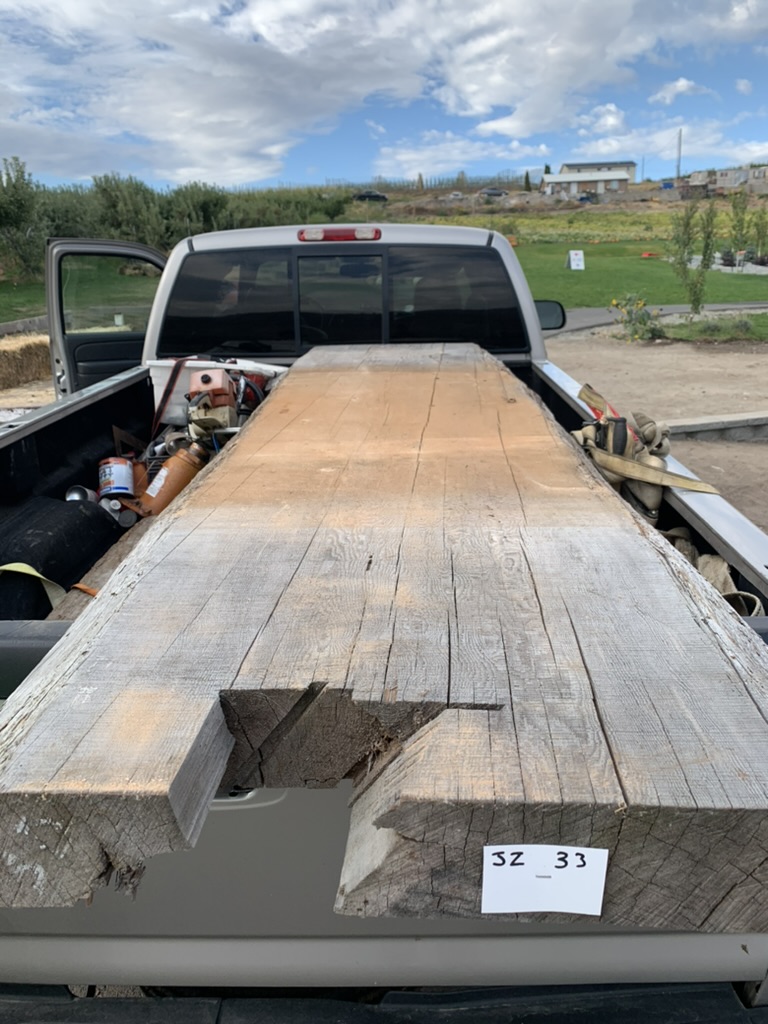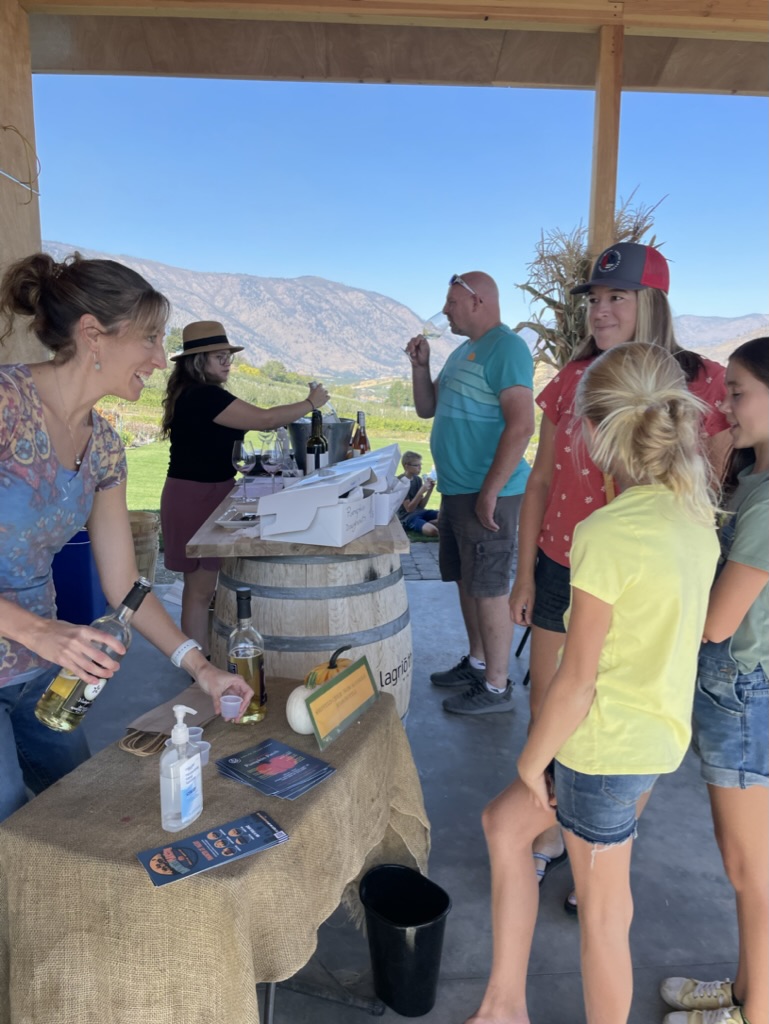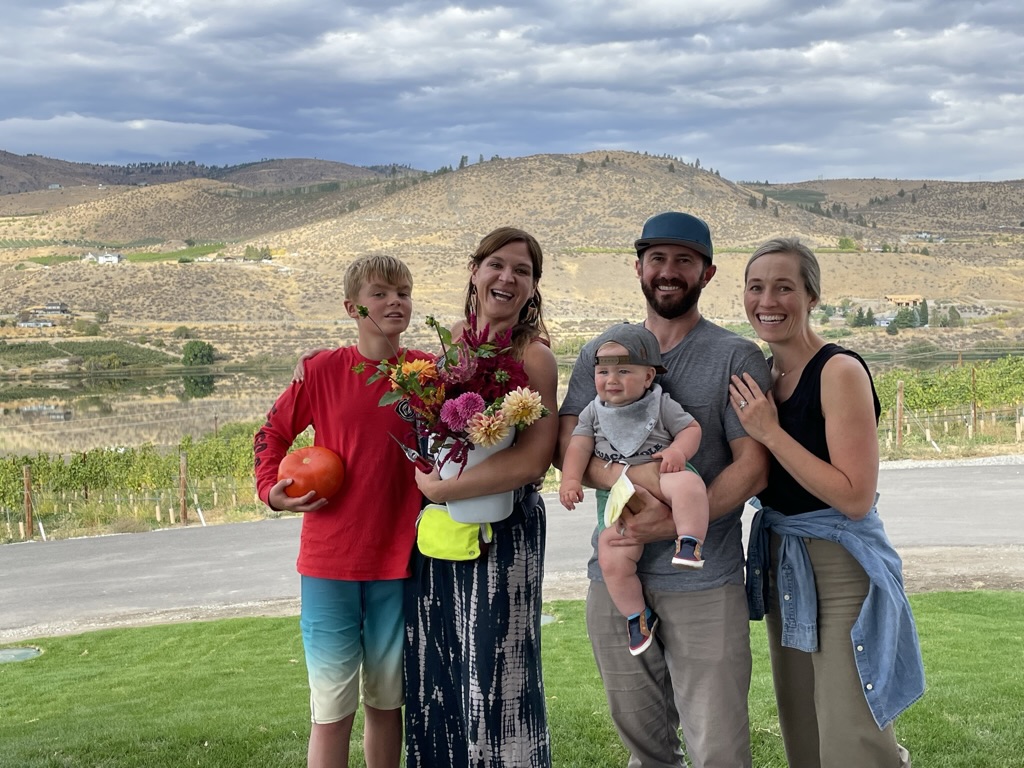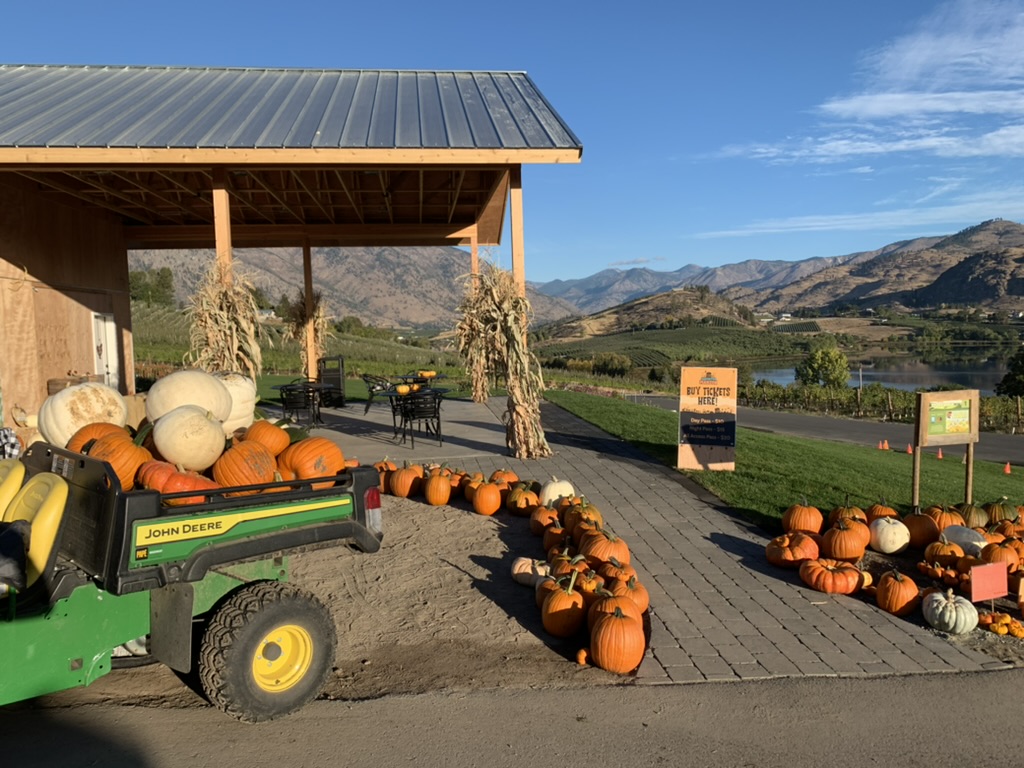 Year 4, 2022. What we'd consider one of our funnest years yet. We offered our first ever Apple Pie Bake Off, we had numerous events on the farm and saw so many familiar faces. This was the 2nd year growing pumpkins behind the house and tractor rides through the orchard. The year was hot and dry – like summer continued all the way until October. It also makes me reflect on our social media journey. We started onto Instagram in 2019 and by 2022 had heard from many of you how it was a great place to see what's happening on the farm. Thank you for following along. 2022 was a blast and so amazing seeing so many of you.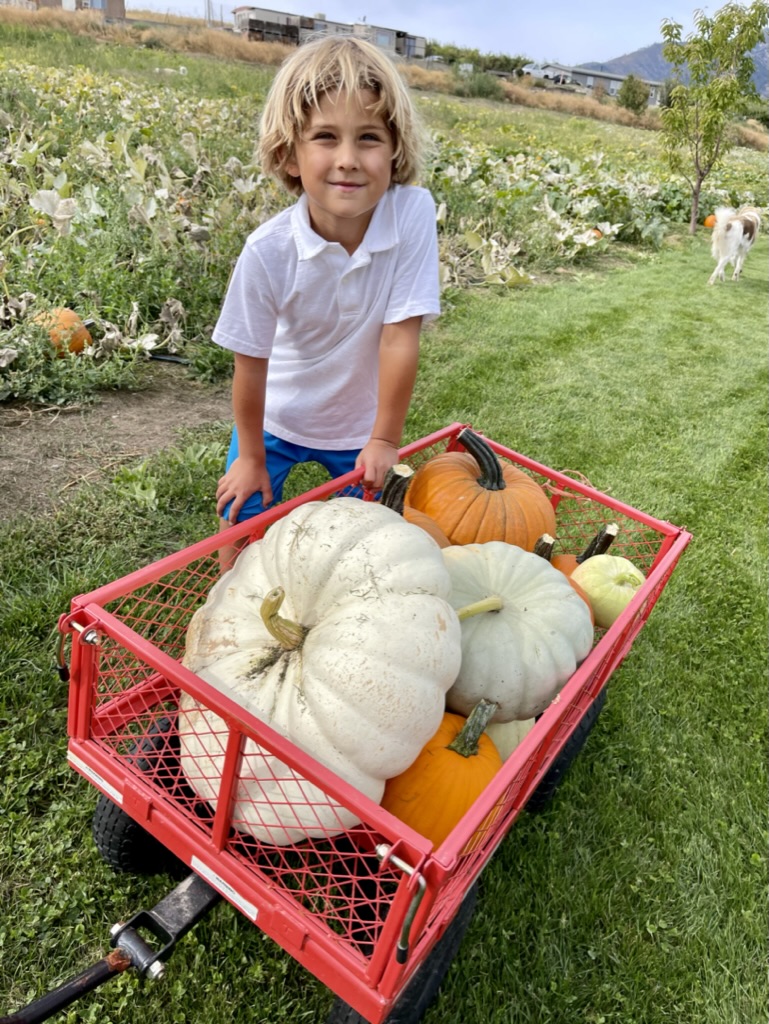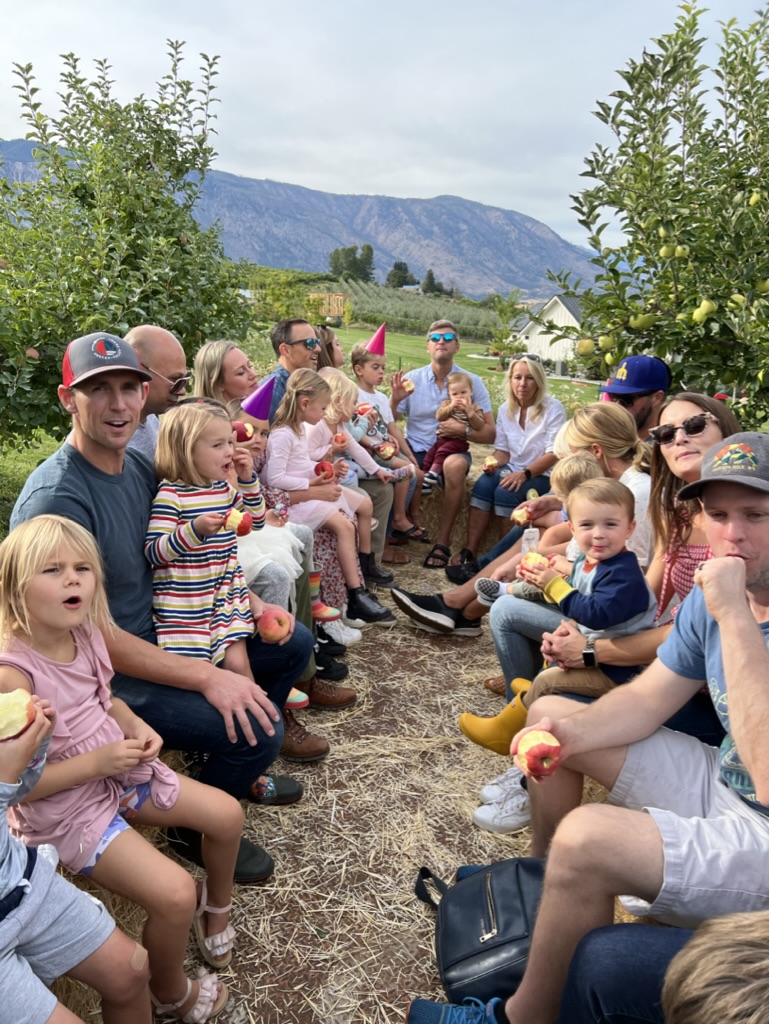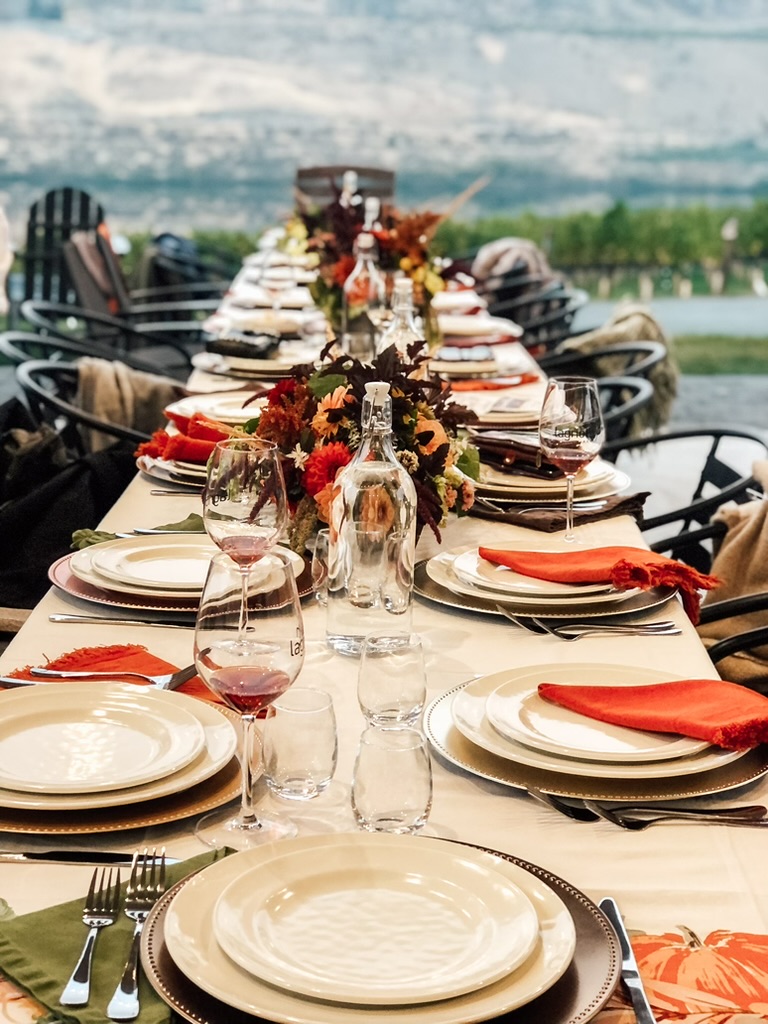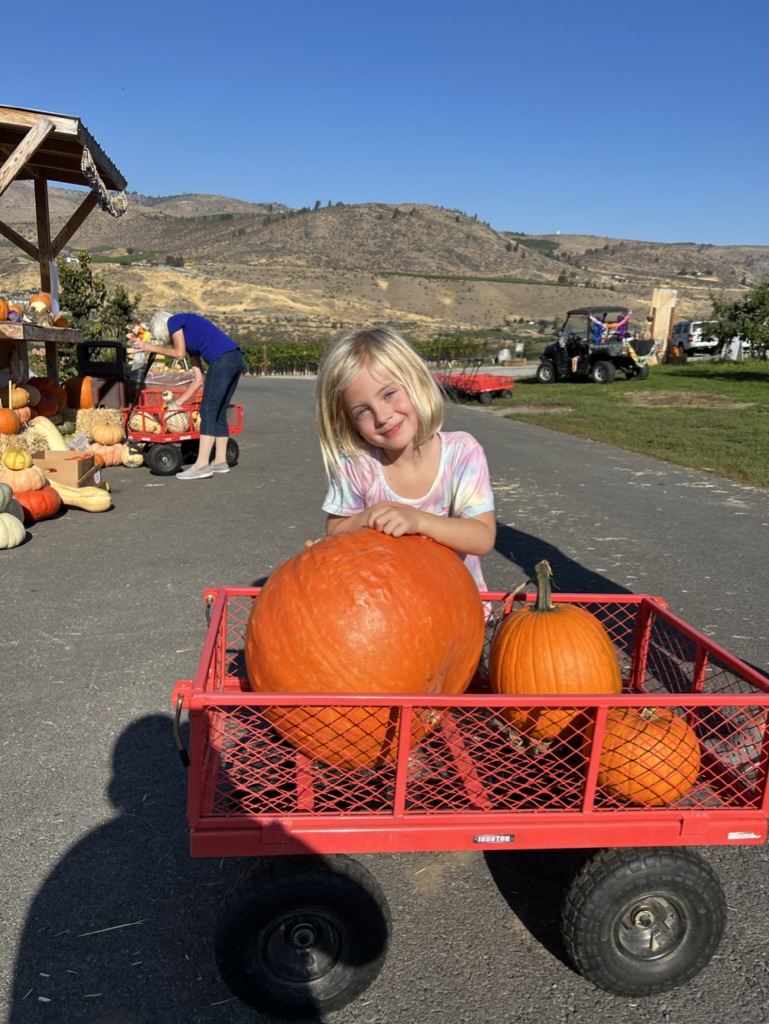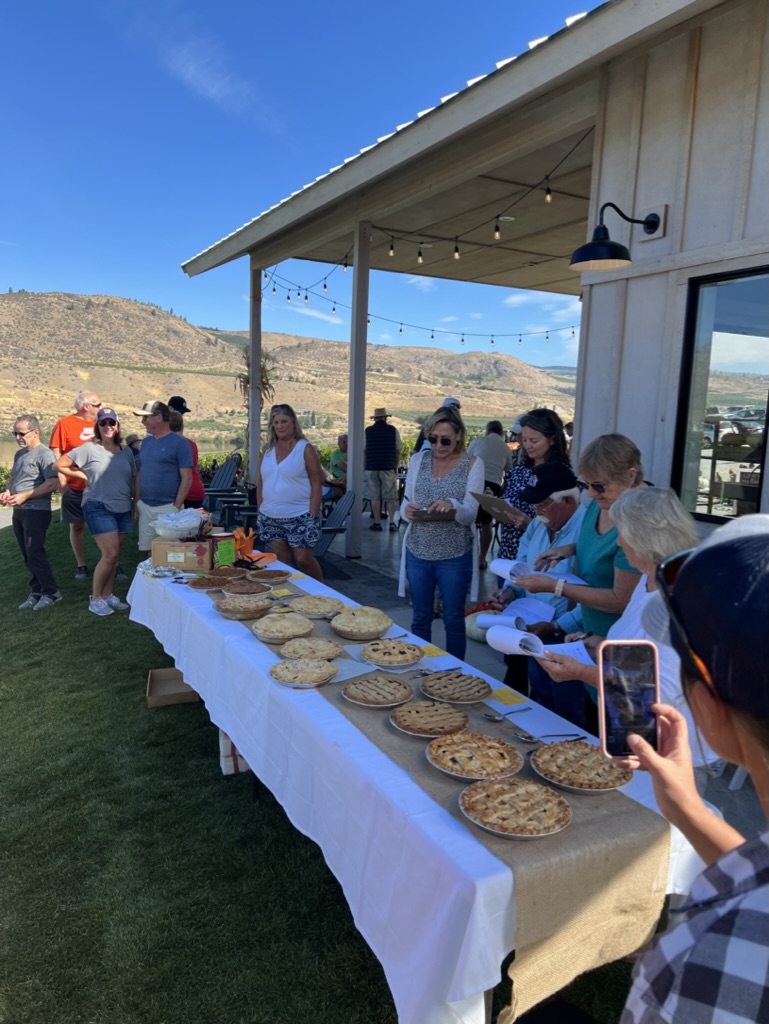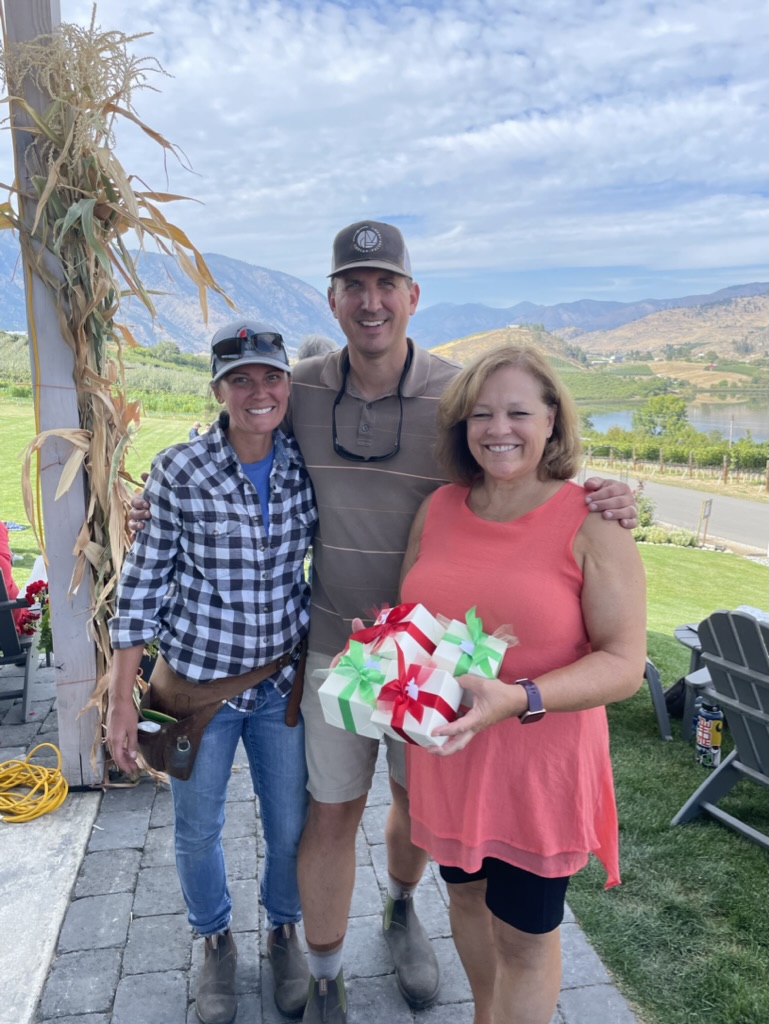 Now we're on to year 5 of the patch. We can't wait to host you and create some great memories together. It's going to be our funnest patch yet.
Have a great weekend!
Chad