Chelan Valley Farms – The Best Kept Secret in Central Washington – for now? by Marya McCabe
In November of 2021, my husband and I were out for a drive in the beautiful Lake Chelan Valley when we stumbled on Chelan Valley Farms (CVF) nestled above beautiful Roses Lake, 2 minutes from downtown Manson, WA. We were looking for new wineries to try during a cold, moody day that is wonderfully typical of late fall in the valley. We met Chad and Jeana Steiner manning a makeshift tasting bar on the patio in front of their half-constructed tasting room. They were pouring wine while keeping an eye on 87 other things that were going on around them – doing the things that new business owners, farmers and parents do.
The farm setting surrounding the tasting room was incredible. Our view from the tasting room was framed by Pinot Noir, Chardonnay and Sauvignon Blanc vines, a long expanse of lawn bordered by huge flower beds ready to go to sleep for the winter and the three, young Steiners boys playing with the dogs outside the on-property guest house made even the broody, low clouds hovering over Roses Lake seem inviting.
On that cold November day, the fire pits were raging on the patio and the hospitality of Chad and Jeana, entrepreneurs and vignerons, kept us warm while we sampled delicious wine after wine under their label – Lagrioth (laa-gree-oath). We learned their story that led to life in Manson on a 20-acre farm growing grapes, apples and flowers and making wine, that painted a journey of adventurous, hard-working risk-takers. We really couldn't believe our luck finding such a hidden gem right in our own back. We were hooked by their vision, their warmth and their wine! We joined their wine club immediately and never missed a chance to visit when we came over from the "west side."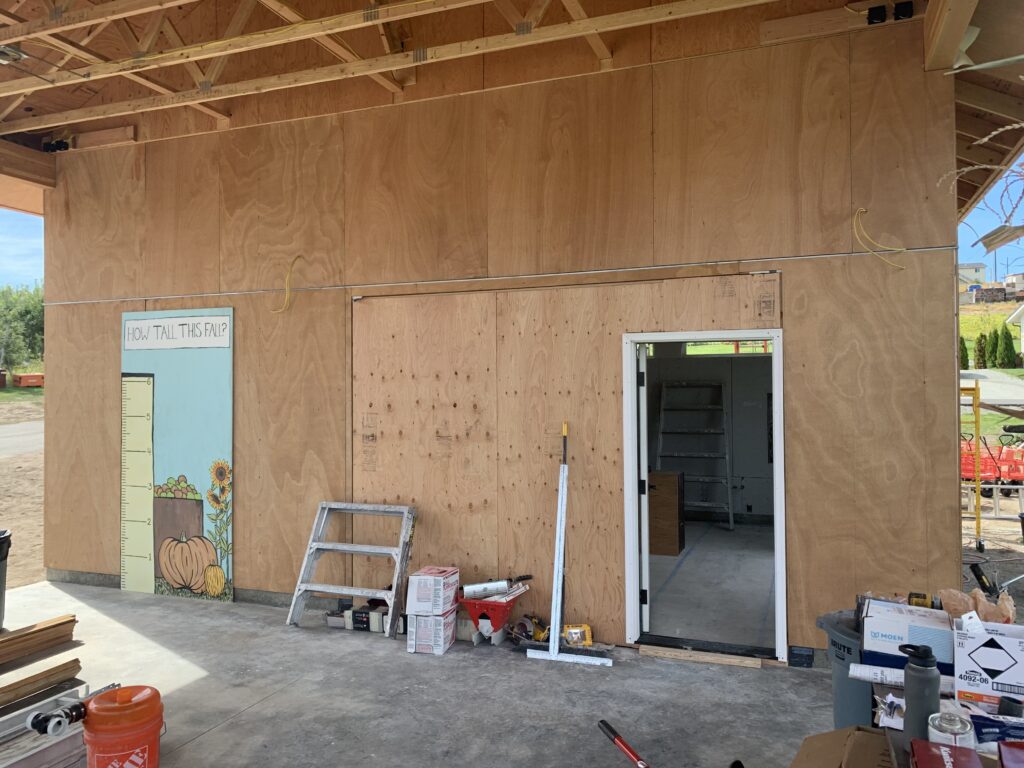 Caption: The make shift tasting room for the fall of 2021.
Fast forward to today, I've had the great luck to work alongside Chad and Jeana as a tasting room associate and harvest intern for the past two seasons. I've seen first-hand what it takes to boot strap a business like this and know, by watching them, that you must have unwavering faith and unlimited energy to tackle the hours and hours required to keep on top of every aspect of farm and winery life including the relentless daily chores that go along with it.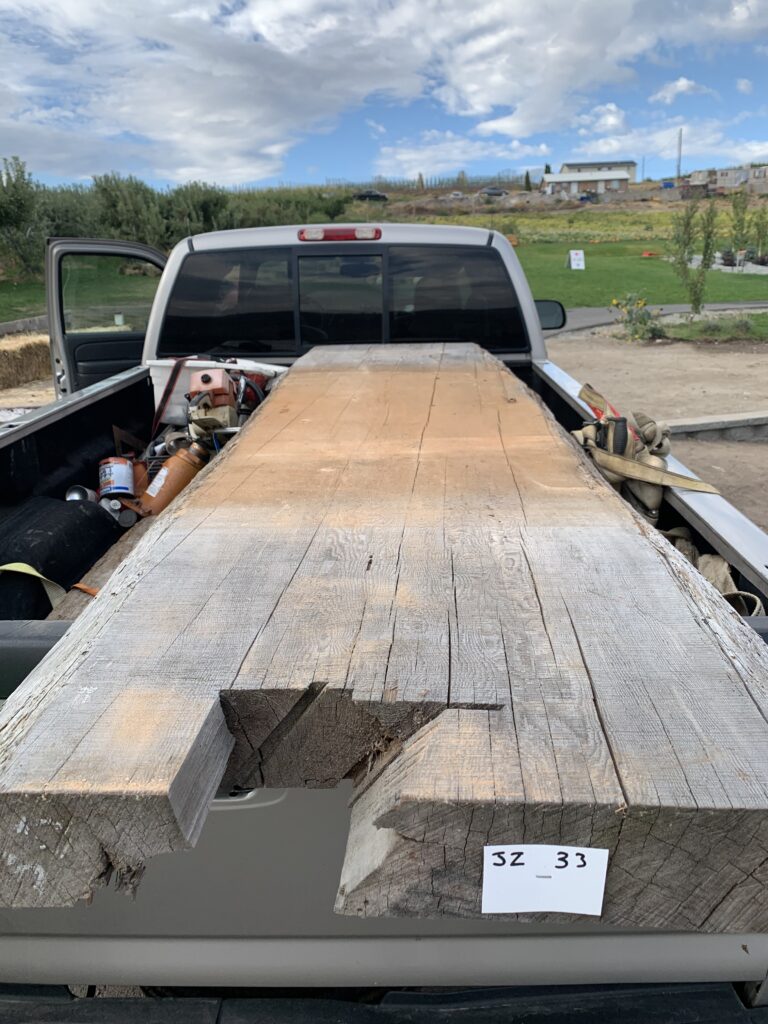 Caption: And I love the thought behind some of the elements of the tasting room – this 800+ year old piece of Old Growth Douglas Fir from the Washington Coast adorns the tasting room counter.
It amazes me to see how Chelan Valley Farms and the Lagrioth label have grown in the two short years I've known Chad and Jeana. Awards and accolades for their wines, certification as a Washington State Sustainable business and grants from the Tilth Alliance to further their commitment to organic farming practices… And, an ever-present dedication to delighting their guests and delivering a great experience for everyone who steps foot on the farm have resulted in amazing support from the Chelan Valley community and from fans throughout Washington state and the PNW.
The Steiners are serious about creating a place where the whole family can play, relax and enjoy…and word is spreading. I believe we need more small businesses like this and feel lucky to call Chelan Valley Farms my "neighborhood winery" when I'm at my home away from home in beautiful Manson. I love introducing this gem to my friends and family because it's a place you want to visit over and over that transports you to another place.
Cheers,
Marya