Veraison: the time is ticking to harvest.
Embracing the early Harvest: A Spotlight on Pinot Noir.
As the summer sun shines down on our vineyard near Lake Chelan, there's an undeniable buzz of excitement in the air. This year has proven to be warmer than the last, and our grape harvest is right around the corner – an early one at that (earlier than last year anyway). We are thrilled to share with you what's happening on our farm and focus on Pinot Noir, a grape and wine we feel is an incredible fit here in the Chelan Valley.
Veraison: The Onset of Ripening
In the vineyard, the magic process known as veraison is unfolding and almost complete. Veraison is a critical phase in the life of a grape, a memorable moment when the grape berries change color, soften, and begin to develop their unique flavors and aromas. It's a beautiful transition symbolizing the onset of ripening. It's currently taking place more visibly in our Pinot Noir vines but also in the Chardonnay and Sauvignon Blanc.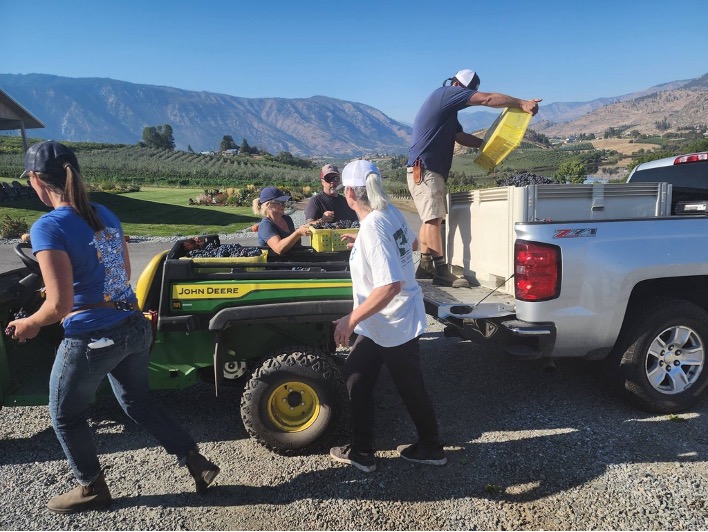 Caption: bringing in the 2022 Pinot Noir. It takes a village.
For those who appreciate a delicate and elegant wine, our Pinot Noir is a true highlight. Known for its refined complexity and versatile character, Pinot Noir is one of the most cherished varietals among wine lovers. And we're so close to bottling our first Estate red wine – the 2022 Pinot Noir. This three clone Pinot Noir is a wine we're really excited about. Be on the lookout as a club member and for a full release September 30th.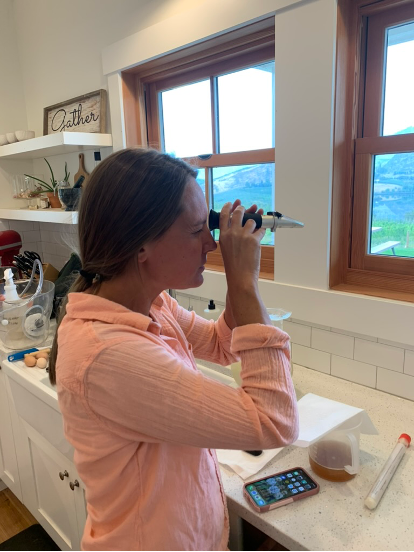 Caption: Jeana analyzes how ready the grapes are for harvest using a refractometer.
Our Chablis-Style Estate Chardonnay and Vibrant Fumé Blanc.
Our Estate Chardonnay, crafted in a Chablis style, is showing a grace and elegance that promises a wine full of complexity. The clusters are full, hinting at a vintage that will resonate with those who appreciate a bright yet elegantly tantalizing flavor profile. But, wait, what is Chablis? Well, it's an area in the North of Burgundy known for producing wine from Chardonnay in a crisp, mineral-fresh style. It was the white wine to drink in the early 1800's.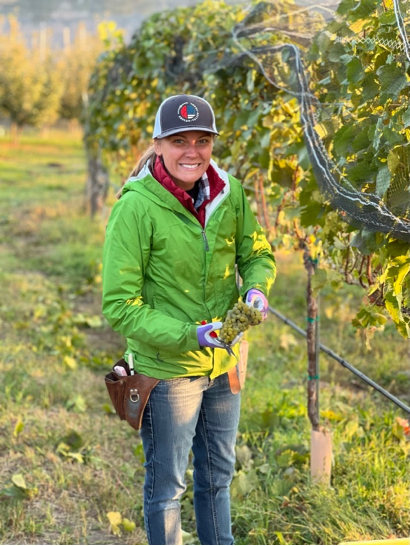 Caption: Jeana picking the 2022 Estate Chardonnay.
In the same breath, our Sauvignon Blanc vines, destined to become our ever so loved Fumé Blanc, are bursting with freshness. With robust vines and lively grapes, we anticipate a zesty and invigorating wine that will dance on the palate.
Both these varietals are shaping up beautifully, reflecting the care and passion we pour into our vineyard. Whether drawn to the elegance of our Chardonnay or the crisp energy of our Fumé Blanc, this year's harvest holds something special for every wine enthusiast.
Preparing for Harvest
With the anticipation of an early harvest, preparations are in full swing. The vineyard team is working diligently to ensure that every vine is perfectly cared for. Our winery is being fine-tuned, ensuring the tools and tanks are ready to welcome this year's crop. We're so grateful for those who've reached out offering to help harvest. We'll keep you updated as the time gets closer. Picking timing is such an important step in winemaking – which is driven completely by Mother Nature (we could be 2-3 weeks ahead of 2022).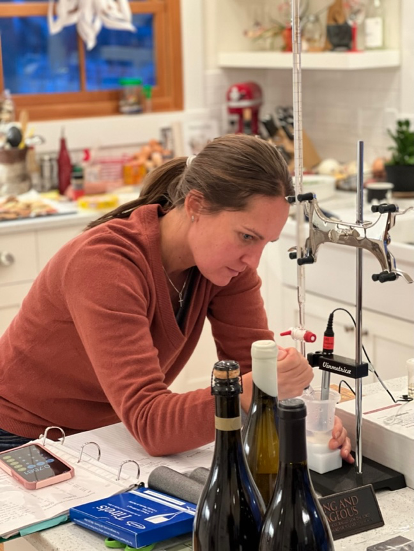 Caption: Jeana analyzing wines after harvest… keeping a close eye on how they're evolving.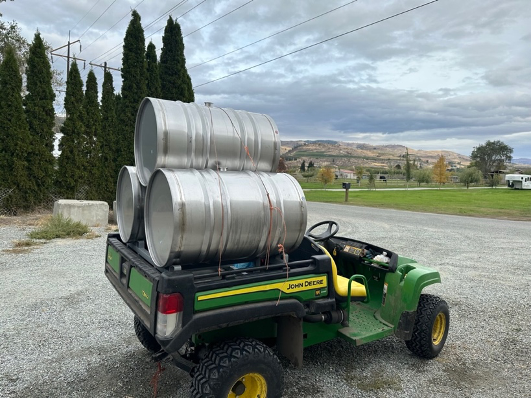 Caption: as many of you know we're a new winery. So sometimes we can get creative on how we move things around. These are stainless barrels for our Naked Chardonnay.
A Vintage to Look Forward To
With favorable weather and optimal growing conditions, we're expecting this vintage to be something truly special. The nuances of this year's Pinot Noir are already shining through, hinting at a wine to remember. And, if we pass our audit – the 2023 crop will be Sustainable WA Certified. One small step on our journey to Organic certification as well as becoming Regenerative Organic. As we've shared with some of you – our apples and vines were all treated organically this year.
We invite you to join us in celebrating this exciting time. Whether you come to the farm for a tasting or enjoy our wines in the comfort of your home, we look forward to sharing this unique vintage with you.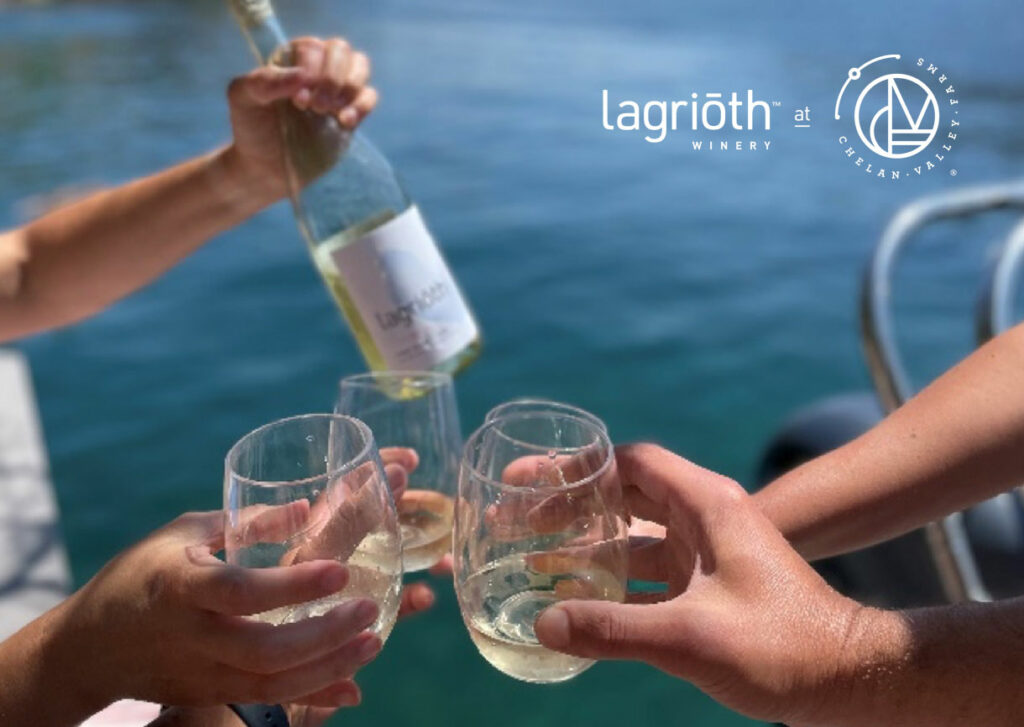 Caption: Cheers to another vintage of Fumé Blanc making it into the winery.
Here's to an amazing harvest and to the unforgettable taste of our Estate Wines. Cheers!
– Jeana