Spring Happenings at Chelan Valley Farms
Thank you to all who have an interest in what we do at Chelan Valley Farms. I wanted to give a Spring update and just let you all know what has been happening at the farm recently and what's up and coming so read on if you're interested!
Grow Room to Greenhouse
This year starting seeds had its ups and downs, but it has been very educational! I started out the year using dome lids for the seed trays, only to discover that these don't work well in the grow room. The dome lids were trapping too much heat and moisture which caused seeds to rot in the soil and some of the seedlings to dampen off. We identified the problem and removed all the lids. The following successions proved to have overall higher germination rates with minimal damping off. We've also incorporated more detailed labeling for each plant variety, like water, heat and light requirements as well as days to germination which has helped the process as well. I look forward to starting seed next year since having learned more about what works best in our grow room space!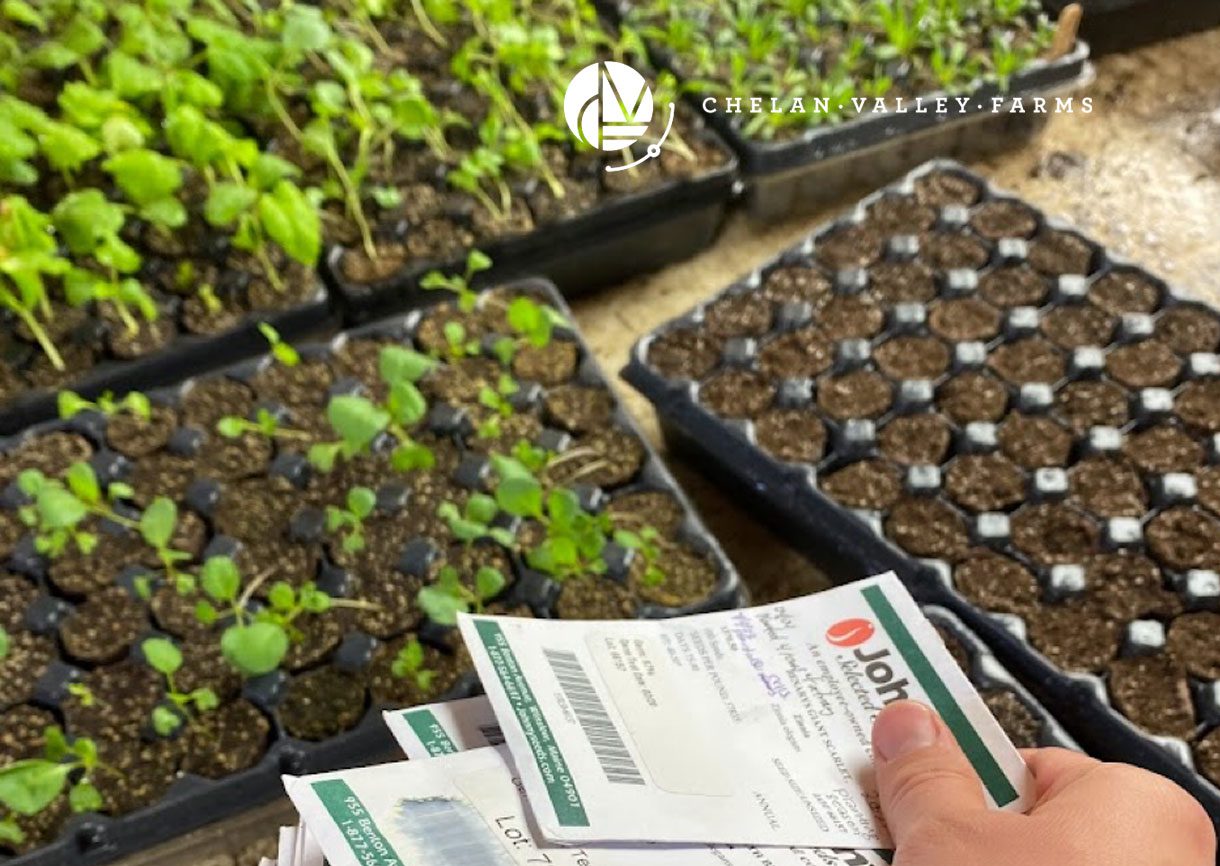 Many plant varieties are currently on their third succession and earlier successions are ready to be hardened off. These older seedlings have been moved into the greenhouse. When initially moving seed starts to the greenhouse, the roll up sides were left down one, just one, chilly night and it killed off several of the tomato seedlings. After identifying the issues and amending them, it became possible to move some of the more delicate seedlings out of the grow room to the new space and I also experimented with starting some seeds in the greenhouse; these are doing surprisingly well. Becoming keen on monitoring the greenhouse has been a learning curve as the needs of the greenhouse plants are different from the grow room seedlings. Jeana and I moved some old pallets into the space for the trays to rest on which are working out splendidly. The only danger of this setup thus far is when Angel or Bingo find themselves wandering about the greenhouse. *Stomp*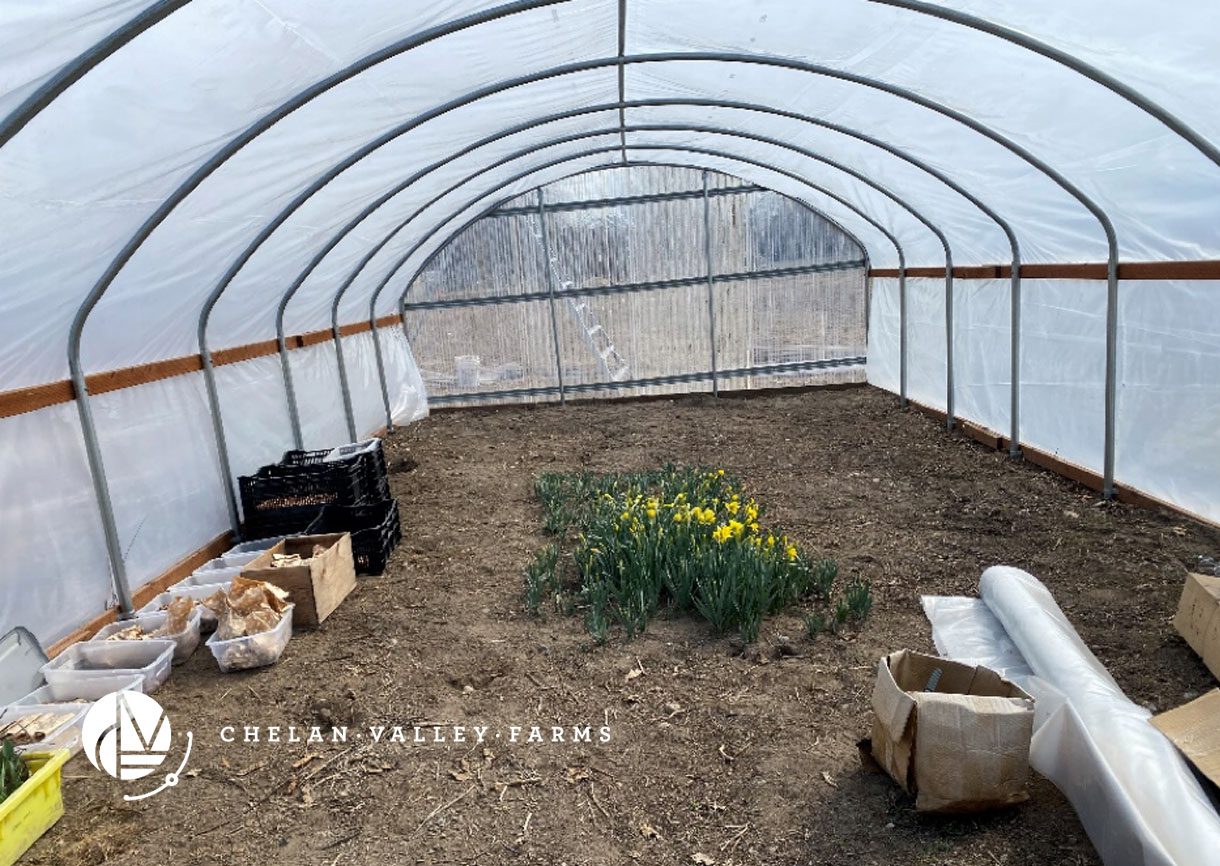 Spring Gardening
I spent this past week planting Dahlias in the main garden next to the tasting room. Some of the nodes on the Dahlia tubers were already pushing their first leaves and very few tubers had shriveled. As I was recording the Dahlia tuber inventory, I counted around 50 varieties, give or take a few. I suspect there may be more unaccounted for that are currently buried under a large stack of yellow lugs which are taking up residence (and room) in the back of the garage. I updated the Dahlia map this year, which will hopefully make the fall process of identifying and labeling dahlias a bit easier. Tubers are still for sale on the Chelan Valley Farms website, it's not too late to order!
The Orchard Garden, where pumpkins formerly grew, now houses several more raspberry rows and the space beyond them will be used primarily for extra Dahlia tubers, more perennial flowers, and herbs so that is a project which is currently in the works.
We also will be planting more wildflowers at the entrance of the driveway. Wildflower gardens are gorgeous, low maintenance and wonderful for pollinators! The perennial flowers have begun to grow again; Delphinium is beginning to bloom which is also located in the wildflower garden space. Unfortunately, the harsh winter chill killed many of the rosebushes that are on-site. It's a bummer but on the other hand, it's encouraging to see the peonies springing up so beautifully.
In addition to these the Tulips are currently blooming. They are incredible so if you get a chance to visit the farm this weekend, we are offering U-Pick flowers!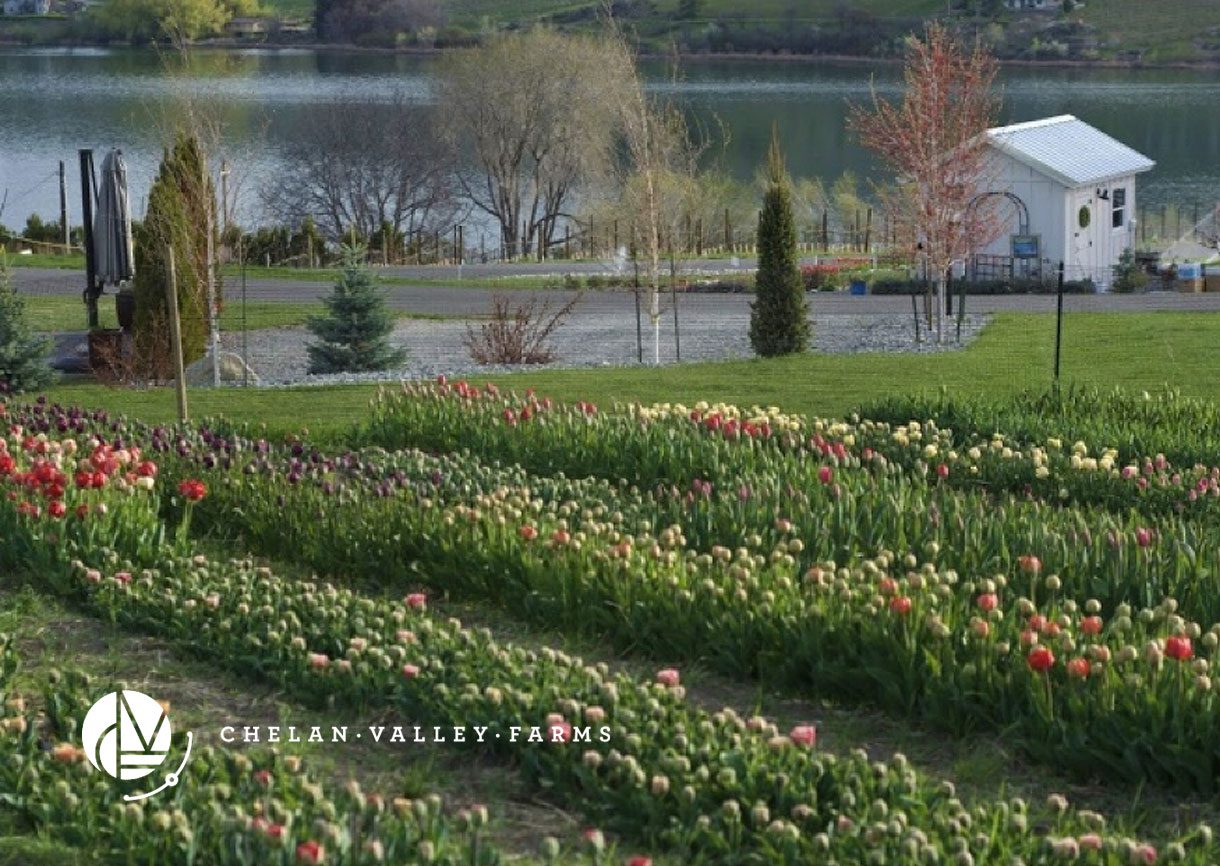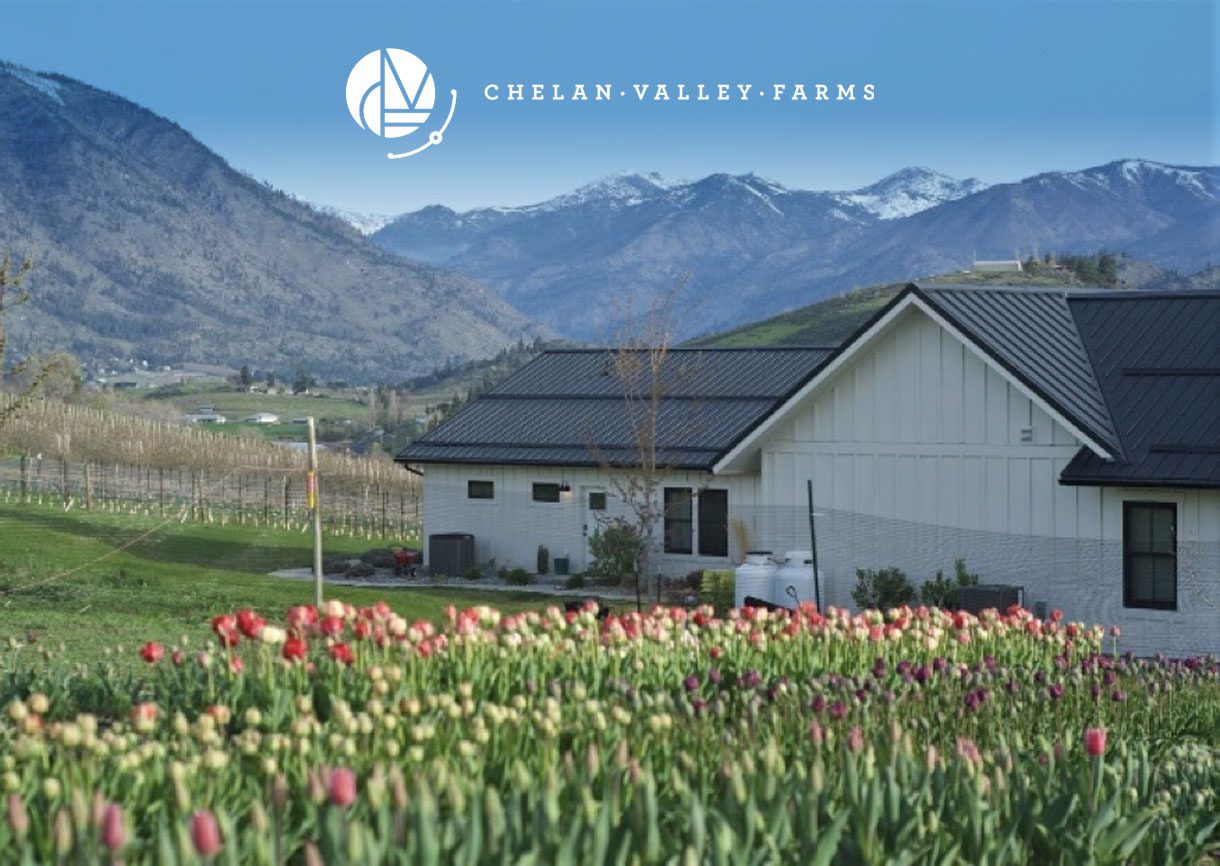 Apples are blooming
Jeana's recent blog post talked about growing degree days. Well, its been a cool spring until the past two weeks. Needless to say, everything is behind normal but the warm weather seems to have made everything happen all at once. The apples are now in full bloom and the bee's (be careful if you're strolling the orchard) are actively doing their job. It never ceases to amaze me how beautiful the apple flowers are. Has it really been a year since we saw them last? ALL the sprays in the orchard and vineyard will be organic this year. This is a more expensive route for us – but we believe its worth it. Especially since a lot of our apples are u-pick. It also doesn't mean we don't spray. For example – there is a large risk of fire blight this weekend with the rains and blooms out, so we applied organic copper. This is a beautiful time to come tour the orchard.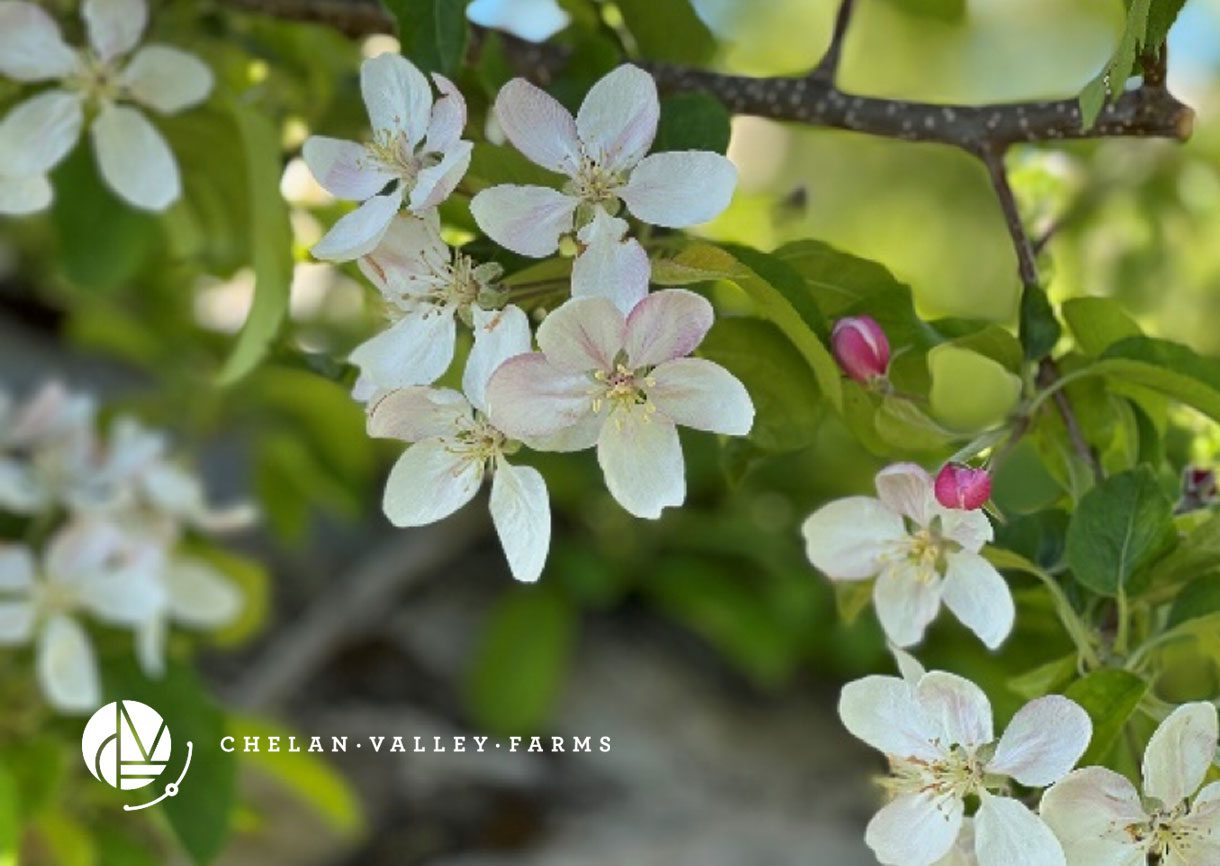 Bud Break
One of the most important occurrences on the farm is bud break. This winter, temperatures at the farm got down to -6 degrees Fahrenheit but despite these low temperatures and a lower than typical chance of success in the vineyard, we have seen the first bud break in the Pinot Noir, Chardonnay and Sauvignon Blanc grapes. See more info about this via Jeana's blog last week!
Sheep
We brought sheep to the farm. Three 6 month old female Hampshire's. Chad and Jeana's High School Ag teacher raises champion sheep for FFA and 4H kids around the state. He had some females he really wanted to see go to a good home – so he reached out to Jeana and now we have sheep. They'll be a great resource for us to keep weeds down in the crops around the farm. We're excited to kick off this chapter. Thank you Tilth Alliance for the grant to get fencing and housing going.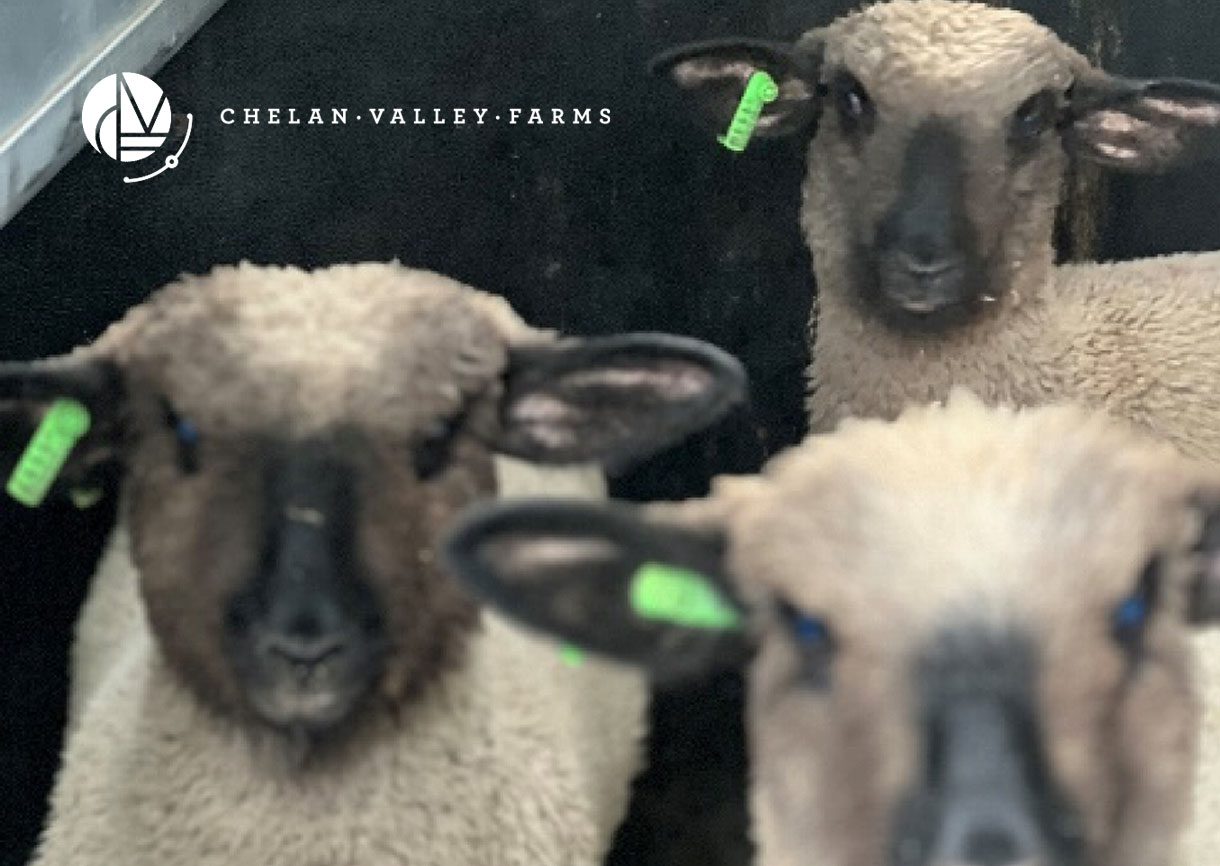 Upcoming Events & Flower Club
We are actively updating our calendar so be sure to take a look at what we have up and coming this Spring/Summer! Some notable upcoming events on the flower farm to look forward to are:
Mother's Day Afternoon Tea
This will be at 1pm on the 14th of May. Tickets can be purchased online– space is limited. Everyone is welcome; moms, dads, children, and anyone else who wants to experience a formal tea. Make sure to include your name when booking your ticket for seating arrangement!
Lake Chelan Wine and Jazz Festival
Later this month we will be a host for Lake Chelan Wine and Jazz Festival. We will have live concerts on May 19th and 20th. Expect to see R Shack BBQ food truck set up on site. Stop in, grab a bite to eat and enjoy the Jazz!
Small Town Strings Concert
In June, the band Small Town Strings will be playing at the farm. This is a benefit concert to promote mental wellness. The proceeds will go to the organization, Only7Seconds. There will be food and other wellness resources on site.
Summer is just around the corner; we look forward to seeing all you folks soon!