Your Central Washington Plant Guide
For small farmers and home gardeners, one of the most practical ways to ensure a successful crop wherever you are is by growing native plants. This is not only beneficial to the gardener as growing these native plants requires less maintenance, but it is also beneficial to the environment itself as well as the local wildlife.
Three years ago I moved to the Chelan Valley area from Hawaii. To go from the tropics of the south shore of Kauai to the high desert of Central Washington was delightful and I was taken by surpise at the beauty of the terrain and the local plant life.
Below are some of the first photos I took after moving here: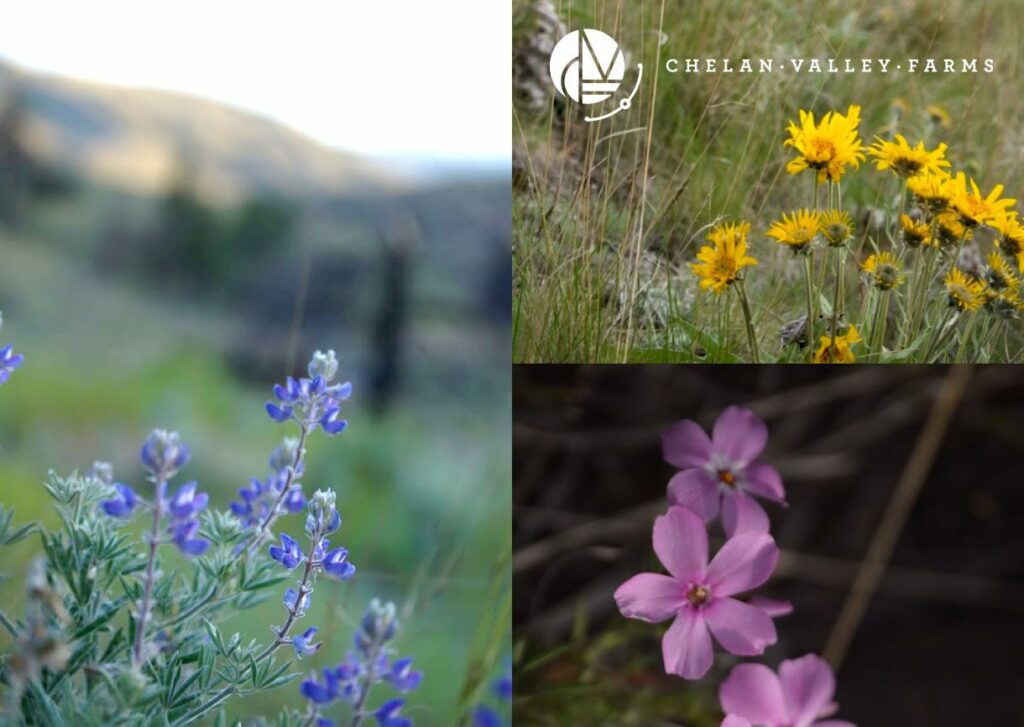 Three years later and I wholeheartedly love where I live; I am thankful that in the summer months I can expect to see wild sunflowers springing up on the side of the road, thankful for the early mornings when I see the locals harvesting wild Asparagus and thankful to work in a job where I get to cultivate the land! Small farms are incredible.
5 Ways Growing Native Plants Benefits the Small Farmer and the Environment
As a small farmer, growing native plants offers a wide range of benefits that can help you sustain your farm while supporting the local ecosystem.
Here are some of the key benefits:
1. Suitability to the local climate and soil:
Native plants are the ideal choice for farming as they are naturally adapted to the climate and soil of your area. This means that they require less water, fertilizer, and pesticides to grow, making them a cost-effective option for small farmers.
2. Better soil health:
Growing native plants can improve the health of your farm's soil by increasing its organic matter, improving soil structure, and enhancing nutrient cycling. This can lead to better water retention and reduced soil erosion.
3. Support for pollinators:
Native plants provide a rich source of nectar and pollen for local pollinators, such as bees, butterflies, and hummingbirds. These pollinators play a crucial role in the reproduction of many plant species, including food crops.
4. Increased habitat for wildlife:
By growing native plants, small farmers can help create and preserve natural habitats for local wildlife. This can lead to increased biodiversity and a healthier ecosystem!
5. Reduced use of pesticides:
Since native plants are adapted to the local climate and pests, they are less susceptible to damage from insects and diseases. This means that small farmers can reduce their use of pesticides, resulting in a safer and more sustainable farming operation.
Overall, growing native plants is a smart choice for small farmers who want to create a sustainable and profitable farming operation while supporting the health of their local ecosystem.
Central Washington Plants & Their Medicinal Properties
View Central Washington plants.
Balsamroot
Arrowleaf Balsamroot (Balsamorhiza sagittate) is a flowering plant belonging to the sunflower family. It is native to western North America, and it gets its name from its large, arrowhead-shaped leaves. This is a perennial plant that often grows in dry, open habitats. It has a deep taproot that allows it to access water and nutrients from deep in the soil, helping it to survive in drought-prone environments. This flower attracts a variety of pollinators, including bees and butterflies! Arrowleaf Balsamroot has a long history of use by Native Americans for food and medicine. The root was traditionally roasted and eaten, while the leaves and flowers were used for medicinal purposes such as treating coughs and sore throats. Today, Arrowleaf Balsamroot is valued for its beauty in natural landscapes and is often included in native plant gardens as well as restoration projects. This would be an excellent addition to a native pollinator garden.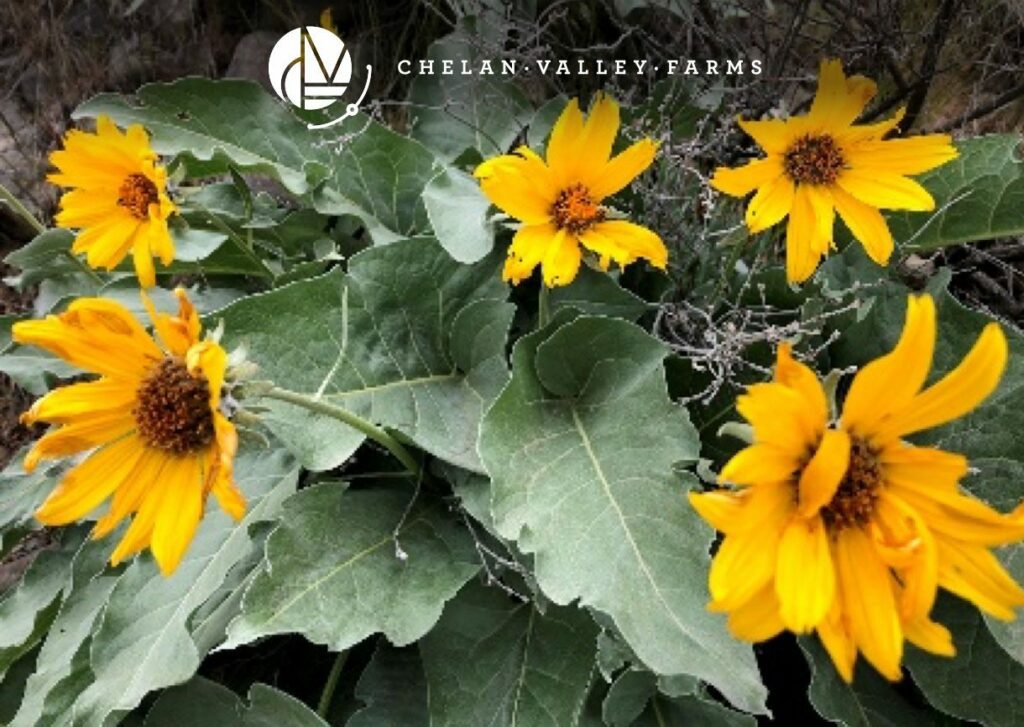 Yarrow
Yarrow (Achillea millefolium) is a perennial herb that belongs to the Asteraceae family. It grows up to two feet tall and has feather-like leaves with small flowers that bloom in clusters. Yarrow is a versatile plant and has been used medicinally for centuries for its antimicrobial, anti-inflammatory, and antioxidant properties. It is commonly used for the treatment of bleeding disorders, gastrointestinal issues, menstrual cramps, and fever. Additionally, it can be used topically to treat wounds and skin issues like eczema and acne. Yarrow is also used in traditional healing practices like aromatherapy and can be made into teas, extracts, and tinctures. The leaves and flowers of the Yarrow plant contain bioactive compounds like flavonoids, alkaloids, and tannins that provide many health benefits.
Sagebrush
Sagebrush (Artemisia tridentata nutt.) is a common shrub that belongs to the Artemisia genus and is native to arid regions of North America. It is prevalent in the western United States and the Great Basin, and it is an essential component of the ecosystem in these regions. Sagebrush grows up to 1-2 meters tall, has a gray or greenish bark, and leaves that are narrow, silvery-green, and slightly hairy. It commonly blooms in late summer or early fall, producing small yellow flowers in clusters. Sagebrush is incredibly resilient and can thrive in harsh environments where other plant species may not survive. It is well adapted to drought conditions, and its roots can reach deep into the soil to access water. As a result, sagebrush plays a vital role in combating soil erosion and maintaining healthy soil conditions. "Daniel Moerman's Native American Ethnobotany lists A. tridentata as one of the ten plants with the greatest number of uses. Understanding the reason for this is easy after visiting the area: sagebrush is nearly everywhere. Tea was made from various parts of the plant, and it was used extensively in medicine. The wood was used as fuel, and the stringy bark was used in the manufacture of ropes and baskets." (Gauna 4)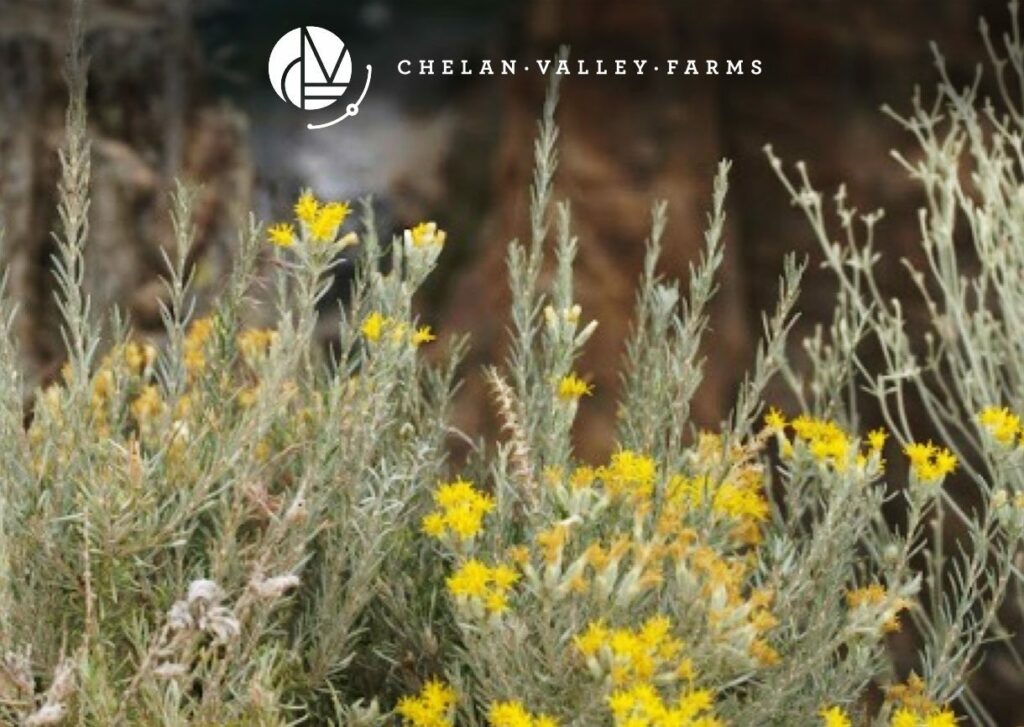 Beyond what plants I have mentioned are so many other native plants with their own history and medicinal uses. To learn more, check out Native Wildflowers, Groundcover and Vines, Eastern Washington Plants and, CEG Natives n' More Garden.
Washington Local U-Pick Flowers
Some great options for Washington U-Pick Flowers are Chelan Valley Farms (Manson), Roots Produce and Flower Farm (Leavenworth), Half Moon Blooms (Spokane) and, The Dahlia House (Mount Vernon).
At Chelan Valley Farms we have our own U-Pick flowers beginning in late June and ending mid-late October. We grow a wide range of flowers like Zinnias, Dahlias, Snapdragons, Amaranth, Statice, and so many others. This Spring, you can expect to see the farm decorated with nearly 30,000 Tulips of 20 different varieties which will also be available for U-Pick.
Roots Produce and Flower Farm in Leavenworth is a family-owned business. They are open on Saturdays in the summer to the general public for U-Pick flowers as well as U-Pick blueberries. Check out their website for more information!
Half Moon Blooms is another Washington flower farm located in North Spokane and is open for U-Pick Flowers on the weekends throughout the summertime. This U-Pick is designed to be self-serve and hosts a wide variety of blooms.
One of my favorite Washington flower farms is the Dahlia House, located in Mount Vernon. Anne, the owner of the Dahlia house, is known especially for growing a wide variety of Dahlias and Ranunculus. Check out her Growing Guides to learn the ins-and-outs of growing Peonies, Anemones, Ranunculus and more!
Washington Local U-Pick Fruit/Vegetables
In addition to the local flower farms there are so many Washington U-Pick Fruit and Vegetable farms!
You can count Chelan Valley Farms into the U-Pick mix with our farm grown raspberries, blueberries, apples, squash and other produce. This summer you can expect to see more produce available at the farm than we have had in years past and I am so excited for it. This past week I started over 280 tomato plants that have germinated and began growing beautifully!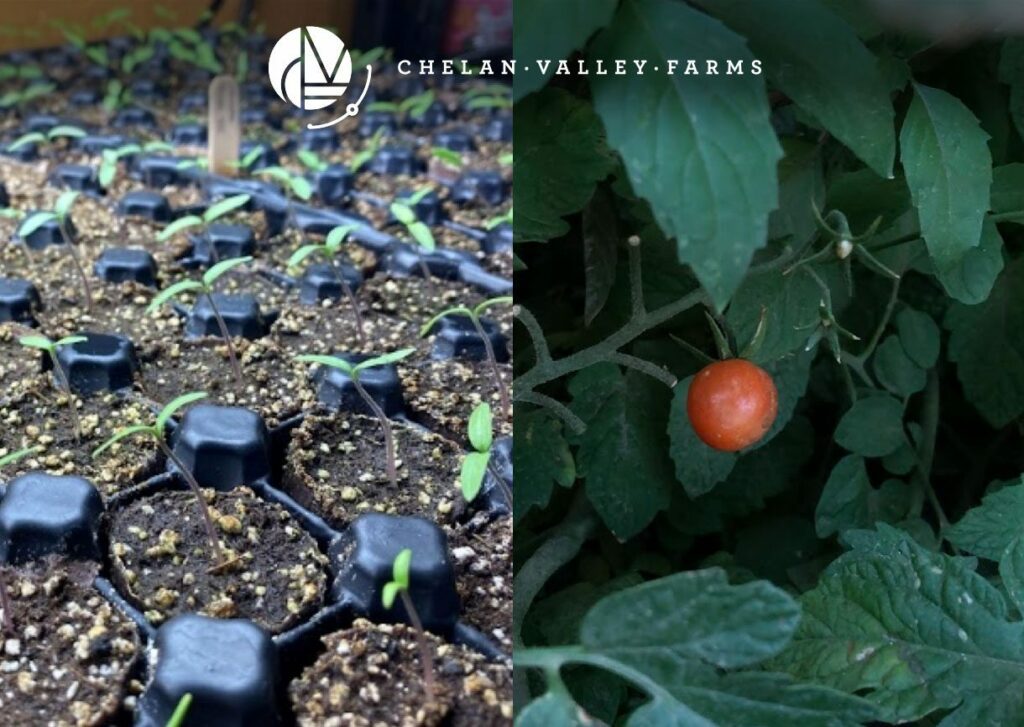 One of the staples of Manson is the amazing, Blueberry Hills. Whether you're looking for a hearty meal or wanting to harvest some of the best blueberries, this is the place to be. Blueberry Hills is not simply a restaurant, it is an experience, and the name is no understatement. The hill is lined from top to bottom with prolific blueberry bushes. Bring the kiddos this summer and head to Blueberry Hills to harvest!
West Valley U-Pick Fruits and Vegetables is in Yakima. They grow a wide variety of fruits like cherries, plums, peaches, pluots, pears… you name it! In addition to this they grow vegetables and sell local, raw honey. Stop by on a weekend this summer if you find yourself in the area!
R&J Cherries is a u-pick/we-pick Rainier Cherry Orchard located in Wenatchee. They also grow a limited number of Bings, Pie Cherries, and Lamberts.
For our friends of the farm visiting or located in these locations this summer, be sure to stop in and support our neighboring flower and produce farms in Washington! What are some of your favorite u-pick farms in Washington and where have you enjoyed success in your gardening? Let us know!
Happy Spring!