Bottling Wine. What's it looks like at Lagriōth Winery?
Happy St. Patricks day! Today is bottling day at Lagrioth. This day is one of the biggest and most important days on the farm. A day that we have been planning and preparing for since harvest. This weeks blog is all about the bottling. It is something we get asked about often and we thought it would be appropriate to share some information about our process here at Lagriōth Winery. Many wineries hire a mobile bottling truck to come in and assist in bottling. Wine bottling on a mobile bottling truck is a convenient and cost-effective solution for small wineries that do not have the resources or space for a traditional bottling line.
Here's a general idea of what the process looks like-
1. Pre-Bottling Preparation: There is a lot of behind-the-scenes logistics and cleaning as we prepare the wine for bottling. We perform analysis on each wine and send it in for alcohol testing. Once the wine labels are designed and created, we then submit each label for approval by the TTB (Tobacco and Trade Bureau) for approval. Once approved the labels can be professionally printed. This is done several months prior to bottling so you have time to receive your labels before the bottling date. During COVID- our labels got stuck in Canada, so we bottled without labels, then sent the bottles back thru the bottling line once the labels arrived. All glass, corks, screw caps and other supplies are ordered in advance also.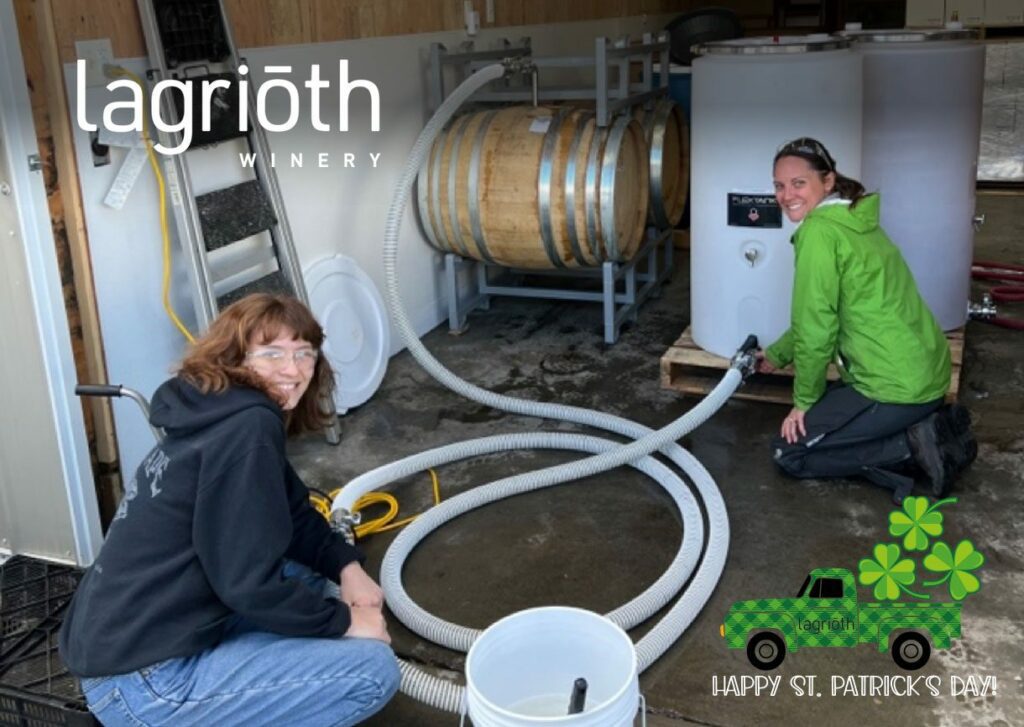 The week before the bottling truck arrives, we prepare the wine for bottling by cross-flow filtering and stabilizing the wine.
Mobile Bottling Truck Arrival: The mobile bottling truck arrives are the winery and parks near the bottling area. The truck is equipped with a bottling line that includes a series of machines for washing, filing, corking, and labeling the wine bottles.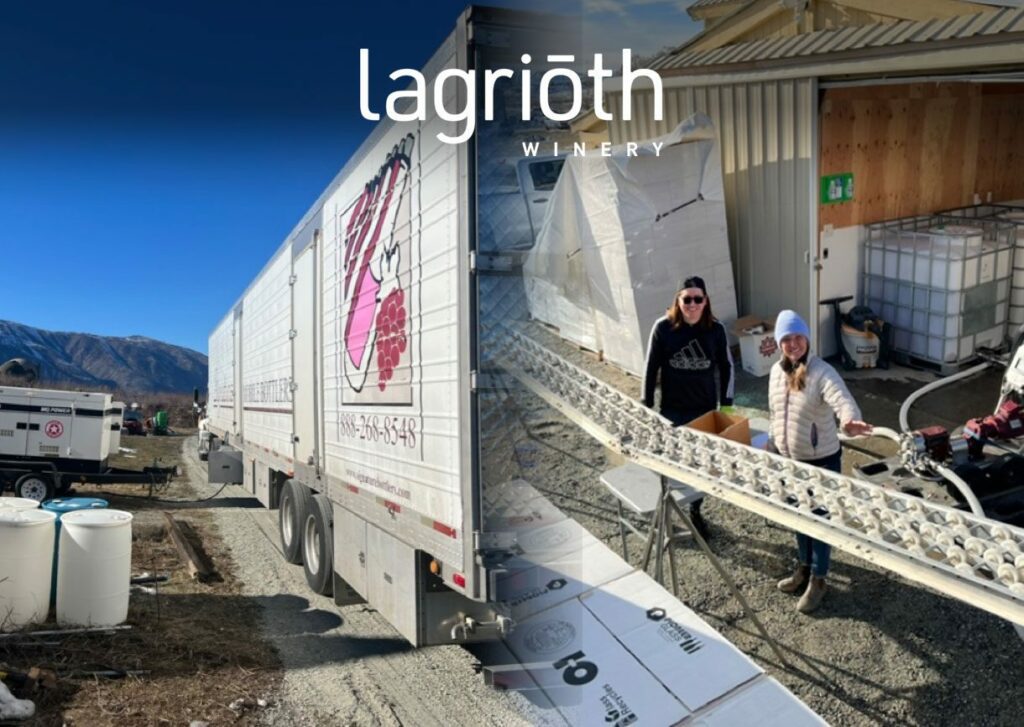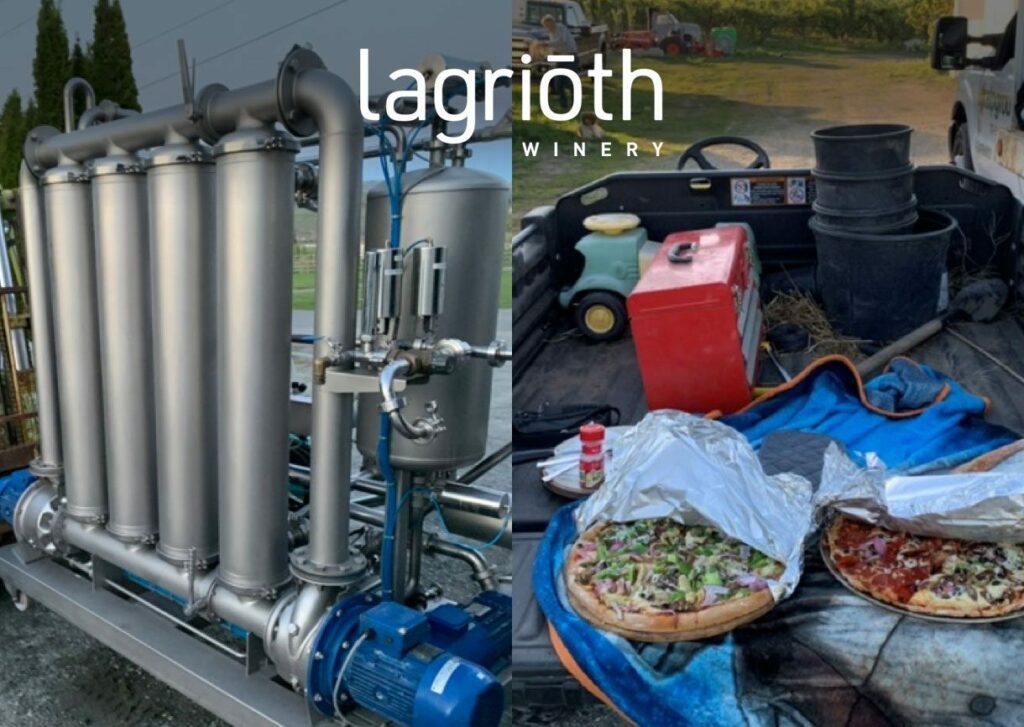 Late afternoon- cross flow filtering with home made pizza for Chad and Jose
3. Wine Bottling Process: On bottling day- gracious friends join us to do one of the biggest jobs of the winery. Essentially, the wine is transferred from the storage tank to the bottling line via hoses. The bottles are first cleaned, rinsed, and sanitized before being filled with wine. The corking the machine then inserts corks into the bottles and the labeler applies labels to the bottles. The bottles are then hand packed into cases and sealed then stacked on a pallet to be put into the winery.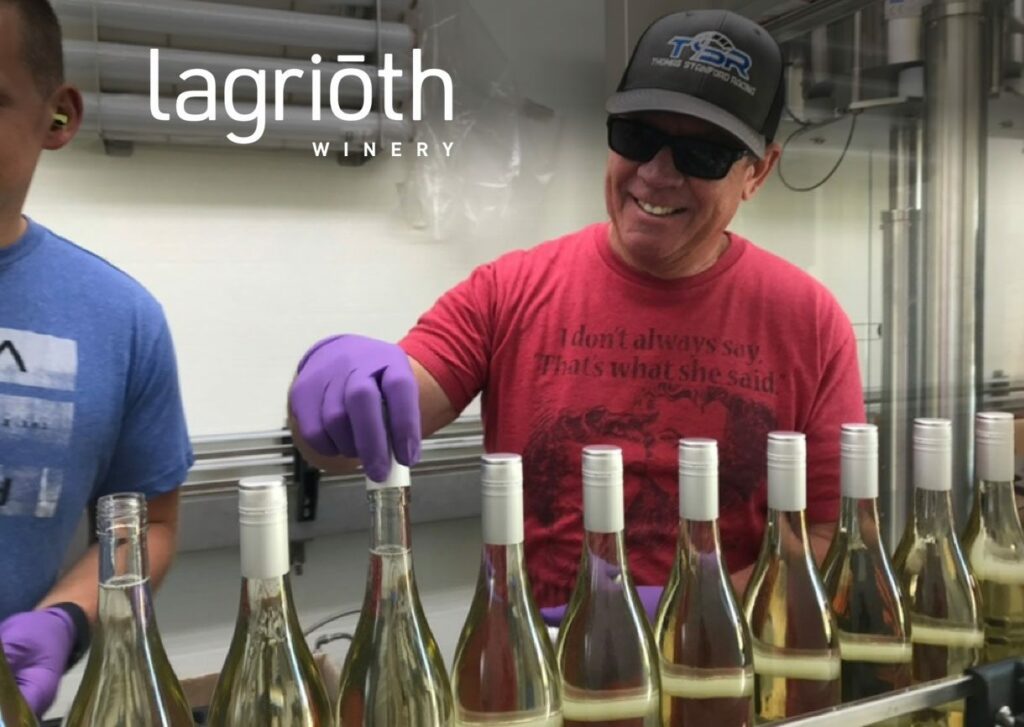 Post-Bottling Clean up: Once the bottling is complete, the mobile bottling truck is cleaned and sanitized. We then stack the cases of wine and store it like a puzzle it in the wine barn.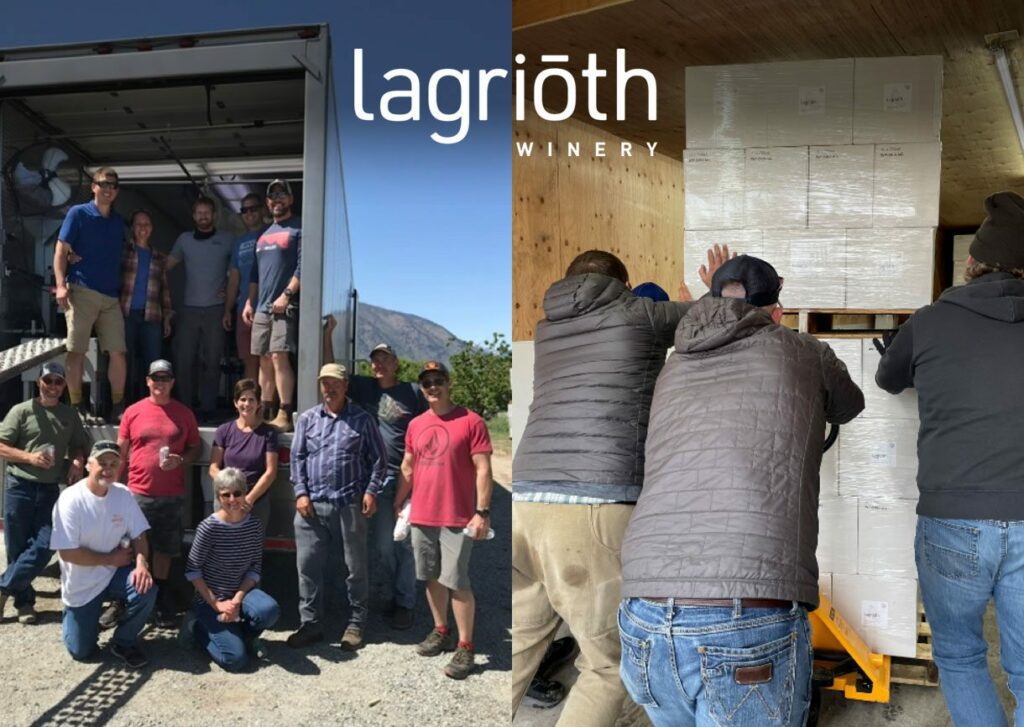 Mobile bottling trucks typically have a large range of capacity which is ideal for a smaller winery. This process can save small wineries like us at Lagriōth, time and money and space as purchasing a bottling line is not feasible. The first part of April we will be launching our new wines to our wine club members and then you'll start seeing our newest vintage on the tasting menu and for sale online.
We are so grateful for the support of friends and family who come volunteer their time. Bottling is a lot of hard physical work and we are beyond appreciative for everyone's help. After the hard work is done- it is traditional to celebrate and have everyone over for dinner afterwards. Cheers to another bottling day!
And as a winemaker I can sleep well knowing the wine is all ready to go.