What Grape Varieties We Grow & Why?
When we purchased the original 8.14 acres of the farm in 2014, there were piles of Red Delicious trees piled up and ready to be burned. We started planning how to get water back on the soil as soon as possible. Thankfully Chad came to the property with some friends and family for a few weekends to lay out irrigation. Then in April of 2017 (the weekend of Owen's 2nd birthday), about 35 friends and family came and camped out with us for a weekend to plant the first block of the vineyard the Pinot Noir.
Between planning out the spacing and lining up each row, digging holes for end posts and in-line posts, and planting each vine by hand, we are beyond grateful for all their help and hard work to get the vineyard going. We are super excited to be able to bottle and share our first vintage of aged Pinot Noir this fall (2023).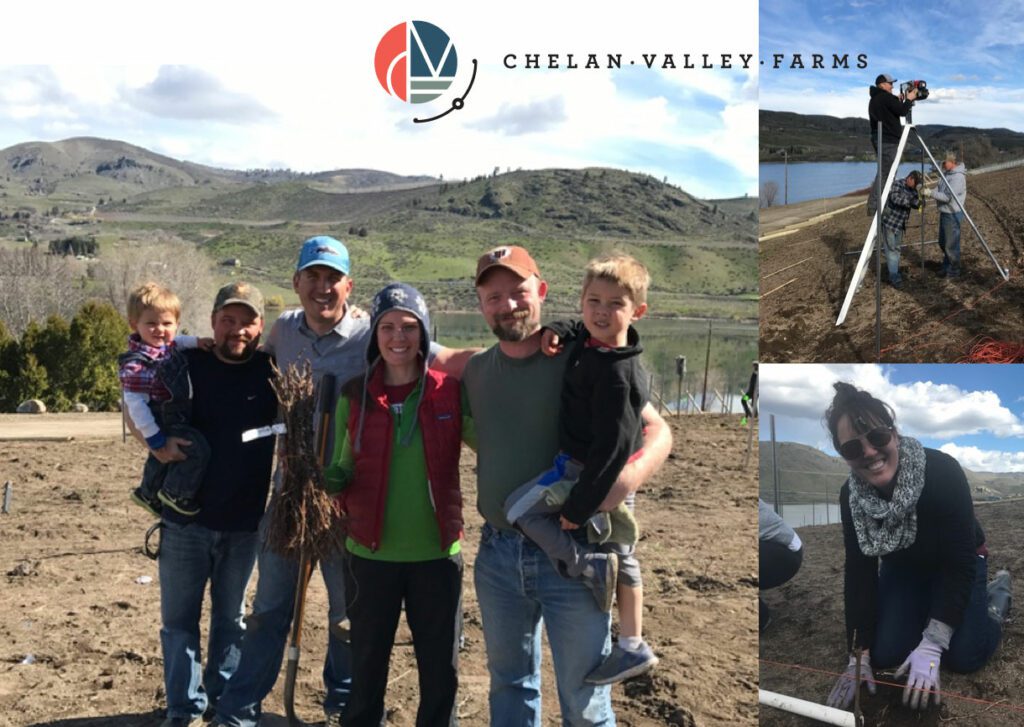 We made the 14 hour drive back to California. Then in April Chad drove up and picked up the Chardonnay and Sauvignon block vines at Inland Desert on his way. His brother Cody joined him to help get the infrastructure of the field ready for planting then Chad stayed for a week. With the help of a crew they got the rest of the vineyard planted. A special thanks to Al Steele for coming up and digging the sub-main ditch so Chad could lay the pipe to get water to the vines. After several 14 hour days, I remember Chad driving back to California with the u-haul trailer in order to get it back by 3pm Friday evening having dinner with us at home and then flying to Bologna, Italy the following morning. Figuring out the logistics of executing the planting of the vineyard was a feat and we are grateful for the helping hands of so many friends and family. Thank you.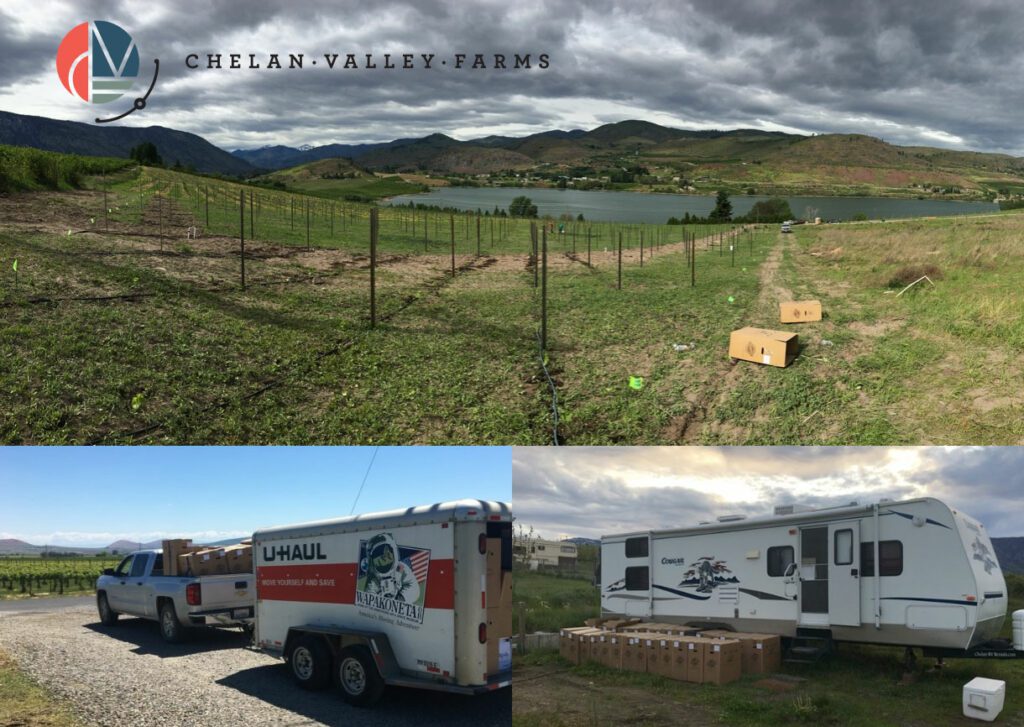 With so many grape varieties, we often get asked "Why did you choose the varieties you did? The main reason we chose this land is to plant Point Noir. In my previous blog titled – Why did we settle in Lake Chelan and the Lake Chelan AVA It describes why we chose this place to call home. Pinot Noir, although being a more finicky grape variety to grow has an abundant number of options to be used as wine. Plus, I love Pinot Noir. I'll never forget on of our first winemakers/mentors/friends, Layne Montgomery at M2 wines in Lodi, CA saying, "plant what you enjoy to drink because you'll have a lot of it.".
Pinot Noir
2021 was our first year harvesting the Pinot Noir and we made an Estate Pinot Noir Blanc. As this first year – we made 100 cases of Pinot Noir Blanc and were honored that it won Gold at the Invite Only Great Northwest Wine Competition and sold out by the end of summer. This year the grapes held on to more color so we will be offering an Estate Pinot Noir Rosé and our first barrel aged Estate Pinot Noir.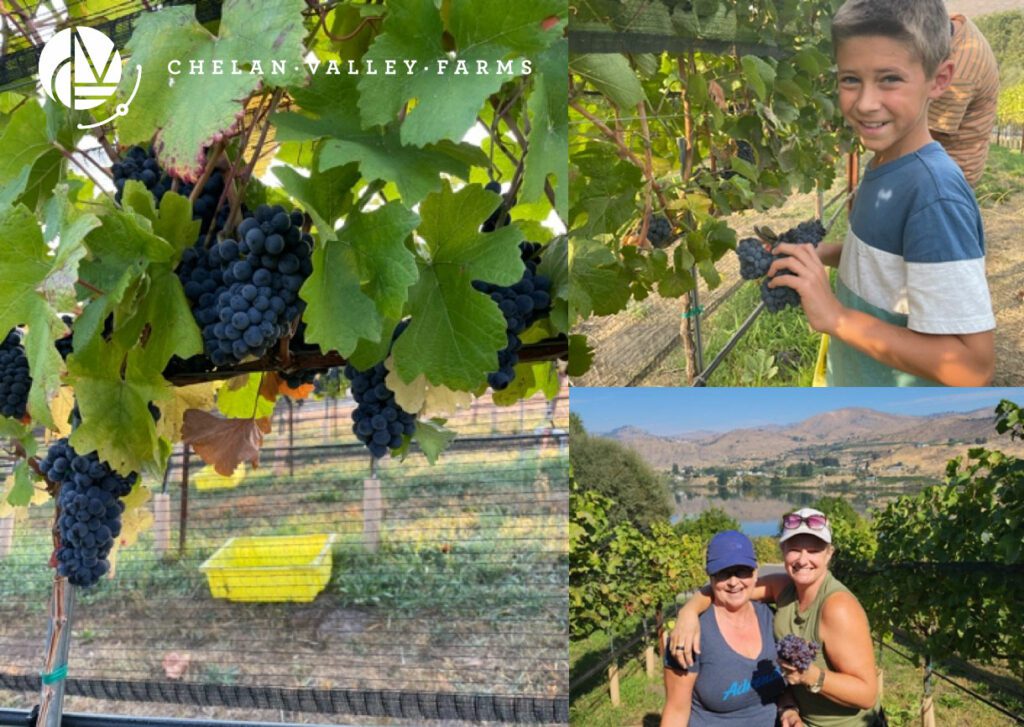 Pinot Noir has been propagated for many centuries and has over 1,000 registered clones. The origin of Pinot Noir seems to have never been clear. The grape variety has been highly regarded over the centuries. Prior to Pinot Noir having a name, there are references of old synonyms Morrillon, Noirein and Auvernat (Robinson, Harding and Vouillamoz. Wine Grapes. 2012. Print) dating back to 1283. The grape was described for the dark-skinned berries as looking like blackberries.
In the vineyard, Pinot Noir grows best in cooler climates. The vines push buds earlier than other varieties which makes it susceptible to really frost damage. The skin of the berries is thin and can shrivel and sunburn easily. Pinot Noir is a more delicate grape to grow and is prone to downy and powdery mildews, and other viruses and diseases in the field.
Pinot Noir is grown around the world with Burgundy being the most prized location. It ripens earlier than other varieties which means only cooler regions can provide the length of growing season to create high quality wines. The growing region is important as many climates are too cool or too wet for Pinot to grow well. Areas in the US well know for Pinot Noir are coastal regions with natural rainfall and cooling from the coast. Oregon's Willamette Valley, Sonoma, Carneros and Monterey are the primary regions in the US that grow Pinot Noir. Charles Smith recently planted 100's of acres of Pinot Noir in Washington, which is an exciting project to follow. We believe certain areas within the Chelan AVA provide ideal growing conditions for Pinot Noir. The north facing slope of Chelan Valley Farms provides cooler growing conditions and protection from sunburn. The vines are hardy to about -5 degrees F which has some growers a bit worried this year as we saw temperatures down to -12degrees F in the Chelan Valley. On the farm we saw -6degree F.
Our first vintage of Barrel Aged Estate Pinot Noir will be bottled this fall. The 2022 growing season was ideal for Pinot Noir. A cool spring (unusually cool and late) followed by a long mild fall allowed for higher yields and delicious fruit. Fortunately, the fruit ripened completely while also maintaining its acidity (while other varieties were unable to ripen completely before the early winter snow came on November 6th). Literally – it felt as if we didn't experience fall this year. The leaves on the apple trees literally froze on the trees and still haven't fallen off. This week we started testing buds in the vineyard and will see how the vines survived.
Chardonnay
Chardonnay got it's name from the small village it originated in called Chardonnay, France. According to the Wine Folly online, the comprehensive Guide to Chardonnay, The name originally meant "place of thistles or "thistle covered Place". There have been various spellings used over the years (Charente, Chardonnay and Chardenay) with the common spelling started being used in the 20th century.
As a grower, Chardonnay is one of the most versatile white wine grapes. Chardonnay can be made into a variety of different styles and flavors depending on where it is grown and particularly how it is made. You can taste Chardonnay with bright acidity and citrus fruit forward flavors to a Chardonnay with a heavier mouth feel with buttery notes. It is also commonly used as the base wine to make champagne.
Chardonnay is now one of the most widely planted white wine varieties in the world. It grows well in a variety of soils, pushes buds early which allows it to ripen on the earlier side. It tolerates mild winters well, but early frosts can lead to damage. The 2022 growing season began with a long cold spring however thankfully we didn't see any bud damage. Winter came hard and fast with our first snowfall on Nov. 6th and frigid days dipping to -6 degrees F in December. We are starting to test buds which seem ok at this point, but we've been hearing of several growers seeing a lot of bud damage in their vineyards. We still have snow in the vineyard so we will not start pruning until March.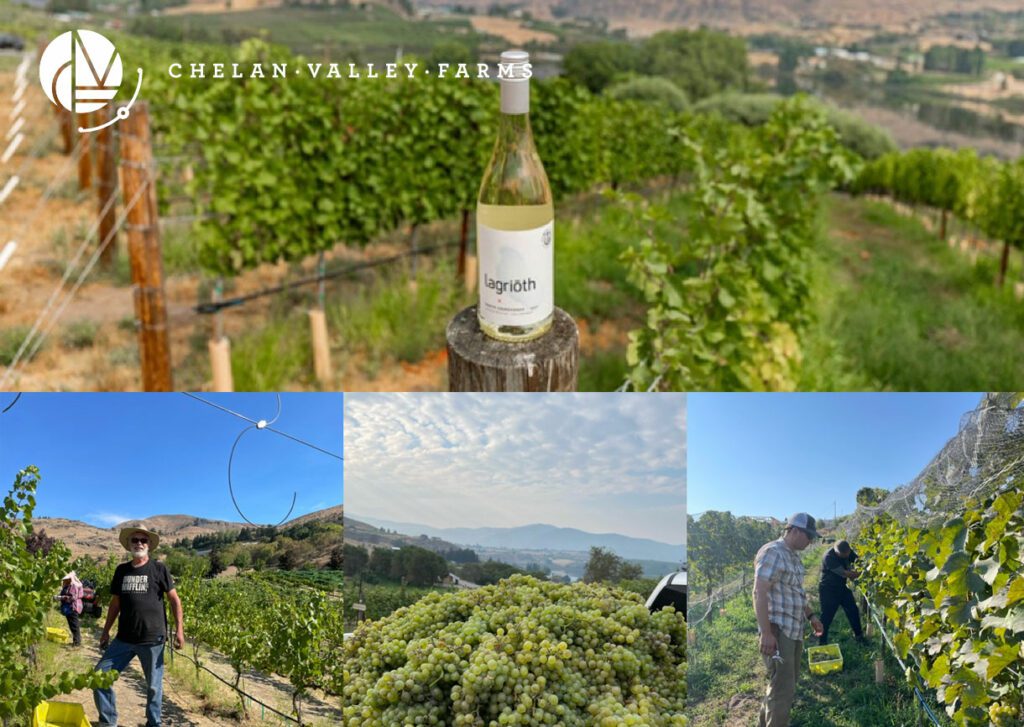 There are many clones of Chardonnay. We planted Chardonnay clone 95. This clone of Chardonnay is a high-quality lower yielding clone. It's also considered good for dual purpose – it can be made into sparkling wine or a fine still wine. Have we defined "clones" before? We talked about Pinot Noir clones and now Chardonnay… Well, a clone is caused from a "mutation" in the vines. This mutation can then be replicated using vegetative propagation or you could say "cuttings". Versus new varieties that are developed using pollen and flowers – think the birds and the bee's. So, Chardonnay clones are all Chardonnay with the same original parents.
2021 marked our first vintage of making estate Lagriōth Chardonnay. We chose to grow Chardonnay because of its hardiness in the vineyard and versatility in winemaking. To showcase the versatility of Chardonnay, this fall we made 3 different styles of Chardonnay. You'll have 3 options to choose from. We made a 100% Stainless Chardonnay which is called Lagriōth Naked Chardonnay. A more traditional barrel fermented, and sir lees aged Chardonnay called Lagriōth Chardonnay. The Estate Lagriōth Chardonnay is made in 100% neutral French oak. We hope you can enjoy the differences that Chardonnay can create in the glass. I have not made a sparkling wine before and hope to continue to learn and incorporate a sparkling wine in the future.
Sauvignon Blanc
Did you now that a cross (birds and the bee's again) between Sauvignon Blanc and Cabernet Franc made Cabernet Sauvignon? That's right.
Contrary to common belief that Sauvignon Blanc (commonly called Sauvignon in Europe) originated from the Bordeaux area. Sauvignon is likely to have originated from the Val De Loire in France around 1534(Robinson, Harding and Vouillamoz. Wine Grapes. 2012. Print). To me, Sauvignon Blanc has always been an intriguing grape. The fresh aromas and citrus notes make it so refreshing and one of my favorite wines.
Sauvignon Blanc grows vigorously so the canopy can be challenging to manage. It ripens on the earlier side and can be susceptible to botrytis bunch rot (which can cause a sour smell in the grapes). We have noticed Sauvignon Blanc is least cold tolerant. With the negative temperatures in 2021/2022 we did have some winter vine damage and we are yet to know how much damage will be present with this winter season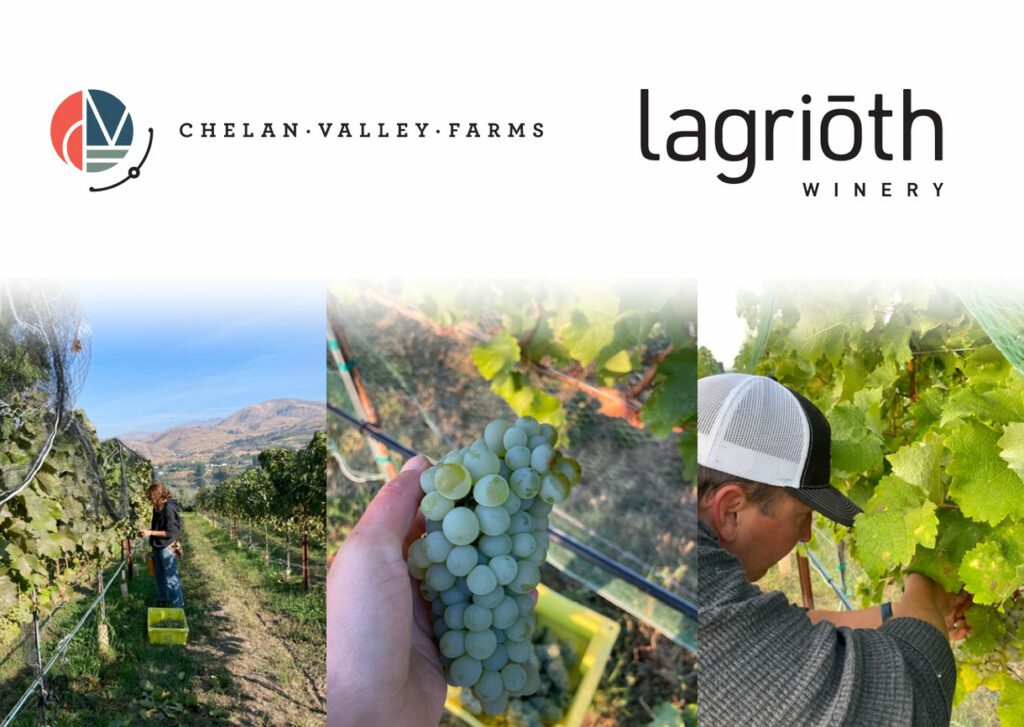 Depending on where Sauvignon is grown it showcases different varietal characteristics. This is another reason why I've enjoyed learning about Sauvignon Blanc. In warmer climates you'll taste more tropical flavors, however in cooler climates like at Chelan Valley Farms you experience higher acidity and "green flavors" along with some tropical fruit. I've read that Sauvignon Blanc can be referred to as smelling like "cat pee" when picked early. On the farm the clone we planted is clone 20. We've been told that clonal variation on Sauvignon Blanc is minimal.
Being new growers to the Lake Chelan AVA, we are grateful for the beautiful bouquet we were able to create in the 2021 Lagriōth Fumé Blanc. We believe this area can grow some of the best fruit in the world and hope to keep agriculture alive in the ever-growing population. There is only about 300 acres of grapes grown in the Lake Chelan AVA and we hope to preserve agriculture as much as possible. We're trying our best to showcase this amazing fruit in our 2022 Fumé Blanc which we'll be bottling in March.
Conclusion
Several people have asked us – How did you decided to make this change when you already have good jobs? Why did you decide to farm? Isn't it pretty risky? First generation farming. Why? Why? Why? There is something about connecting with nature that is so rewarding and fulfilling. My grandfather farmed in South Dakota where his family had settled from Ireland. I remember him telling me stories of how he loved the hard work but at the same time the cold winters were not enjoyable. Going out to milk the dairy cows in the snowstorm when he had tied a rope from the house to the barn in order to guide him to each building in the middle of a snowstorm. After having 6 children in 7 years, my grandparents sold the farm to provide a "better life" and made their way to Washington where they both worked and retired from Boeing. I always enjoyed hearing Grandpa Frank's stories of the farm, not ever thinking I'd have the opportunity to farm myself. A farmer has tireless commitment and unwavering dedication to the land. Something I have come to appreciate more than ever in the last 5 years. The continuous dance with Mother Nature and learning better ways to preserve the land through regenerative agriculture. All while trying to make a living. I pray the fruits of our labor can create a legacy for future generations to enjoy this beautiful place we call home. Thank you for reading and following our journey at Chelan Valley Farms and Lagriōth Winery. May the fruits of your labor be enjoyed and celebrated every day. We look forward to seeing you on the farm.
Cheers!!