Why do Jeana and Chad like Pinot Noir?
I fell in love with Pinot before Chad. I gravitated toward this elegant, expressive and delicate wine over bigger bolder wines. I recall a trip Chad and I took to the Anderson Valley to celebrate the 4th of July in 2013. This was a trip to convince Chad Pinot Noir was worth appreciating. And the Anderson Valley didn't disappoint. From biodynamic to organic to conventionally grown vines – we tasted everything. From Goldeneye, to Balo, to Toulouse to Drew (we still have some of these wines in our cellar (Vintage 2009). And, side note, even the Roederer family has a large property in the Anderson Valley.
Needless to say this was the place both Chad and I saw what Pinot Noir is really capable of in a collective way. A place I was able to articulate – the complexity of Pinot Noir. It's a delicate grape to grow and also a delicate grape to make wine from. This makes it special to enjoy. And is likely a reason its one of the most expensive wines in the world. I'm really glad this is a grape variety Chad and I can share a love for and now have a vineyard of. And I'm really grateful for the Pinot Noir knowledge others have been able to share.
This knowledge helped us figure out clones to plant and what training method to use. I really enjoy Pinot Noir and feel like its elegance emphasizes enjoying a glass with a meal. It fits with moderation. It can make wonderful Rose. Its definitely my favorite grape.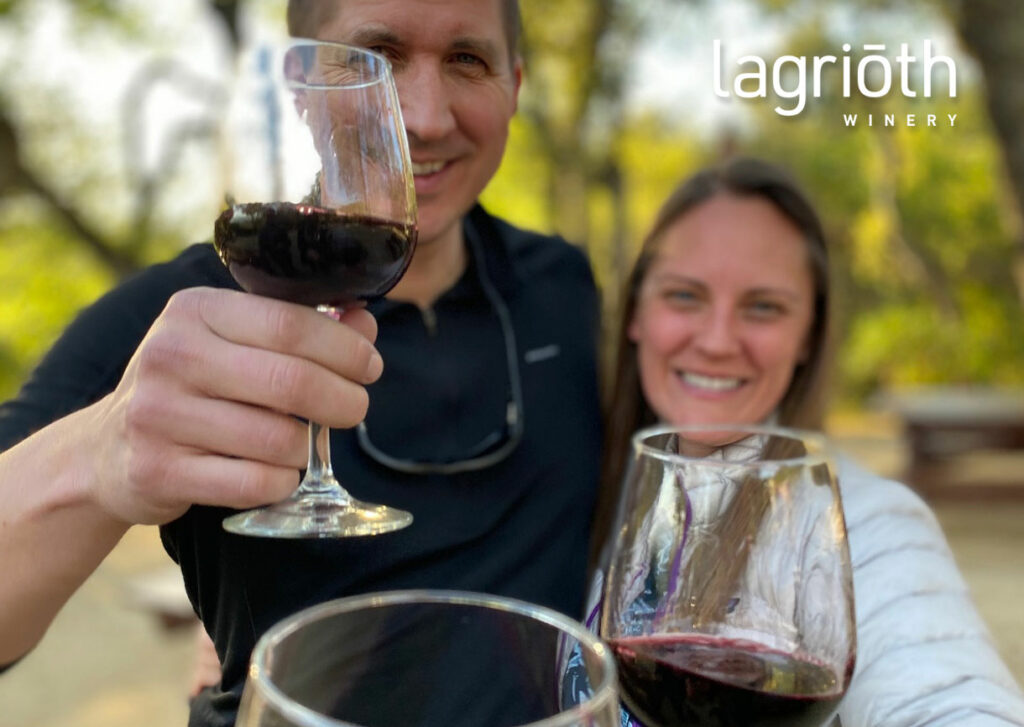 Cheers from one of Chad and Jeana's wine adventures in St. Helena, CA.
Chad how'd you fall in love with Pinot?
I really preferred bigger wines. Cabernet, blends or even a Petite Sirah or even Petite Verdot. I'd often refer to it as a "punch in the mouth". In other words something big and bold – tannin and acidity. But I also really liked the luscious fruit that comes along with some of these wines. And maybe that's the bridge to liking and falling in love with Pinot Noir. I think its also worth sharing that while I worked at Ste. Michelle in 2001 – its really where I got to know and fall in love with wine in the first place. And I don't recall drinking a single Pinot Noir at the time. It was Cabernet, Merlot, Blends (like Col Solare) or exploring white wines like Chardonnay and Sauvignon Blanc. Essentially Washington wasn't known then for Pinot Noir and still isn't today (look out, here we come).
So my interest remained focused on bigger reds with beautiful fruit grown in Washington. In 2006 we started our moves around the country – first to North Carolina and then to Tennessee – where I remained loyal to mainly WA Wine. In 2010 we moved to California where the amount of wine and also wine loving people was a new frontier. There are about 60,000 acres of wine grapes in Washington and over 600,000 in California. California has so many unique wine growing areas from the Sierra Foothills, to Lodi, to the Central Coast to the North Coast to Temecula to Napa.
It's here where I feel like our exploration of the plethora of varieties and growing areas became such an adventure. It's here where Jeana kept circling back to the elegant and beautiful Pinot Noir. Its here I was able to see that Pinot Noir can have depth and structure and amazing fruit. It's here we launched our dream of planting and growing Pinot Noir in Washington State and more particularly in the Lake Chelan Valley. Brief side bar – Kevin Corliss impressed upon me in 2001 that Lake Chelan was the place to grow Pinot Noir in Washington State. The lakes effect on the growing area has long been known as a major positive for fruit quality. Match that with the amazing silt and pumice filled soils – voila – we've got a place to try out making amazing Washington State Pinot Noir.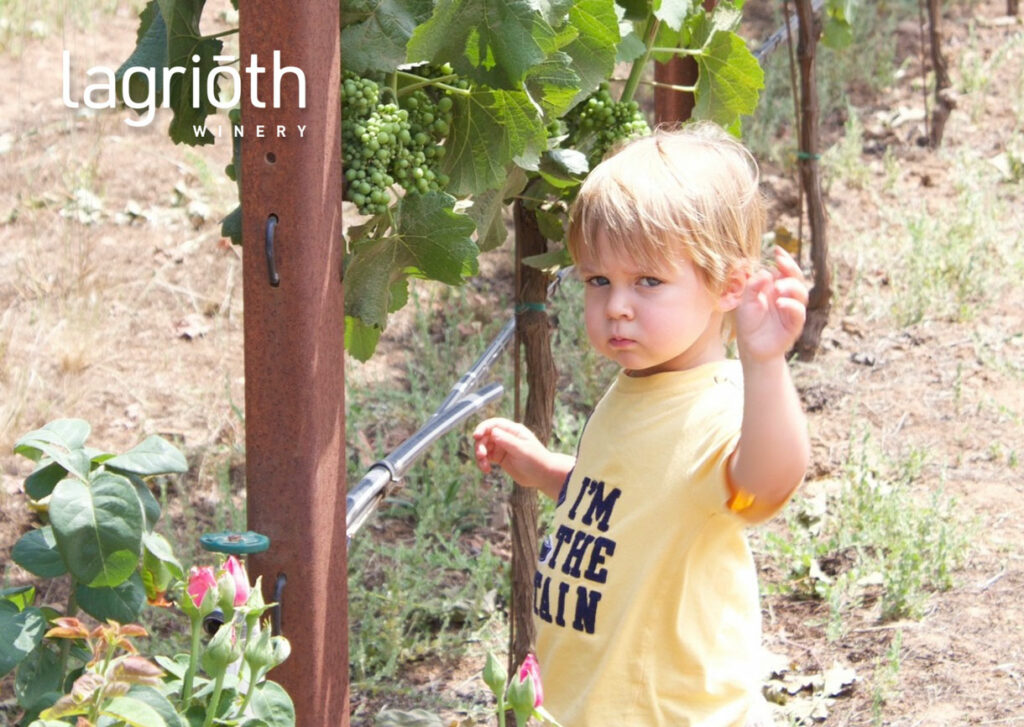 Young Carston on our 2013 trip to the Anderson Valley.
What's next in our Pinot Noir adventure?
2021 was a pioneering year for us making Pinot Noir from the Lake Chelan AVA. It was a hot (temperature and Growing Degree Day wise) year. Our Estate Pinot Noir was planted in 2017 and we felt it needed one more year of vine growth to achieve more uniformity. So Jeana made a Pinot Noir blanc from the Estate Pinot Noir. We still wanted to start our Lagrioth Pinot Noir program. So, we purchased Pinot Noir grapes from the Clos Chevalle Vineyard (Dijon clone 114). The Clos Chevalle Vineyard is located on the South Shore of Lake Chelan, therefore North facing. Our Estate Pinot Noir is located on the North Shore and is North facing. Because of these similarities we thought it would be worth having these grapes from Clos Chevalle be our first Pinot Noir.
In the cellar we had help from a tremendous cooper (barrel maker) to pick our barrel profile – 50% new French Oak, 50% neutral French Oak for 11 months. The popularity of this wine has been exciting. And its stacked up 2 separate Double Golds, 2 separate Gold medals and a Platinum award. Its not only exciting to showcase Lake Chelan AVA wine, but also Pinot Noir from Washington State. As we put the remaining 2021 Clos Chevalle Vineyard Pinot Noir into our Library collection. It begs the question – whats next. We're really excited to tell you about our 2022 Estate Pinot Noir. 2022 was the first harvest to make our Estate Pinot Noir. After 10 months in barrel its been tasting great. Our Estate Vineyard has three clones of Pinot Noir – Dijon clone 777 and 115 and the Pommard clone.
It was by coincidence that all our time exploring California Pinot Noir that we absorbed the benefits of planting multiple clones. Not knowing it can be common practice for great Pinot Noir's to include multiple clones, we're super grateful we stumbled into this path. The 2022 Pinot Noir will be bottled September 6th and we plan to launch it at the 5th Annual Pumpkin Patch. The color is gorgeous, the fruit aroma's are elegant and vibrant, the acidity is balanced and it has a pleasant finish. We hope this wine delights each of you as the 2021 has. Thank you for joining our Pinot Noir adventure.
Here are some recent write ups and accolades.

Lagrioth Winery At Chelan Valley Farms 2022 Estate Rosé Of Pinot Noir, Lake Chelan, $32
July 8, 2023 by Great Northwest Wine
Two years ago, Chelan Valley winemaker Jeana Steiner used Mourvèdre grown on the south shore of Lake Chelan to win the award for Best Rosé at the Great Northwest Invitational. This spring, her work with a 2021 Pinot Noir from the same site — Clos CheValle — merited a gold medal at the Cascadia International. She takes a regenerative approach to farming her vineyard overlooking Roses Lake on the Manson side of Lake Chelan, and her estate Pinot Noir program shows early promise with this rosé.

Lagrioth Winery 2021 Clos CheValle Vineyard Pinot Noir, Lake Chelan $38
January 3, 2023 by Great Northwest Wine
Chelan Valley winemaker Jeana Steiner and her debut release of rosé from Mourvèdre off the Dufenhorst family's Double D Vineyard wowed critics in 2020. Here, she turned Dijon clone 114 Pinot Noir from another Dufenhorst site into her first Platinum Award, amazing judges with a wine so delicate yet so expressive. It sings beautiful fruit notes of wild strawberry, golden raspberry and red currant while yielding space to forest floor and savory truffle. Upon reveal, one judge was gobsmacked to learn that it wasn't from the North Willamette Valley.
Cheers,