Planning A Garden
As we move into this new year, while all is snowy and still, while traffic is sparse and jackets are plenty, for those of us at the farm, the 2023 growing season has already begun.
Right now at Chelan Valley Farms, we are in preparation mode. With all the odds and ends that go along with this, my favorite detail to date has been the planning of where things are going to be planted. Ordering and sorting our flower, herb and vegetable seeds and choosing how to best utilize the space we have is more an organizational task than anything else. This summer we are planning on having a plentiful selection of flowers for U-pick but in addition to that, we're also planning to grow plenty more herbs and vegetables. Fun fact about pumpkins; to keep the soil happy, it is best to alternate where they're planted every two years. Considering this, we're going to have to move some things around for a good yield which leaves us with a ton of extra space for growing! The former eastern pumpkin patch is going to be the home of many of our flowers and berries in 2023. Our flowers that have historically had a difficult time holding up against strong winds will be the primary residents of this location since the orchard acts as a wind barrier. Part of the garden planning process is looking back on former growing seasons and reviewing what grew well, what methods worked best and how we can improve in the future. Each year, gardening teaches me something new and each new season, persistence in adapting to what we have learned will be a constant.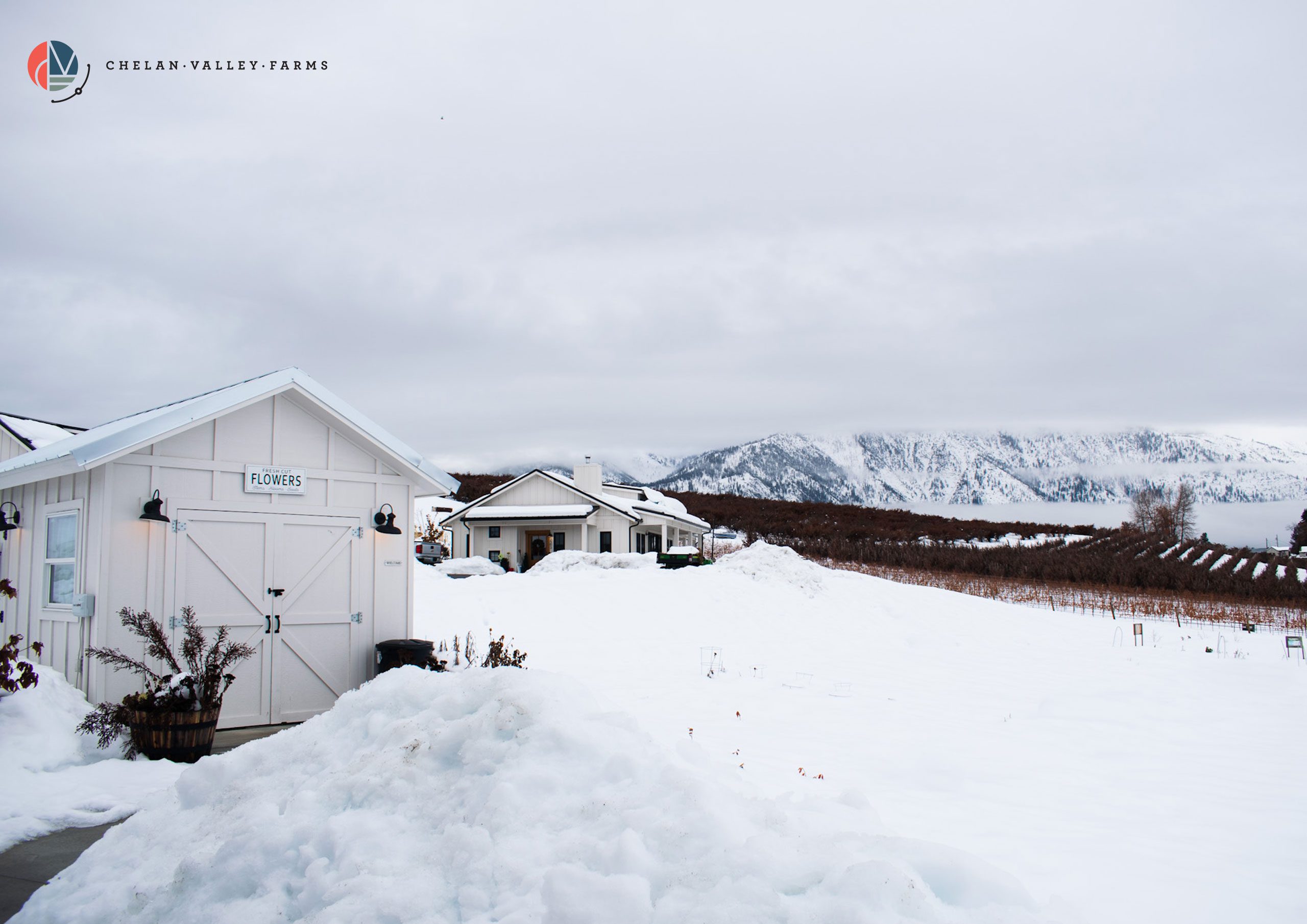 Winter at Chelan Valley Farms in Manson WA
Our Gardening Resources
What we have found to be so helpful in this learning curve has been the help of our neighboring florists/farmers as well as some online resources. A major contributor has been our good friend and teacher, Nicky Allison of Allison Orchards and The Cutting Garden. Nicky is a wellspring of knowledge for the flower farm. Many in the Valley associate the name, Allison with Allisons of Manson which was Nicky and John Allison's now the location of Radiance Winery. Allisons of Manson was once a staple of downtown Manson and is still fondly remembered by folks in the community, In my first year working at Chelan Valley Farms, I spent much of that summer working with Nicky in her garden where she taught me the ins-and-outs of harvesting flowers for arrangements, garden maintenance, floral arranging and showed me so many tricks learned and perfected through 40 years of event planning and over 20 years' experience in gardening.
Learning from individuals in the community is underrated, I encourage anyone with an interest in gardening to ask advice from your neighboring farms and gardeners; dropping by your farmer's market is another great way to get connected to the local agricultural community! In addition to references we use, one that we love here at the farm is Floret Flowers. When Jeana was first getting started, she attended an online workshop that Floret hosts each year. The course covers so many facets of gardening, and we often refer to her books and website for help as well as to order seeds. Erin at Floret often has a unique selection of seeds to order from and varieties that are not easily found elsewhere. I have personally really enjoyed the mini courses Floret offers as well as Erin's blog posts. Her blogs are so informational and cover a wide range of topics; one of my favorite articles I've read of hers is about dried flowers which is just one in an abundance of blogs containing gardening tips. As far as online references go, I highly recommend referring to Floret Flowers. My favorite resource for ordering seeds is Johnny's Seeds. Johnny's has a huge selection and we've had a good germination rate with the seeds we've ordered from them.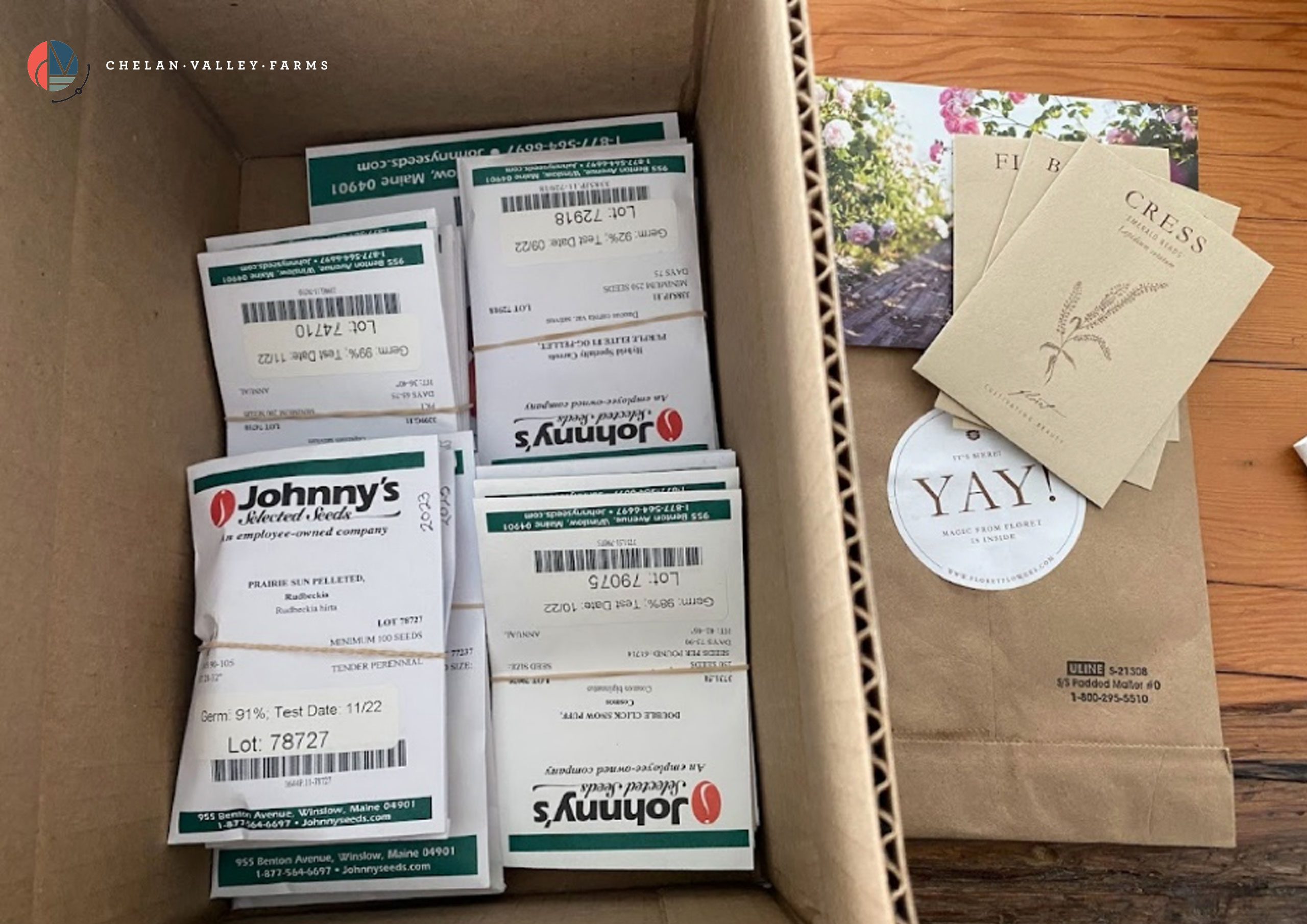 Mapping Out Your Garden
When mapping out your garden, consider the height of your crop. Taller plants should be planted toward the back (north/northwest corner) of your garden to prevent the overshadowing of shorter varieties. There are a lot of factors that can stunt the growth of your plants and lack of sun is a big one. Another thing to consider in the mapping phase is planning access paths for harvest and considering days to maturity. If you prefer for your flowers to have a relatively similar blooming time, take into account the number of days it will take for your flower crop to bloom; you can then plan your planting successions according to the days to maturity so that your garden is a mass of color and beauty. Johnny's flower mapping guide has more helpful information regarding mapping out your garden.
Tips For Seed Starting
When planning your own garden, I recommend choosing a spot with lots of sunshine. Some seeds will not germinate without exposure to light so that is something to consider when starting your flowers from seed. Whether you are picking up seeds from the local Walmart or ordering online, keep in mind the grow zone. Manson is in zone 6b which doesn't necessarily mean that we can't grow warmer zoned plants but rather that those lovely warmer weather perennials are not likely to make it through our chilly winters. Most seed packets will have this information listed on the back which is also where you will find whether seeds should be seeded directly or transplanted. Most of the flowers we grow require transplanting which means that they need to be started indoors.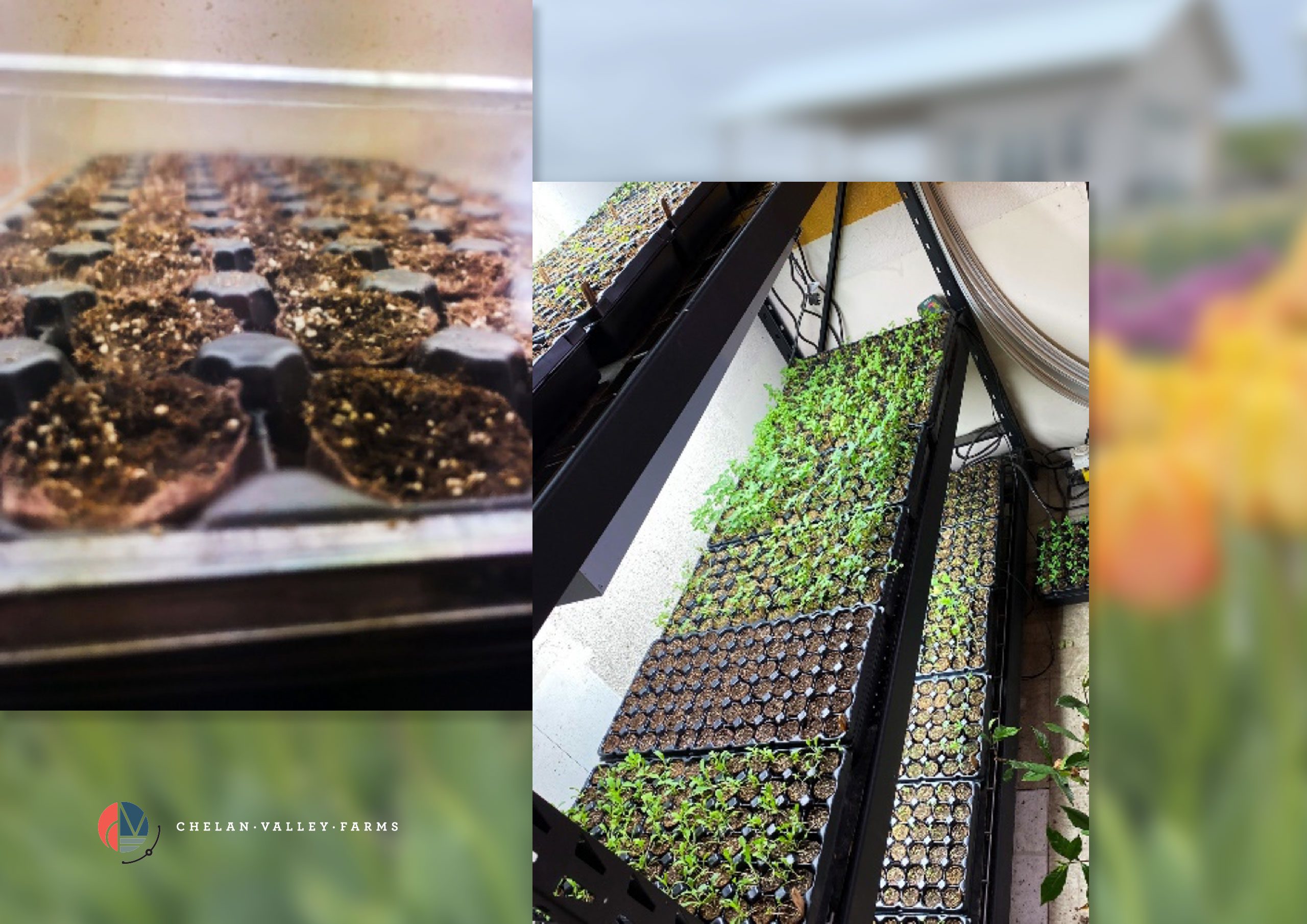 I suggest looking at how many weeks before the last frost your seeds need to be started. This, like transplanting information, is usually located on your seed packet. If you are unsure of when your last frost date is, look up your frost date here on the online Almanac. It's important to pay attention to this detail as germination start date will determine when your flowers will be blooming this summer. At the farm we plant our varieties in successions to extend the length of our flower season, but this technique can also be applied to herb and vegetable gardens for a longer harvest season. Johnny's Seeds has online succession planting interval charts for vegetables, herbs and flowers that can be a helpful resource in knowing when to start each succession. Take a look at UMN Succession Planting for further information regarding planning your successions.
While your seedlings are small, keep an eye out for changes in the appearance of the soil and plant. When seedlings are first starting, it is not uncommon for disease and growth of fungus to begin. A common one is Damping Off Disease which is caused by pathogens in the soil, insects, dirty tools and dirty hands. This disease can quickly affect and kill the whole tray of seedlings if it isn't found quickly. The best ways to prevent against disease and fungal growth is good upkeep on your seedlings and keeping tools sanitary. When Chad was teaching me about seedling maintenance, he told me that the trick to keeping seedlings thriving is in the frequency of which you tend to them. Neglect your seedlings, and the chances of disease increase. Once plants have developed a solid roots system, they are far more apt to naturally defending against infection. University of Minnesota has more information and care suggestions for preventing against disease.
Transplanting
In the Chelan valley we are so fortunate to have fantastic topsoil in most areas. Here at the farm, we have 45-60 inches of topsoil while the national average depth of topsoil is 8 inches making our growing conditions optimal. Another neat feature of the terroir where we are located is the Volcanic Pumice. Pumice can be found in the ashy/silty dust in the terroir throughout the valley. The distribution of Pumice in the soil acts as sand would in drainage. Soil conditions in the valley make it an excellent spot to get started in gardening; nonetheless, when it is time to transplant your seedlings, certain steps are so helpful to prevent against the shock of them going from a warm and windless environment to being exposed to the elements. One of these steps is hardening off your plants. 1-2 weeks before transplanting seedlings into your garden, gradually increase their exposure to the outdoors. Begin by putting them outside for a couple hours each day, slowly increasing the time they spend outside. This will help your seedlings to adapt slowly to more unpredictable growing conditions which will promote transplanting survival. After transplanting be sure to keep your plants well-watered. For more transplanting tips, check out the Old Farmer's Almanac.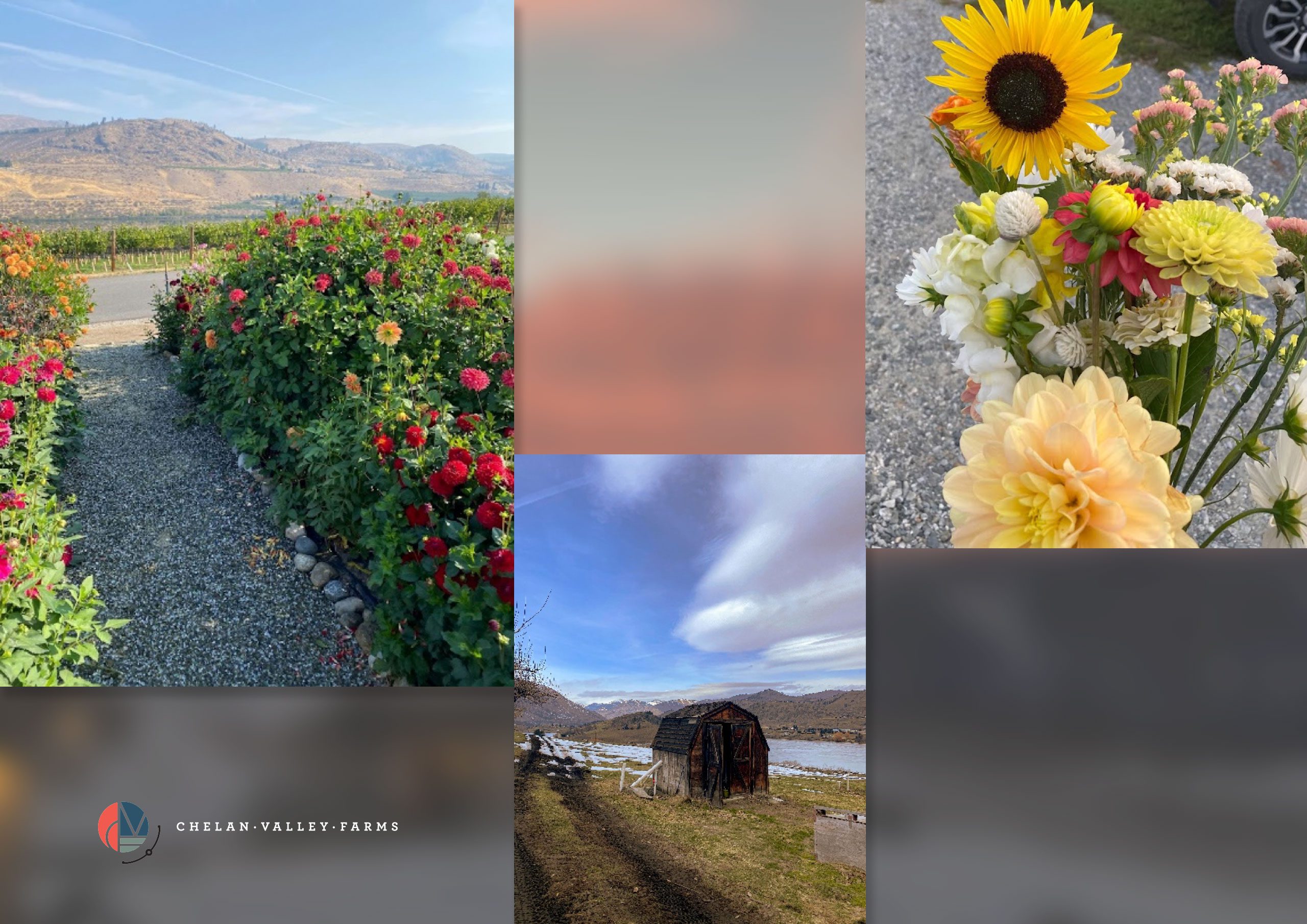 We're so excited for the 2023 growing season. Thanks for staying up to date with the CVF flower farm.
Happy gardening!