How did we settle in Lake Chelan and What is an AVA?
Over the past few years, we've had the opportunity to offer free farm tours on Saturdays. It has been a wonderful way to meet people interested in farming, curious about the area, or simply looking for something different to do with their family. In the next few paragraphs, I thought I'd share some of the questions we've been hearing and discussions we've had.
In this blog post I'd like to focus on these questions:
Lake Chelan- Why are we here?
What is an AVA?
Why is the geography of Washington State unique?
Why drink wines from the Lake Chelan AVA?
1. Lake Chelan- Why are we here?
Chad and I are both Washington natives, born in Western Washington. Having fond memories traveling way across the Cascade Mountains to Eastern Washington, made me realize as a young child that it was always sunny once we got over the mountains. I didn't really appreciate the diverse beauty of the state until going to college at Washington State University.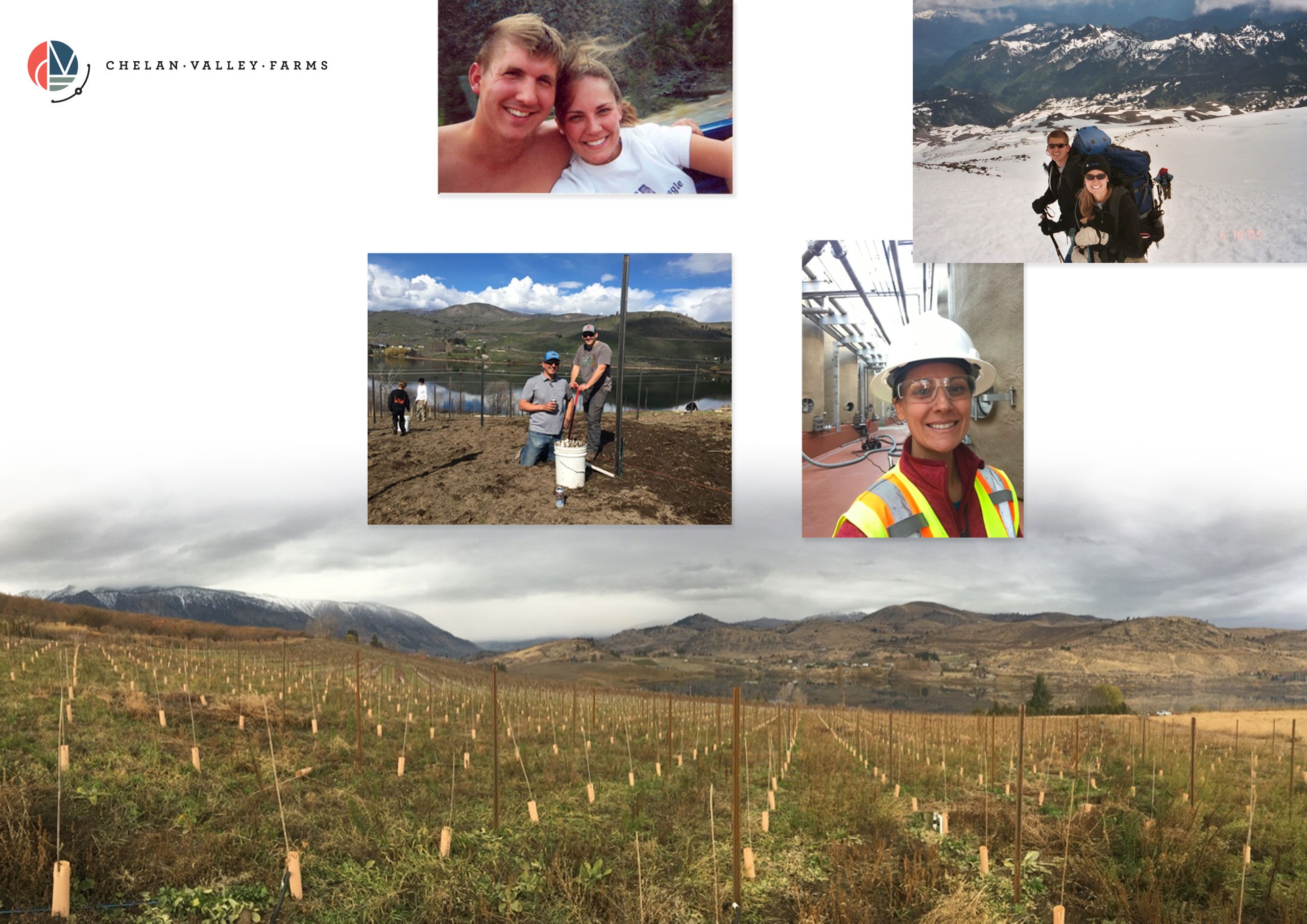 A dream had come true – we made it to Chelan (before "retirement) with 3 little boys in tow to build a farm and agri-tourism destination.
I started in Veterinary Medicine, then my junior year decided to apply to Pharmacy School and become a Pharmacist. Chad studied Agricultural Economics and had the opportunity to work for Chateau St. Michele between undergrad and grad school. After working in the vineyards for about a year, he went back to school to get a Masters in Crop Science. His time at St. Michele really planted a seed to have a vineyard someday. During pharmacy school, I visited Lake Chelan and fell in love with it's beauty. The sunny skies surrounded by mountains overlooking the most magical lake, Lake Chelan. I knew I would be spending a lot more time in this special place not knowing how or when but was definitely a dream.
After getting married in 2005 – Chad and I camped at Wapato Lake and bought our first house in Chelan Hills. At that point we agreed we wanted to let our jobs take us wherever, but we would "someday" retire in Lake Chelan. There were less than 10 wineries in Lake Chelan at that time and it was starting to be discovered as a grape growing region. These early wineries were true pioneers and people we really look up to. Fast forward to 2014- we purchased the property which is now the home of Chelan Valley Farms and Lagrioth Winery. Our jobs brought us to Tennessee (still weekend warriors rocking climbing and dodging tornados) then in 2010 we moved California. At that point we started making wine and a family and focused our energy on how to get back to Washington.
I became super interested in winemaking, worked a few harvests, took as many classes at UC Davis I could and completed the WSU enology certificate program in 2017. At that point we were ready to jump in. Chad had an opportunity to run a tree fruit company and then after moving to Chelan went to work at Wilbur-Ellis as the Director of Marketing. A dream had come true – we made it to Chelan (before "retirement) with 3 little boys in tow to build a farm and agritourism destination. I went from a pharmacist to a full time farmer. Yes- people thought we were crazy and some still do. But that's when the fun really began… more to come later.
2. What is an AVA?
AVA stands for American Viticultural Area. According to the Wine Institute, "When a U.S. winery wants to tell you the geographic pedigree of its wine, it uses a tag on its label called an Appellation of Origin. Appellations are defined either by political boundaries, such as the name of a county, state or country, or by federally-recognized regions called American Viticultural Areas (AVAs)." Essentially an AVA is defined by having unique climate and soils surrounded by a distinguishable boundary.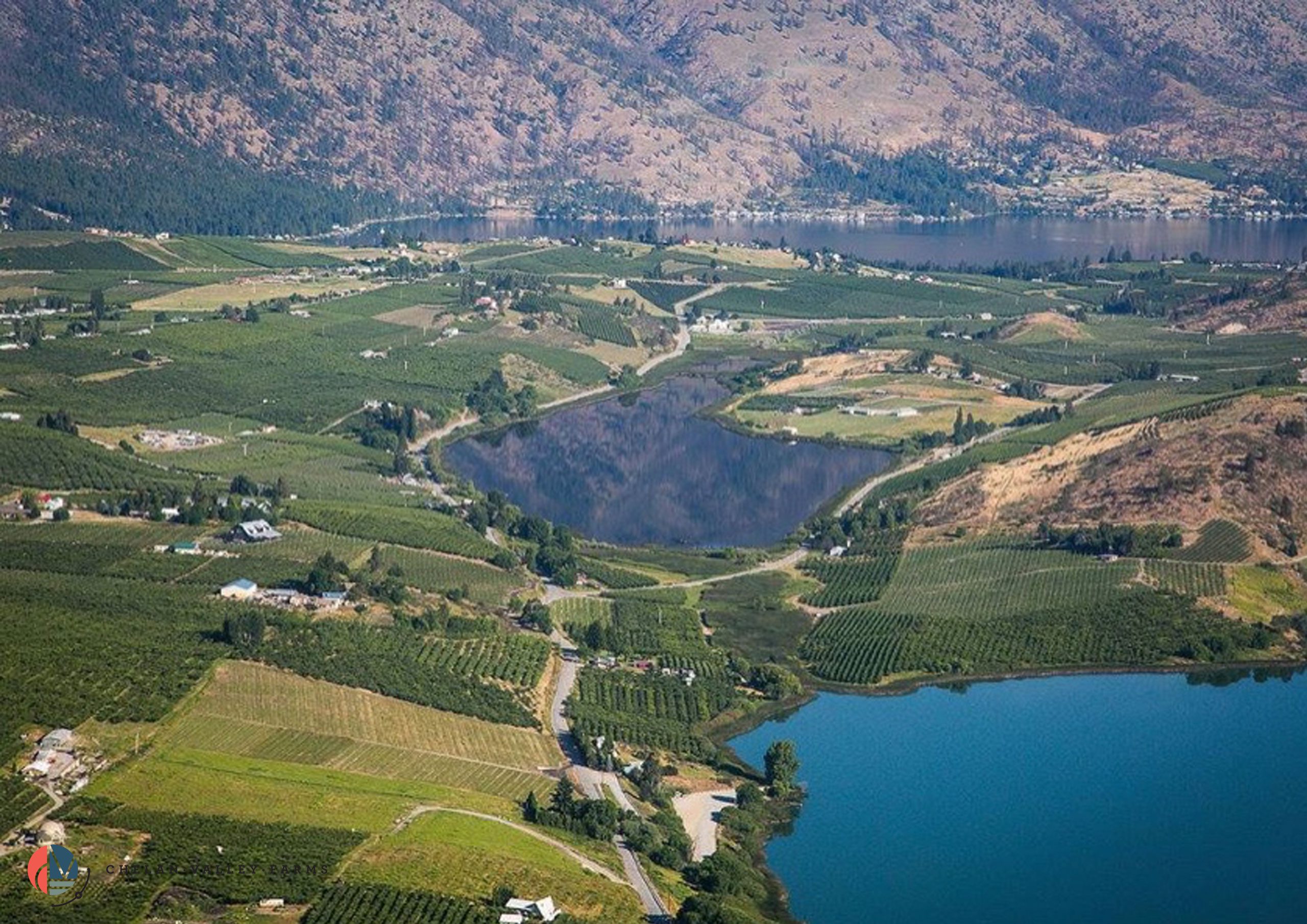 Lake Chelan became an AVA in 2009 and was the 11th AVA in the state.
Did you know there are 267 AVA's in the United States, 167 are in California and 20 AVA's in Washington State. Lake Chelan became an AVA in 2009 and was the 11th AVA in the state. A big thank you to Alan Busacca (who happened to be Chad's soils professor for multiple classes) for crafting the AVA submission for the TTB. In order for a wine to be designated with a particular AVA, federal law requires that 75 percent or more of grapes used to make the wine be from that appellation. The wine regions in Washington State continue to evolve and expand each year. It is an exciting time for Washington Wine.
3. Why is the geography of Washington State and Lake Chelan unique?
Washington State has numerous dormant and active volcanos along the West Coast and has experienced many eruptions in "recent" history. This has created very diverse and young soils throughout the state. I really started noticing this difference after moving to North Carolina. We would spend our weekends rocking climbing in the Blue Ridge Mountains and the mountain soil was heavily oxidized (orange) and mostly clay. Compared to the west- it is very different. Growing up seeing the rich soil of the western Cascades – deep black soil high in organic matter made me curious. With Chad's background in soil sciences, we've had many conversations over the years about soil. He loves soil and was able to explain why it is so different.
Lake Chelan is a unique growing area. An absolutely beautiful and breathtaking oasis nestled in the foothills of the North Cascade mountains. The history and uniqueness of the climate, soil (climate and soil = terroir) and irrigation make it a great place to grow crops. This makes the Chelan area distinctly different. Plus the lake is its own phenomenon. This natural lake is 1500 feet deep and its crystal clear waters (where our water comes from) is fed mostly by glaciers.
Why drink wines from the Lake Chelan AVA?
The special thing about wine, is the flavors can truly represent the place the grapes are grown. Weather it is elevation, the soils or the climate, you can get a sense of place while enjoying wine from various AVAs.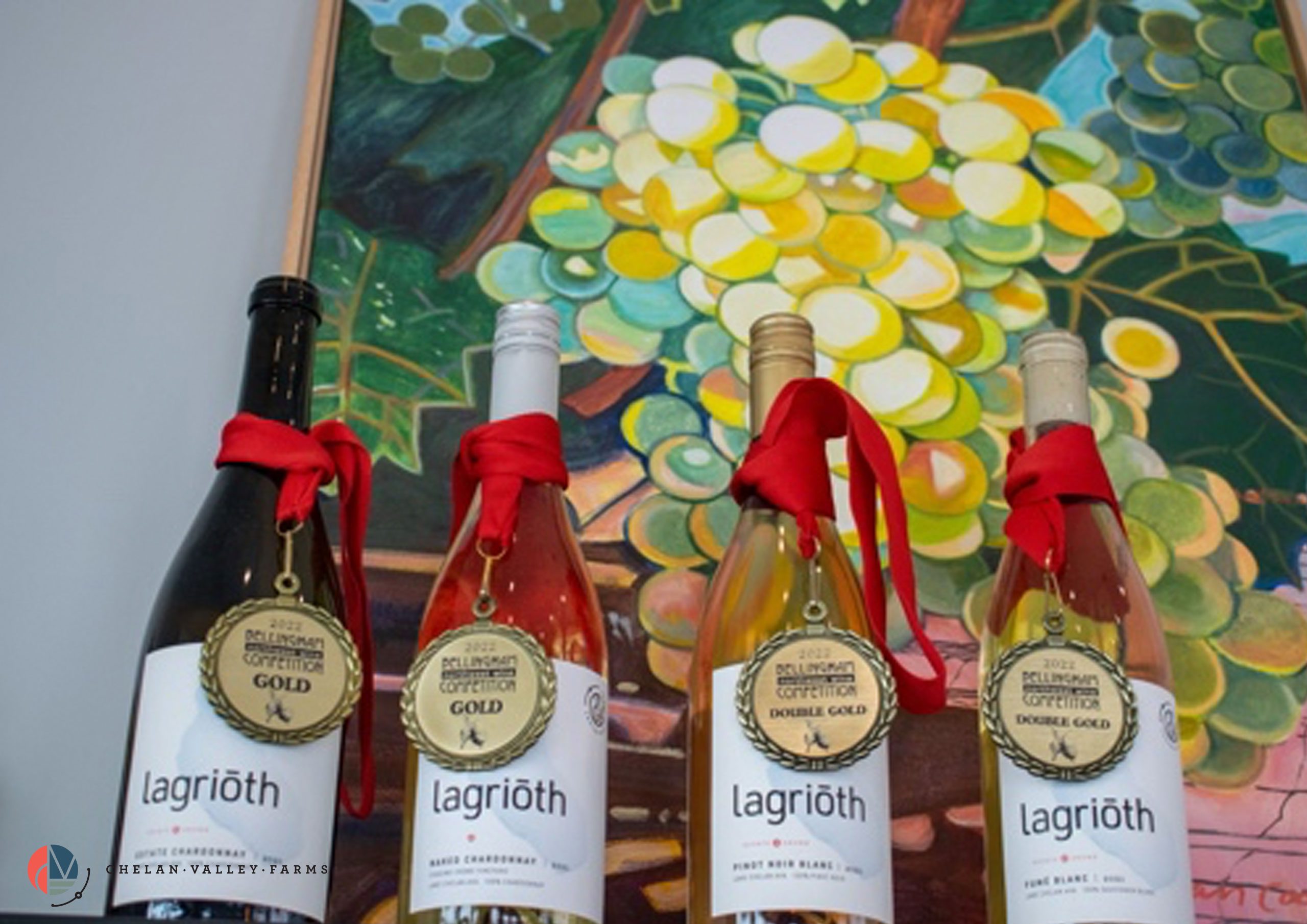 Lagrioth wine awarded both gold and double gold.
I always recommend looking at wine labels. Find one that that says Lake Chelan AVA. As our estate grape vines continue to mature, you will be able to enjoy more of them. In the mean time find wines that list the AVA. It's fun to explore and taste the variations and learn in the process. If you want to get more specific look for the specific vineyard. Each site uniquely expresses itself in the wine. I feel wine is made in the vineyard. As a winemaker, it is my responsibility to showcase the varietal to its fullest potential. It's kind of like poetry or making music, gathering people together to learn, connect and explore nature.
Thank you for joining our journey on the farm. I'll share more about our story, Lagrioth wine and the varieties we grow in upcoming posts. If you happen to be in Chelan, reach out- we'd be happy to connect.
Blessings to you and cheers to a new year,