An Introduction to chocolate pairing as we approach Valentines Day – And some considerations to think about.
Chocolate has been one of those delicious treats we've enjoyed as a family together over the years. If you've visited for dinner, you know we will often have a square of dark chocolate or berries and cream for desert. It has become a tradition and our kiddos prefer dark chocolate rather than the sweeter kinds. However after reading a recent consumer reports article we are adjusting some of our "go to's".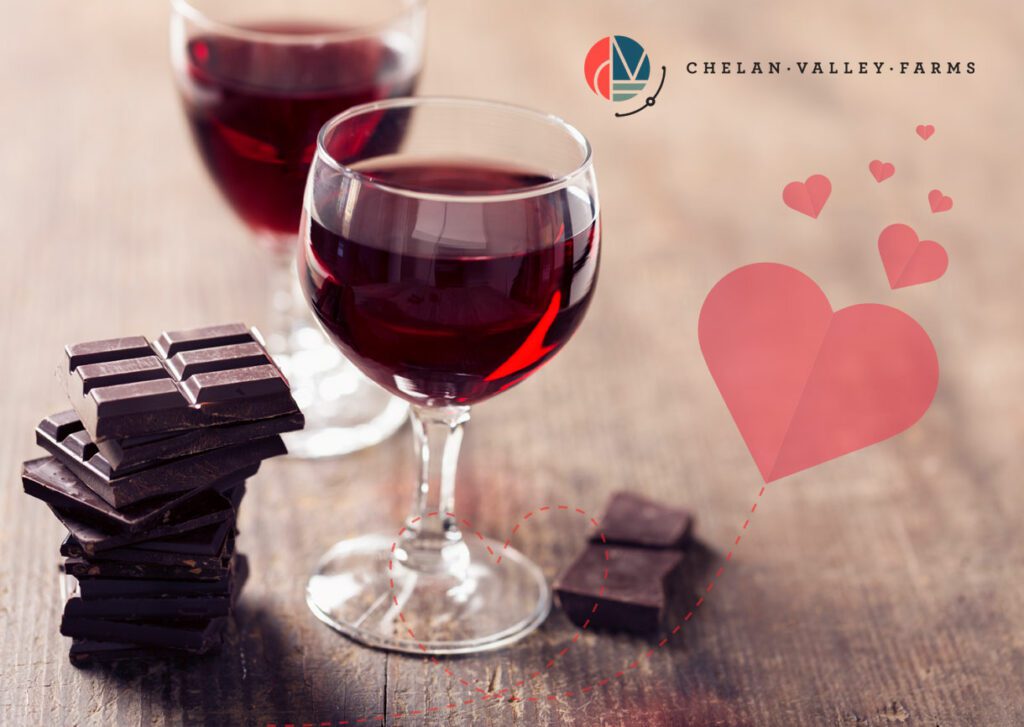 Pairing wine and chocolate has always been interesting and we often see advertisements with wine and chocolate together. What chocolate pairs with which wines and why? I do not claim to be a chocolate expert however we have loved learning about the various flavors. During our travels we like tasting new brands. Chad will often bring home a special taste of chocolate from his travels with work. We all look forward to those special treats.
In this article, I'll share with you some information on the history of chocolate and some insight on recent research – some things to consider when choosing dark chocolate. Who would have thought something so delicious and yummy needs a little more diving into before we take a bite? With this in mind – we've put together some of our favorite pairings this Valentine's Day as well as pairing with wine and some of our favorites that made the "better list".
History of chocolate
(according to Britannica.com)
Chocolate has been loved for generations, beginning in Mesoamerica from fermented beverages made from chocolate dating back to at least 1900 BC to 1500 BC. The cacao tree was cultivated and beverages from the fruit were made and sometimes the bean was used as currency. Spain was the first European country to have cocoa in 1502 when Christophe Columbus may have brought it from Mexico. 1585 was the first recorded shipment of Cocoa beans from Mexico to Spain. And it wasn't until many years later that cocoa made it to other parts of Europe. In 1657, the first chocolate shop opened in London and soon after chocolate houses opened around Europe.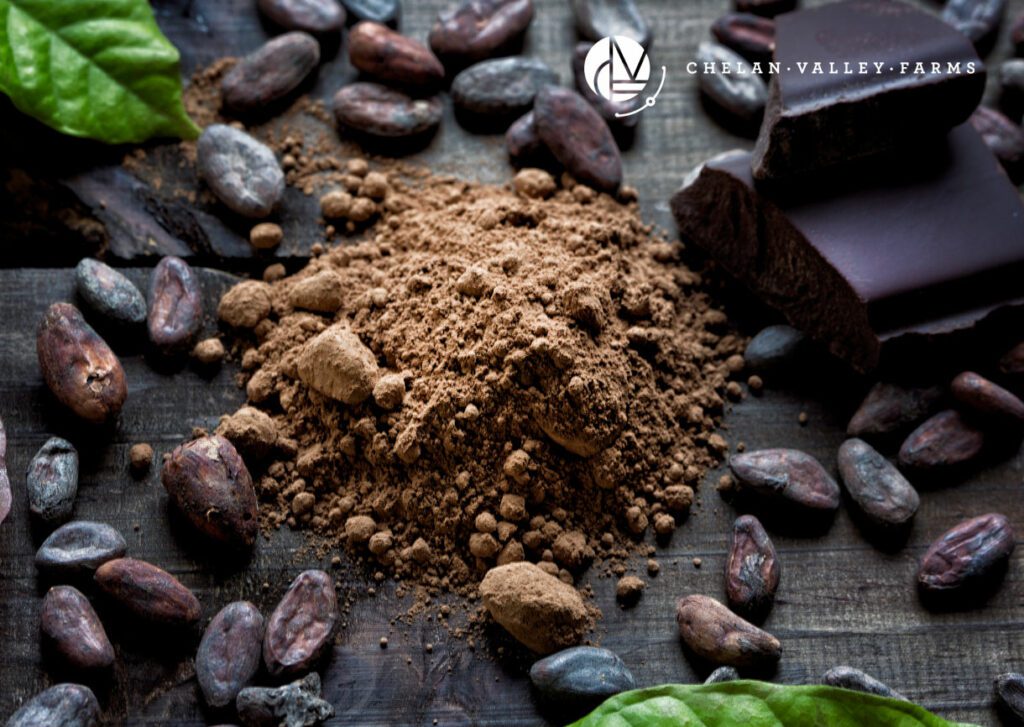 Chocolate made its way to Dorchester, Massachusetts in 1765 via New England sea captains. Chocolate is made from the kernels of fermented and roasted cocoa beans. The kernels are ground to form a chocolate liquor which can be hardened to form a bitter baking powder. Milk chocolate is created by adding dried or concentrated milk to sweet chocolate. And White chocolate isn't actually chocolate. It is made from cocoa butter with added milk products, sugar and flavorings such as vanilla. Fast forward to 2023 and chocolate is in most treats, deserts and still given as gifts. I enjoy and look forward to the satisfying flavors of chocolate.
(https://www.Britannica.com/topic/chocolate)
A Health Update
With advances in science we are now able to conduct more in-depth studies. Wellness is fascinating to me. In fact, Wellness is one of the pillars on the farm. After reading a recent consumer reports (CR) study and listening to discussions on NPR, I thought it was worth sharing – since chocolate consumption is traditionally a popular gift for Valentine's Day and other holidays. Dark chocolate is our go to with its known health benefits, antioxidants and lower sugar levels compared to other sweet treats. However, the recent CR article describes the potential for heavy metal content in some dark chocolate brands. As a result, we've taken a deeper look prior to enjoying and indulging in a square of dark chocolate. The heavy metals the CR study discussed are cadmium and lead which can accumulate in our bodies and cause developmental, hypertensive, immune, kidney and reproductive issues. I've compounded medications for patients for lead toxicity while we lived in Northern California. Never really associating it with dark chocolate but it is now something to consider especially among children and pregnant women. According to the consumer reports study, eating 1 ounce a day would put an adult into the harmful levels. Of the 28 chocolates studied, all of them contained cadmium and lead at varying degrees. I'd encourage you to read the article below and see if your favorite is listed.

Chocolate can still be safely enjoyed. There are other foods that naturally contain high levels of lead so it is important to educate yourself – especially if you're pregnant or have little ones. Heavy metals exist in nature, but I thought it was worth sharing some details from the recent CR study. As it points out, dark chocolate owes its creation to cocoa "solids" which is where the heavy metals can be located. See the article below for more detailed information.

https://www.consumerreports.org/health/food-safety/lead-and-cadmium-in-dark-chocolate-a8480295550/
Pairing wine and chocolate
Now let's talk chocolate and move on to pairing two delicious treats together. How do you do it? What works? And who knows better than your own taste buds? You are the ultimate guide to your own liking. However, after researching a bit there are some guidelines to keep things simple. Start with a wine that is slightly sweeter than the chocolate. If you prefer or mostly drink "dry" wines, then keep this rule in mind. The stronger the chocolate the more full bodied the wine should be. I've also found that it helps to look for the % of darkness. Our favorite is mid 70% cocoa content and some of the health information indicates this is the ideal level. Getting into 80% the chocolate is definitely more cocoa flavored and into the 90% gets to be a bit much and potentially bitter. 60% chocolates might be on the lighter side that could pair nicely with lighter bodied wines. Into the 50% range and its likely to be more like milk chocolate. A great example below would be our 2019 Beverly Merlot. Its a big full bodied wine that would pair nicely with a high 70% or even into the 80%. I like to also consider other flavorings in the chocolate such as mint, caramel, fruit like orange or raspberry. I put together a table with our wines to serve as an example since we offer a range from whites to lighter and darker reds.
https://winefolly.com/lifestyle/wine-chocolate-candy/
https://www.marthastewart.com/8055306/red-wine-dark-chocolate-heart-health-connection
https://www.winespectator.com/articles/abcs-of-pairing-wine-and-chocolate
| | |
| --- | --- |
| Lagriōth Wine | Chocolate Recommendation |
| 2020 Naked Chardonnay, Columbia Valley AVA | Merrow Chocolatier Milk Chocolate or a ~50% dark truffle |
| 2021 Pinot Noir, Lake Chelan AVA | Ghirardelli's Milk Chocolate |
| 2019 Denny's Red Blend, Columbia Valley AVA | Sanders- Dark Chocolate Sea Salt Caramel |
| 2020 Cabernet Sauvignon, Columbia Valley AVA | Elements truffles with turmeric |
| 2019 Merlot, Beverly Vineyard, Col. Valley AVA | Seattle's Chocolate Dark Chocolate |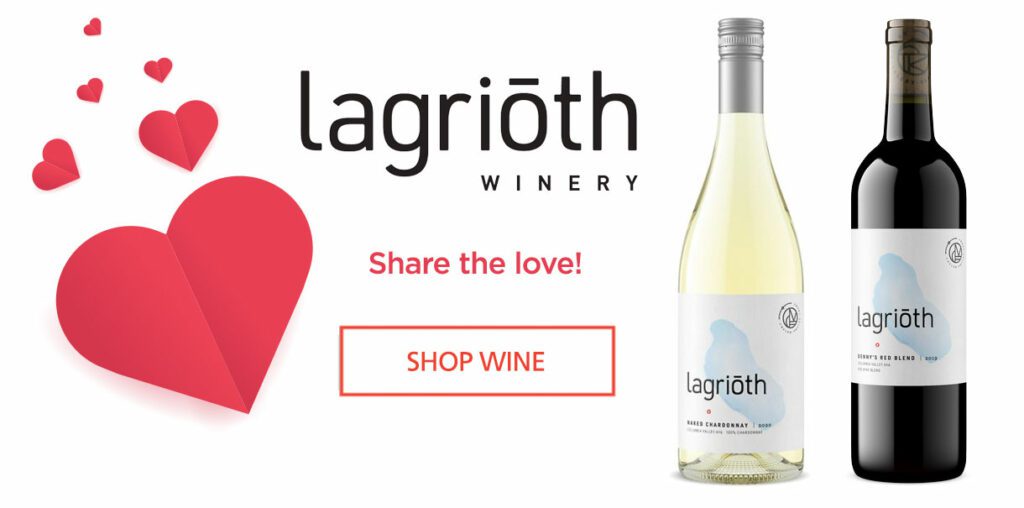 A peek of some of our favorites
Ghirardelli
Dark and Milk Chocolate- This chocolate is consistently smooth and flavorful. These are always a treat when visiting San Francisco to see the flagship store. I like that Ghirardelli has individually wrapped chocolates with a variety of flavors. I enjoy white chocolate very much and think the Ghirardelli white chocolate pairs nicely with Pinot Noir. www.Ghirardelli.com
Seattle Chocolate
as a women owned company, committed to sustainability – targeted towards sustainable and regenerative farming practices. We carry a selection of Seattle Chocolates in the tasting room. We love their array of flavor combinations and currently feature many of them. www.seattlechocolate.com
Elements truffles
A friend recently sent a collection of Elements chocolates to us over the holidays and they were delicious. After reading about their philosophy, it lines up nicely with our philosophy. "Be kind to your body, indulge joyfully and our clean chocolate powered by the science of Ayurveda". They are dairy free, refined sugar free, gluten free, soy free, and ethically sourced. They even donate 25% of their profits. You'll find chocolates infused with cardamom, peppermint and lavender, turmeric and saffron. We are ordering some of our favorite flavors to serve at the tasting room, so come give them a try. www.elementstruffles.com
Merrow Chocolatier
Anna, a local chocolatier is a creative genius. Her chocolates are all handmade and a truly exquisite experience. We've worked with her to create special chocolates for events and people love them. She offers dark, light, filled, dressed up or plain…. We offered one she made using our pumpkins. You can find her chocolates by contacting her directly. www.merrowchocolatier.com

Although some of our favorites were not included in the consumer report study, I will be looking into the sources a little deeper. I hope this has been educational and insightful. If you're looking for something for Valentine's Day – have fun and enjoy exploring your own chocolate pairing. Just keep it simple and have fun with it. Finding nice wines to partner up might be easy if you live near small wineries or have a great bottle shop nearby to find a boutique wine.
We'd love to hear some of your favorite chocolates and what wines you enjoy with them.
Happy Valentines pairing everyone!!